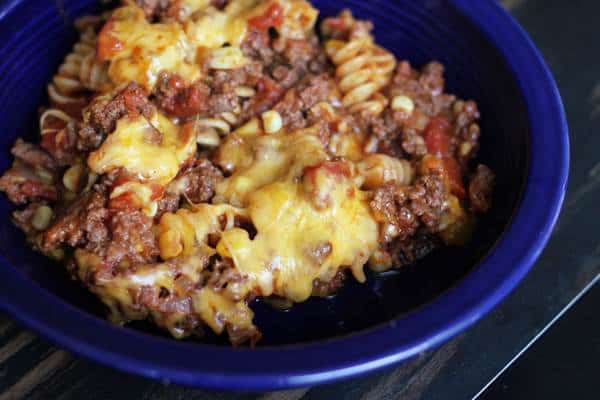 Mexican Pasta Skillet
Let's Get Ready for Baby!
Sign up for our monthly pregnancy email series, and you'll get regular updates on your baby's development, helpful timelines to get ready for their arrival, must-have baby needs and so much more! PLUS, you'll get instant access to the MomsWhoThink "Ultimate Guide to Baby Naming in 2022."
CLICK HERE
to get started!
Ingredients:
1 pound lean ground beef (90% lean)
1 medium onion, chopped
1 can (14½ ounces) diced tomatoes, undrained
1 can (8 ounces) tomato sauce
1 can (4 ounces) chopped green chilies
1 cup fresh or frozen corn
½ cup water
2 teaspoons chili powder
1 teaspoon dried oregano
½ teaspoon salt
⅔ cup uncooked rotini pasta
1 cup (8 ounces) shredded reduced fat cheddar cheese
Directions:
1. In a large nonstick frying pan, cook beef and onion over medium heat 6 to 8 minutes or until beef is no longer pink, breaking up beef as it cooks. Drain.
2. Stir in tomatoes, tomato sauce, chilies, corn, water and seasonings; bring to a boil.
3. Stir in macaroni. Reduce heat; simmer, covered, 18-22 minutes or until macaroni is tender. Sprinkle with cheese.
Makes 6 servings
Nutrition Information:
1 serving (1 cup) equals:
283 calories
11 grams fat (5 grams saturated fat)
55 mg cholesterol
716 mg sodium
23 grams carbohydrate
4 grams fiber
25 grams protein