Even though Austin is the capital of Texas, it has a more creative and artsy feel than cities like Dallas and Houston. Undoubtedly, the vibrant arts scene in Austin bleeds over into the culinary scene as well. For most restaurant owners and chefs, the most prestigious rating they could receive is the elusive Michelin Star, so you might wonder what Michelin Star restaurants in Austin are worth visiting.
Surprisingly, Austin doesn't have any official Michelin Star restaurants, but there's a simple explanation. There aren't Michelin Star restaurants anywhere in Texas since Michelin hasn't created a guide for the Lone Star State.
There are currently only five U.S. locations with Michelin Guides, but they're always looking for new cities and states to add. If the Michelin Guide does ever come to Austin, keep reading to find out what restaurants would make the list.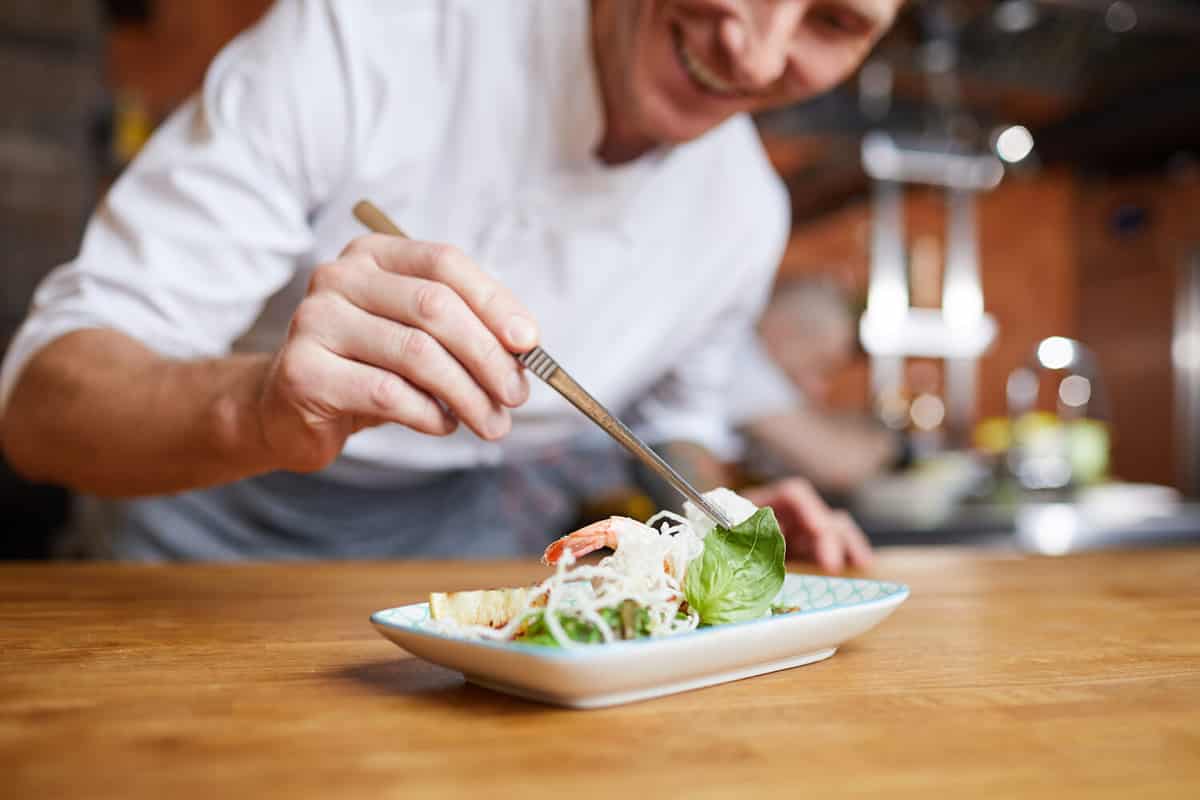 Michelin Worthy Restaurants in Austin, Texas
When it comes to cuisine, each city has its local favorites. With a creative and unique city like Austin, there are some restaurants that offer something you can't find anywhere else.
Michelin is adding two new guides in the U.S. in 2023, and although Texas isn't one of them, there are enough unique and luxurious restaurants in places like Austin that they may add a Texas Michelin Guide in the future.
If Michelin did come to Texas, here are some of the restaurants in Austin that could make the list:
Uchi
Emmer & Rye
Pasta | Bar
Toshokan
Barley Swine
Red Ash Italia
Canje
If you're ever in the Austin area, these restaurants are worth visiting. Let's find out what makes each restaurant unique and worthy of a Michelin Star.
Uchi
Award-winning Chef Tyson Cole leads the way for a fantastic experience in this stylish Japanese restaurant. Uchi is the perfect place to make a reservation for a special occasion or a sophisticated night out.
In Japanese, Uchi translates to house, and it's a fitting name for the stylish yet comforting atmosphere at this restaurant. The menu is focused on non-traditional Japanese cuisine and each dish strikes a balance between style and creativity. You can enjoy the 10-course chef's tasting menu for the full experience, or you can choose one of their daily specials.
The daily specials are constantly changing, but you might choose a dish like the Lobster Makimono with grilled romance lettuce and lemon aioli, or the Shiromi & Caviar with Mediterranean sea bass and an egg emulsion.
Emmer & Rye
Located on the bottom floor of the Skyhouse Austin Apartments, this restaurant is far from ordinary with a menu that changes daily based on the local farmer's haul. The flavors of each dish are inspired by Chef Kevin's unique experience cooking in Copenhagen and Denmark.
Chef Kevin Fink was a James Beard Finalist for the Best Chef in Texas, and the restaurant has also been recognized by The New York Times, Austin American-Statesman, and Bon Appetit.
With an ever-changing menu, it's always a surprise what dishes you might enjoy when you visit Emmer & Rye. You might find entrees like the Trumpet Mushroom with corn relish, sweet miso, and green beans. The cuisine also focuses on lesser known ingredients and grains, so there's a focus on freshly made pasta and breads, like the Sourdough Bread with green onion and smoked honey.
Pasta | Bar
Pasta Bar is the newest addition to the Scratch Restaurant family, started by husband and wife duo Phillip Frankland Lee and Margarita Kallas-Lee. Both Chef Phillip and Margarita have been featured in Zagat's "30 Under 30," and also recognized by numerous other publications.
The atmosphere at Pasta Bar is definitely intimate with only 10 seats available at the counter where you can enjoy the Tasting Menu. This seating arrangement also gives you a full view of the kitchen. The spectacular experience at Pasta Bar begins as soon as you walk in the door and are offered a complimentary cocktail in the lounge.
Once the adventure of your meal begins, you'll be surprised by each dish that brings a number of bold and creative flavors. With items such as the Scallop with lime granita and cucumber or the Escargot with smoke and bone marrow, there's no limit to the flavors you'll experience throughout the course of your meal.
Toshokan
If you're ready for an intimate, exclusive dining experience, Toshokan is the place to go. This restaurant offers a 14-course sushi speakeasy style meal, served to only six people at a time. You have to be quick if you want to snag reservations here. Toshokan was even included on the list of The Toughest Restaurant Reservations in America.
If you're lucky enough to get a reservation, you'll find your seat after entering the restaurant through a secretive bookcase door. Chef Saine Wong brings his talent and knowledge to Toshokan after spending years focusing on different types of cuisines all over the world. Before opening Toshokan, he traveled to 26 different countries to study the food and ingredients used in different cultures.
After opening its doors in 2022, Toshokan has become one of the most prestigious and exclusive sushi restaurants in Austin. Within the first year of opening, they were ranked one of the best new restaurants by Austin Monthly.
Barley Swine
Since 2010, Barley Swine has brought fresh flavors and local ingredients to life in the heart of Austin. The team at Barley Swine is led by Austin local Bryce Gilmore and this restaurant is committed to supporting local farmers and ranchers. They're also committed to doing their part in protecting the environment and they work closely with the non-profit organization ZeroFoodprint.
Barley Swine is a popular and well-loved restaurant in Austin, so reservations are encouraged. The entire dining experience at Barley Swine will take about two hours, and throughout that time, you'll get to experience every bit of the Chef's Tasting Menu.
The menu does change seasonally, but you can expect each dish to include bold flavors and a mix of local ingredients. You may see options like the Baked Halibut with vanilla oyster mushrooms, watermelon radish, and chamomile broth. The meal wouldn't be complete without dessert such as the Blueberry Sorbet with cucumber granita or the Peach Doughnut with peach leaf ice cream.
Red Ash Italia
Red Ash stands out on the list of Michelin worthy restaurants in Austin as a restaurant with craft Italian cuisine. Executive Chef John Carver leads his team to prepare creative dishes inspired by the cuisine of Northern and Southern Italy.
The menu at Red Ash includes items such as handmade pasta, seafood, and delectable Italian desserts. There are signature dishes such as the Wood Roasted Beef Bone Marrow with roasted shallot bounty and grilled country Italian bread. You can also enjoy fresh pasta such as the Potato Gnocchi with fresh cream, gorgonzola, and smoked prosciutto.
During your meal, feel free to choose selections from the extensive wine list. Here you'll find wines from across the world including selections from Italy, Spain, France, Argentina, and Chile.
Canje
Traditional and modern dishes collide at this lively and vibrant Caribbean restaurant in Austin. At Canje, you'll find bright colors, bold flavors, and cuisine inspired by Guyana, Puerto Rico, Jamaica, and every island in between.
Even the name of the restaurant adds to the story of the environment. Canje is named after the Canje pheasant, which is the national bird of Guyana. This tropical bird provides some insight into the type of vibrant food you'll experience when you dine at Canje.
The menu includes a variety of dishes such as the Striped Bass with mojo, tomato, okra and orange. Or you might try the Grilled Pork Guisado with Berkshire pork chop and tomatoes. You can't complete your meal without tasting one of their unique desserts such as the Cassareep Ice cream with dark chocolate, passion fruit, puffed rice, and pepitas sprinkled on top.
The Best Restaurants Austin Has to Offer
Anyone who has lived in or visited Austin will tell you how unique the city is. From its vibrant art and music scene to its vast array of creative restaurants, there are plenty of exciting things to do and see in Austin.
Although there aren't any Michelin Star Restaurants in Austin so far, Michelin may add a Texas guide in the future. There are plenty of restaurants for Michelin to explore across the great state of Texas, especially in the capital. If Michelin does visit Texas one day, they may consider some of these luxury restaurants in Austin.
The image featured at the top of this post is ©Roschetzky Photography/Shutterstock.com.