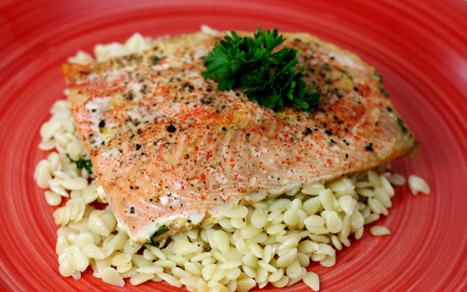 Orange-Rosemary Poached Salmon
Ingredients:
1 cup orange juice
1 cup vegetable broth
½ cup fresh parsley leaves
3 tablespoons butter
6 garlic cloves, pressed
2 (5-inch) sprigs fresh rosemary
1 navel orange, sliced
4 (6 ounce) skinless salmon fillets (½ to ¾ inch thick)
1 teaspoon salt
2 teaspoons orange zest
½ teaspoon freshly ground black pepper
¼ teaspoon ground red pepper
Directions:
1. Place first 7 ingredients in a 5-quart oval slow cooker. Cover and cook on high for 2 hours.
2. Meanwhile, sprinkle salmon with salt, orange zest, and peppers. Cover and chill.
3. Place salmon in liquid in slow cooker. Cover and cook 30 minutes more or until desired degree of doneness. Carefully transfer salmon to a serving platter using a large spatula. Serve over orzo.