Non-stick pans were invented in 1954 by a French engineer named Marc Gregoire. Only a few years later, in 1961, they were brought to the U.S. Non-stick pans quickly became staple items in every home because of the benefits they offered. Today, we will cover everything you need to know about non-stick pans and five reasons to start using them.
What Is Non-stick and How Does It Work?
Non-stick cookware are pots and pans that are coated with polytetrafluoroethylene (PTFE). This material is also known as Teflon. It is a synthetic chemical that was originally created in the 1930s. PTFE was first used in the Manhattan Project, the top-secret program to make the world's first atomic bomb. It was used on gaskets and valves to avoid corrosion from substances being used.
You might be thinking, that is some serious business. What right does PTFE have being in your cookware? Well, French engineer Marc Gregoire was using PTFE one day to remove glass fiber fishing rods from a mold. After telling his wife about his work, she challenged him to use that material and create something that could help her in her day-to-day life, a pan with PTFE, so she could make food without it sticking.
The science of non-stick pans is simple. It is not possible for food molecules to form a bond with the carbon atoms that are found in PTFE. PTFE is an extremely stable molecule, meaning that it repels all other molecules. This ultimately leads to it being a non-stick surface.
Now that you have an understanding of what non-stick pans are, here are five reasons why you should start using them in your home.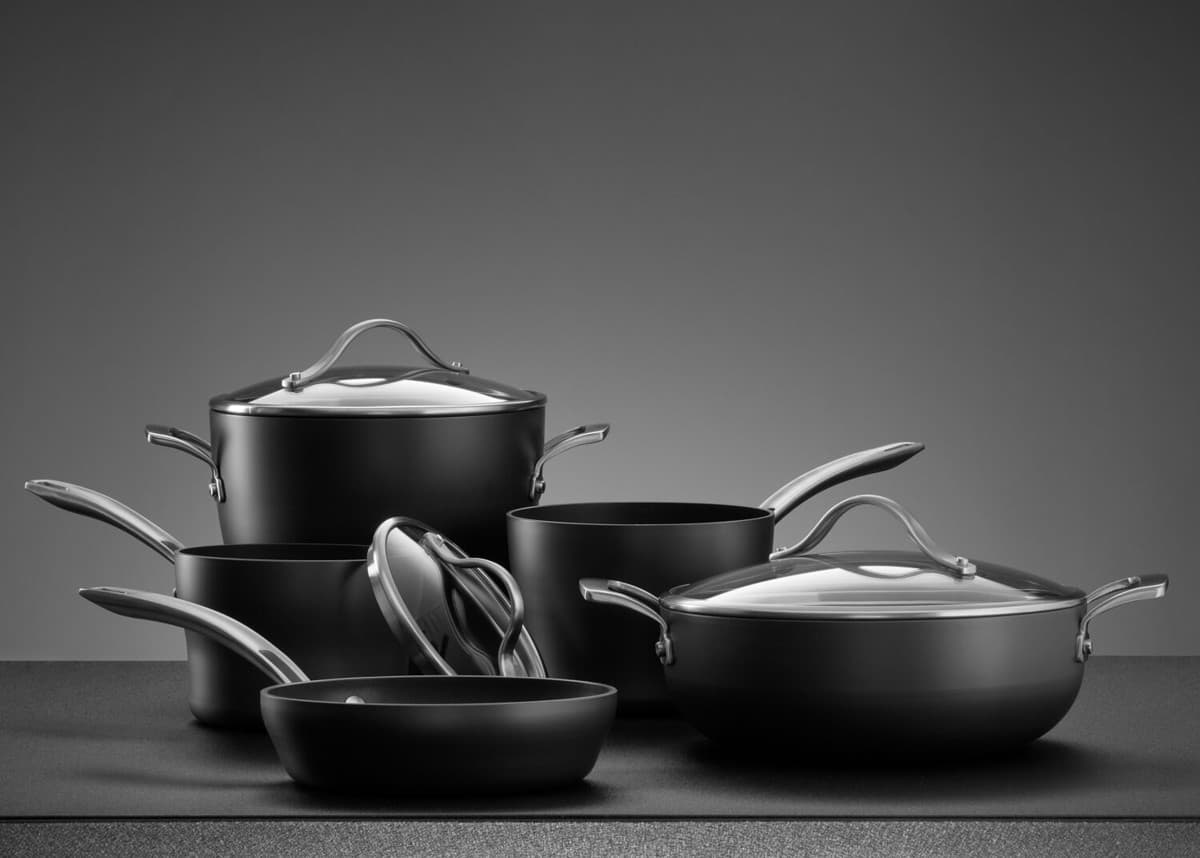 1. Easy To Clean
A great perk of using non-stick pans is that they are very easy to clean. When using stainless-steel pans, food often sticks. This means you have to soak the pan in hot water for the food to release so you can scrub it away. It usually ends up requiring a bit of elbow grease as well. With a non-stick pan, food is not sticking to the pan, so you just need a soft sponge, soap, and warm water to clean away any grease.
2. Goof Proof
If you're new to cooking or just a busy parent multi-tasking, non-stick pans are a great way to reduce the risk of burning your food. Because of its non-stick properties, food can't bind to the pan, which means it would take longer for your food to burn than if you were using a stainless steel pan. Non-stick cookware also helps with heat distribution, so it helps make sure that certain areas of the pan aren't getting hotter or overheating in specific areas.
3. Reduces Fat Consumption
This is a great benefit of using non-stick cookware that is less obvious than some of the others. Because your pan is non-stick, that means you don't have to grease your pan with oil, fat, or butter to prevent the food from sticking. This, in turn, will make the food you eat healthier. It is believed that you can reduce your oil consumption by around 80% if you use non-stick cookware over stainless steel. This makes non-stick a great option if you want to shallow-fry food but not consume so much oil.
4. Affordability
Like anything you buy, you can find cheaper and more expensive non-stick cookware. But compared to pans that aren't non-stick, typically, non-stick is going to offer more affordable options. A cheap eight-inch stainless-steel pan will be around $20. For non-stick, you can find a cheap eight-inch pan for $6. It is important to note that just because you have a non-stick pan doesn't mean it will last forever. The higher the quality it is, the better it will perform. So, if you want your non-stick to last, you should get something closer to the $20-$30 mark.
Nonstick Fry Pan Set
8, 10.25, 12 Inch Oven Broiler Safe 400F, Lid Safe 350F Cookware, Pots and Pans, Dishwasher Safe Black
We earn a commission if you make a purchase, at no additional cost to you.
Appearance
Non-stick pans can offer a better appearance for two reasons. Your basic non-stick cookware is going to come in a dark grey coating. They are also made to avoid scratches. So, non-stick looks like it holds up much better than stainless steel cookware would. No matter how well you take care of your stainless-steel cookware, it's inevitable that it will develop scratches over time and start to look aged. The second reason non-stick can have a better appearance is that it comes in many colors! Although the basic color they come in is grey, you can find different colors like red, green, orange, blue, or other colors to match the aesthetic of your kitchen.
The image featured at the top of this post is ©Vladimir Sukhachev/Shutterstock.com.