From Qadira to Quorra and everything in between, hundreds of baby girl names starting with the letter Q along with the meanings and origin of each name.
Baby Naming Tip – The meaning of a name is definitely something to consider when choosing your baby's name. You can add special significance to your name choice if it means something that matters deeply to you. Whether spiritual, literary, or symbolic, a name's meaning can be a guiding factor when deciding on baby girl names.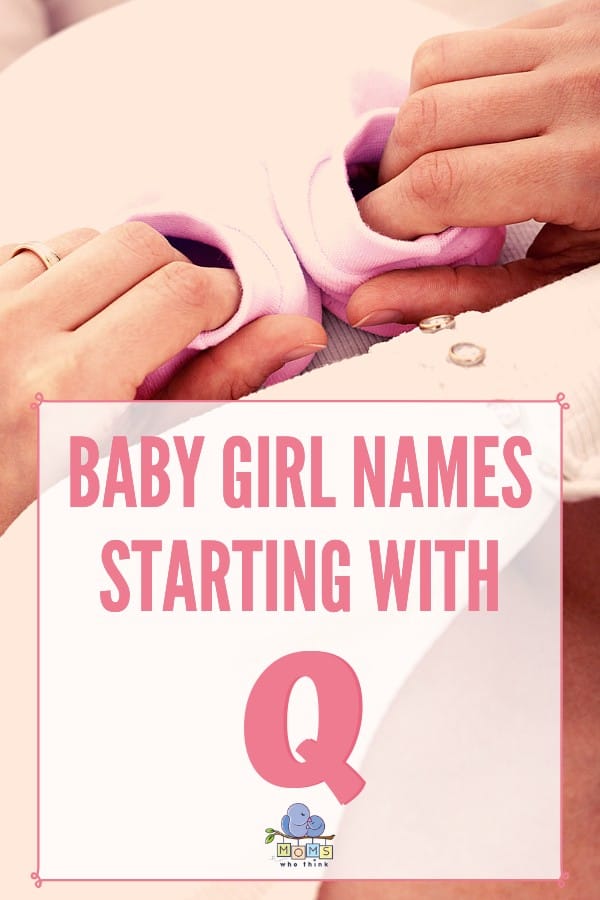 Most Popular Baby Girl Names Starting with Q
First we'll start with the most popular baby girl names from 2018. They were:
Quincy
Quinley
Quinnley
Quetzalli
Quin
Quinlynn
Qamar
Queena
Quinlyn
Quincee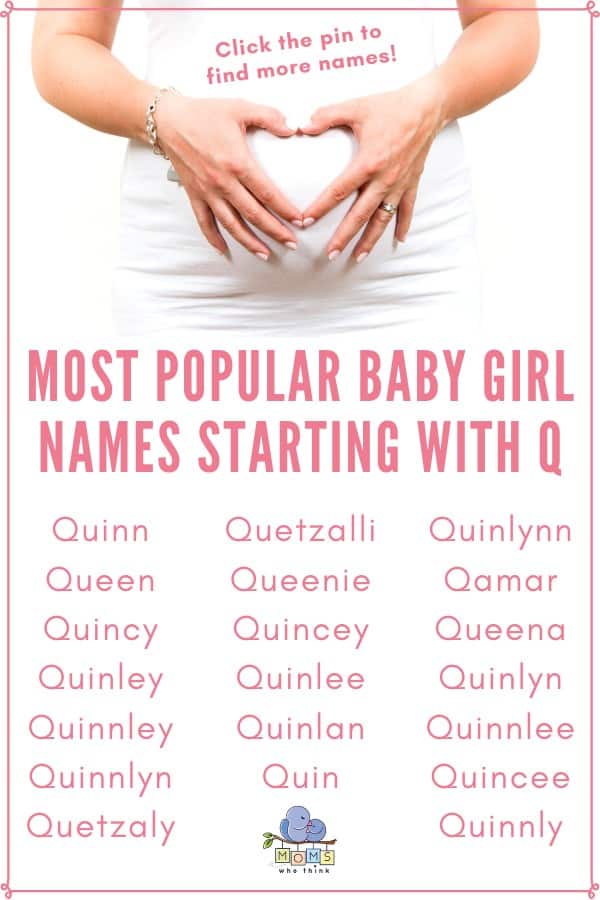 Quinn was the most popular baby girl name starting with Q in 2018.  This should come as no surprise as Quinn has been the most common baby girl name starting with Q as far back as 2009. What a run!
Here's how the top three names have looked over the past decade:
Quinn wasn't just popular for Q girl names in 2018. Overall it was the number 84 most popular name among all baby girl names in 2018. Here's how it looked when compared to all baby girls born in 2018.
[wpdreams_ajaxsearchpro id=2]
---
While Quinn was a popular choice in 2018, you can see it wan't quite as popular a baby girl name as Valentina.   Just for fun, let's take a look at the most popular baby girl names beginning with Q throughout history.
Unique Baby Girl Names Starting With Q
While it's fun to see what lots of other people are naming their babies, many people prefer to find baby names that are more uncommon. To that end, below is the some of the more unique baby girl names starting with Q.
Quorra
Quetzali
Quiana
Quetzally
Quinci
Quincie
Quynn
Quinzel
Quinleigh
Qwynn
Quaniyah
Quetzal
Qirat
Quest
Quianna
Quiara
Quinnlynn
Quynh
Overall, Qiana was the 9599th most popular girl name in 2018 with 11 babies. That means there were 306x more Quinns than Qianas last year. That makes it a very unique name!
If you don't have your name in mind yet, don't worry! Below we present a list of literally every baby girl name — including middle names — starting with Q, the name's meaning and origin. Good luck and have a wonderful day.
Qadira through Quorra
Qadira Arabic — Powerful.
Qamra Arabic — moon
Queena Old English — A woman.
Queenie   — Queen or female companion.
Quella English — To pacify.
Quenby Scandinavian — Womanly.
Quentin Latin — The fifth, as in the fifth-born child. A boy or girl's name.
Querida Spanish — The beloved one.
Questa French — The searcher.
Quincy Latin/French — The fifth, as in fifth child. A boy or girl's name.
Quinn Irish Gaelic — Wise and intelligent. A boy or girl's name.
Quinta Latin — The fifth, as in fifth child. Also see Quentin.
Quintessa Latin — essence
Quintina Latin — fifth
Quirita Latin — A citizen.
Quiterie French — tranquil
Quoba Latin — A citizen.
Quorra Italian — heart
back to Baby Girl Names