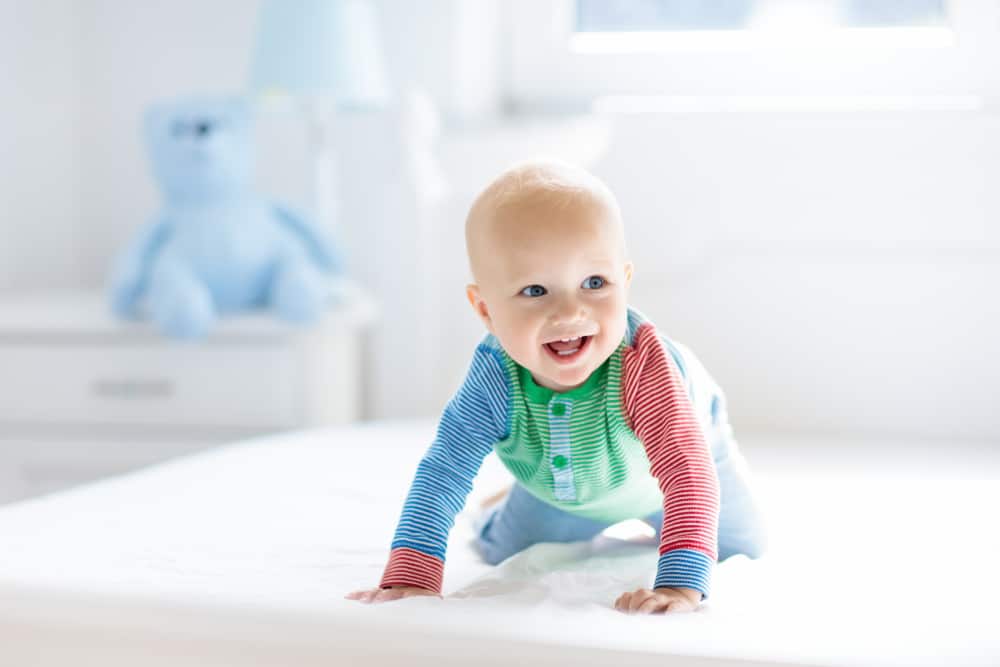 Lenny, Lars, Lance, Leo … The number of baby boy names that start with L is endless. Here's a list of great options to help you find the perfect selection for your little boy.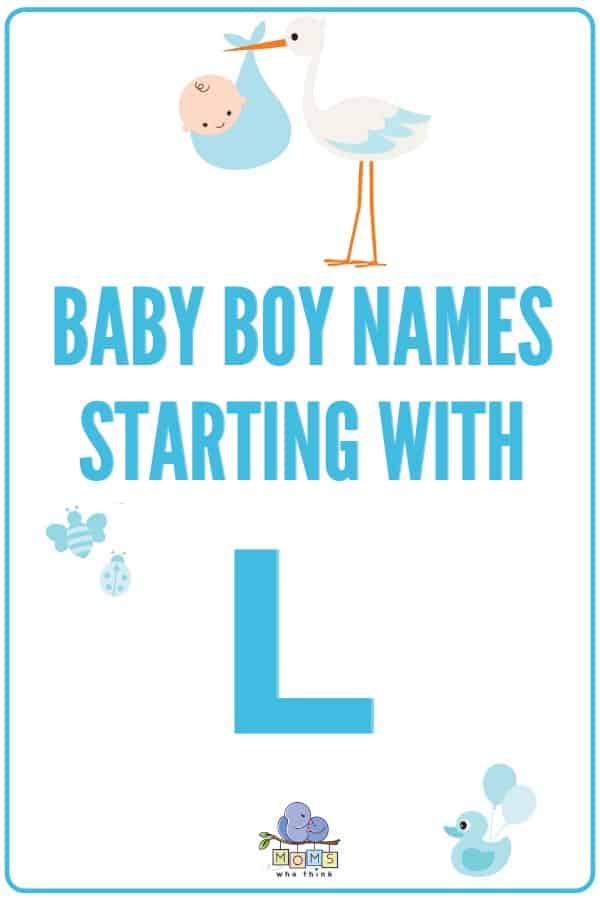 Modern Baby Boy Names Starting with L
First we'll start with the most popular baby boy names in 2021:
Logan — Logan as a name is derived from a Scottish Gaelic surname that was given to people that were from Auchinleck, in Ayrshire County, Scotland.
Lisandro — Lisandro has only ranked on the list of the most popular baby names in the United States once, in 2002!
Luiz
Luke
Lucas — Lucas has always been a popular name among scriptwriters, even from the days of early film. Even in recent years, the name Lucas has served as a character in "One Tree Hill" and in "Lucas Tanner."
Lamarion — Lamarion as a given name is a modern construction. Lamarion has a number of possible, common spellings such as Lamariyon and LaMarion.
Laine — Laine is the seventh most common surname in Finland. It is also one of the top 10 baby names for girls in Estonia.
Lux
Loyal
Liam — Liam has long been a strong Irish name but the actor Liam Neeson has thoroughly solidified that notion with the tough as nails characters he portrays in his movies. Whether it is the "Taken" series, "The Commuter", or "Clash of the Titans", this Liam lives up to the meaning "guardian".
Landon — Landon is another old English name that began originally as a surname. It only, within the last century, became popular enough for a first name with a ranking on the Social Security Index.
Luis
Lebron — Lebron is a name with growing popularity in African American communities. This popularity has transformed an otherwise rare name into a common occurrence in some states. For example, Lebron was the 1,238th most popular baby boy name in Florida in 2012.
Levi — Levi Strauss' original pants were actually made of canvas. He saw that the miners in the San Francisco area were wearing out their pants at an alarming rate and decided he could create a better pair of pants for the miners that could stand up to the harsh conditions. He commissioned a tailor to make the pants and before long they became the go to attire for miners.
Legacy — Legacy is a name found in numerous comic books, films, literature, and music in one variation or another.
Leslie
Lenox
Luther
Leopold
Linden
Leonardo — Leonardo da Vinci has been long regarded as one of the greatest painters of all time, but his technological ingenuity is rarely matched. He designed flying machines, armored vehicles, adding machines, and a way to concentrate solar energy. Born in 1452, he was truly a visionary of what was to come hundreds of years after his demise.
Linkin
Laron
Lyam
Loki — Loki is an essential figure in Norse mythology. He will break free from his torment during the battle of Ragnarok. Legend says that Heimdall will finally slay him.
Laken — Laken may not have a specific origin story, but some people believe its popularity in the early 90s came from the soap opera character Laken Lockridge of "Santa Barbara" fame.
Leo — Leo is not only a nickname for Leon. It can also be used for Leonardo, Leopold, and more.
Loren
Link
Lincoln — Lincoln is a baby name closely associated with Abraham Lincoln who was the 16th president of the United States. Lincoln was president during the Civil War and his famous speech "the Gettysburg Address" has gone down as one of the most famous speeches in American history.
Ladarius
Lev — Lev has never been on the top 1,000 list in America. In Russia and other eastern European countries, however, it is a top 100 option.
Lucio — Lucio is one of several names related to the Latin name Lucius. Other related names include Lucas and the female variation Lucia. In 2020, a total of 96 baby boys received the name Lucio at birth in the United States.
Lukas — Lukas remains one of the most popular name options in Norway and Germany. This makes it a great choice if your family has origins from either of these countries.
Levon — Levon first appeared among the top 1,000 baby names for boys as the 964th most popular name of 1937. It is also the namesake of the song "Levon" by Elton John.
Ledger — Ledger has multiple variations. Leger is the French option that Ledger comes from. Leodegar is the Old English version, and Legier is the Old French. Leodegar, finally, is the Germanic variation.
Lorenzo
Luca — Luca is primarily a boy's name in Italy, but Jennie Garth may have turned it into a unisex name in America. She named her daughter Luca.
Lian
Lazarus
Lane — Lane became popular as a given name during the 1920s. The name Lane rose in popularity again during the 1990s and has remained among the top 400 baby boy names since 1994.
Louis
Landen
Legend — Legend has become a popular baby name over the last decade. Rapper, writer, and actor Donald Glover chose the name for his son in 2016. Singer and Youtuber Queen Naija and mixed martial artist Josh Burkman also chose the name for their sons.
Lochlan
Lennox — Lennox Lewis may have been the first real person to have the baby name as a first name. It was he who helped to increase this name's popularity. Before this though, Shakespeare did use the name in "Macbeth."
Landan
Lars — Lars as a given name is popular in Scandinavian countries like Denmark, Sweden, and the Netherlands.
Lenny
Leon — Leon isn't just making a comeback as a popular name for baby boys; it's becoming a beloved celebrity baby name as well. Actors Brad Pitt and Angelina Jolie named their son Knox Leon Jolie-Pitt. Prince Alexander von Fürstenberg named his son Leon, as did singer Zhana Bergendorff. Other celebrity parents who chose the name Leon include skier Ivica Kostelić, soccer player Toni Kroos and Oasis guitarist Andy Bell.
[wpdreams_ajaxsearchpro id=2]
---
Unique Baby Boy Names Starting With L
While it's fun to see what lots of other people are naming their babies, many people prefer to find baby names that are more uncommon. To that end, below is the some of the more unusual & unique boy names that start with L:
Leonidas
Lawrence
Laith
Larry — Larry as a given name comes from the Roman place name Laurentium which was located on the Italian peninsula. Laurentium likely derives from the Latin word "laurus" meaning "bay laurel".
Lance — Lance ranked among the top 500 baby boy names from the late 1930s all the way through the early 2010s. It is also the namesake of popular numbers like "Lance's Song" by the Zac Brown Band.
Landyn — Landyn is not as popular as the original, Landon. It is a top 700 option, and Landon is on the top 100 list.
Leonel
Landin — Landin may not be that popular right now, but the original spelling, Landon, has been a top 100 baby name for boys in the United States since 2003. The name has been part of the list of the top 1,000 baby names for boys in the United States on and off since 1903.
Leland — Leland is a name with so much pride as an astronaut, a Noble Peace Prize winner, and the founder of Stanford University all have the name.
Latrell — Latrell first appeared among the top 1,000 baby names for boys as the 966th most popular name in 1995. The name Latrell consistently appeared among the top 1,000 boy names from 1995-2003.
Landry — Landry as a given name was traditionally masculine until the turn of the century when it became popular with both genders. Landry drives from Landric which means "mighty king".
Lazaro — Lazaro was a popular name in the United States from the 1960s to the 1990s, but fell out of fashion before the turn of the 21st century!
Lucian — Lucian is a name related to several saints, including Saint Lucian of Beauvais. Not much is known about his life other than he was named after his father and came from a noble family. He reportedly converted over 30,000 people to Christianity by preaching against the Roman gods.
Leeland
Lucca
Linus — Linus van Pelt from the "Peanuts" comic strip may be one of the most famous Linuses to date. He's known as Charlie Brown's best friend, Lucy van Pelt's younger brother and the object of Sally Brown's affection. Linus always has his security blanket in hand and sucks his thumb, but he's also very wise and something of a philosopher.
Langston — Langston first appeared among the top baby names as the 957th most popular baby names for boys in 2013. The name Langston has ranked among the top 1,000 baby names for boys ever since.
Lyndon — While Lyndon B. Johnson is the most famous person with this first name, there are countless people named Lyndon out there based on the fact that it endured as one of the most popular baby names in the United States from 1906 to 1989.
Lyric — Lyric refers specifically to a type of song played on a lyre!
Louie — Louie ranked among the top 1,000 baby names for boys for nearly a century from 1900-1993. After a decades-long absence from the list, Louie reemerged as the 961st most popular baby name for boys in 2015. Louie has remained a top baby name for boys ever since.
Lennon — Lennon follows a common trend in baby names. Parents want to give their children titles that reflect their favorite musicians. Other similar options include Presley, Hendrix, and Jagger.
Lawson — Lawson isn't just reemerging as a top 1,000 baby name, it's becoming a common celebrity baby name as well. Country singer David Nail, soccer player Ross McCormack and "Big Brother" stars Jordan Lloyd and Jeff Schroeder all used the name for their sons.
Leyton
Lewis — Lewis isn't just a popular given name. It's a surname as well. One of the most famous people in history to hold the name was Meriwether Lewis, an explorer and one half of the famous duo who made the Lewis and Clark Expedition.
Lyle — Lyle was solely a name for boys up until modern times. It currently follows the trends of options for girls like Lyla and Layla.
Leonard
Lachlan — Lachlan first appeared among the top 1,000 baby names for boys in 2013. This name has risen in popularity throughout North America ever since. Lachlan is also one of the top 10 baby names for boys in Australia and New Zealand.
Lee — Lee is also a common nickname for many popular given names, ranging from Ashley to Leslie.
Luciano
Luka — Luka first appeared among the top 1,000 baby names for boys in 2004. In a little over a decade, Luka rose through the ranks to list among the top 500 baby boy names and has remained popular ever since. Luka is the most popular baby name for boys born in Croatia and Slovenia, and it also ranks highly in Bosnia, Herzegovina, Belgium, and France. In addition, it is the namesake of the song "Luka" by Suzanne Vega.
Layne — Layne as a name was originally a surname, but like a lot of surnames it made its way into the realm of given names. At first it was mostly a boy's name, as time went on and parents started looking for more gender-neutral names, it started gaining traction as a girl's name. In 2020 it was in the top 1000 baby names for both boys and girls.
London — London is a stylish unisex name. It consistently ranks among the top 1,000 baby names along with other city names like Brooklyn, Dallas, Austin, Bristol, and Paris.
Layton
Lucien
Leandro — Leandro originates from Leander, who was an important character in Greek history. He was a mythological character in love with a woman named Hero.
Lucius
Lamar — Lamar Jackson may be one of the most notable people with the name. The quarterback for the Baltimore Ravens, he's played in two Pro Bowls and the NFL MVP in 2019. He was also the Heisman Trophy winner when he played college football at the University of Louisville.
Lonnie
Lathan
Lester — Lester is an old-fashioned name. For this reason, it should follow the trend of vintage names becoming popular again. Unfortunately, there is no sign of hope for Lester, however, which is one of the few old names for boys in this scenario.
Lamont — Lamont ranked among the top 1,000 baby names for boys from 1937-2008.
Lionel
Leighton — Leighton Meester is probably the most notable person with the name. Born in Texas in 1986, the actress is best known for playing socialite Blair Waldorf on the TV show "Gossip Girl." She has also appeared in several movies and modeled for brands like Jimmy Choo, Herbal Essences, and Vera Wang.
Leroy — Leroy began as a nickname in France! Though it still has an informal feel, it is much more old-fashioned in modern times.
Leif — Leif rhymes with "life" in Sweden, Finland, and Iceland, "safe" Denmark and Norway, and "leaf" in English!
Lloyd — Lloyd isn't the original spelling of the name in Welsh; in fact, the original spelling is Llwyd!
Did you find any winners in the list of rare boy names that start with L? If not, don't worry! We have thousands more names on the site to choose from. Be sure to check out all baby names that start with L as well as middle names that start with L.