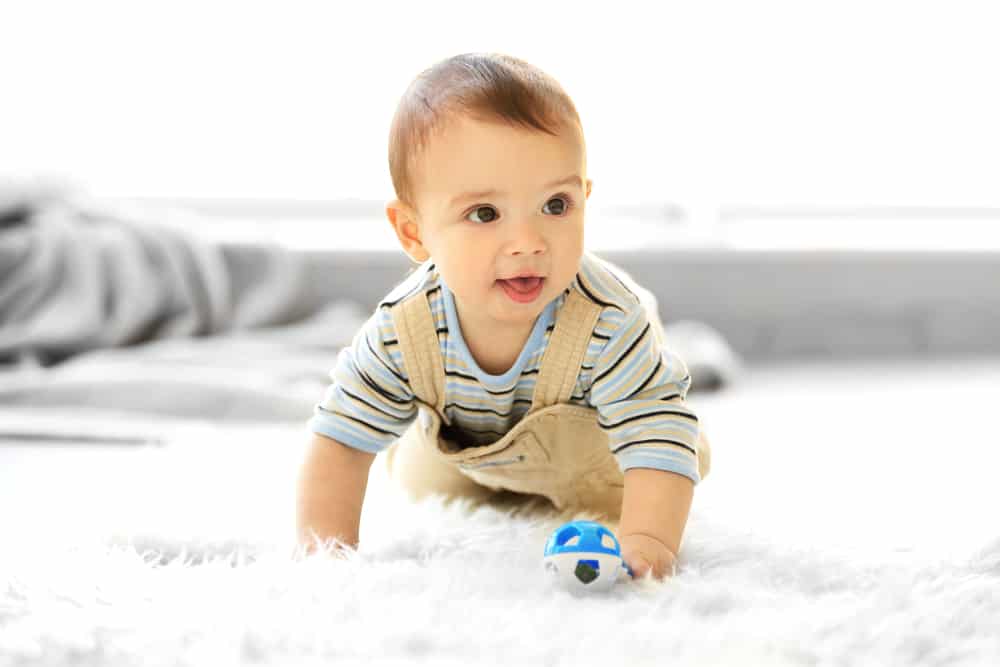 From Edwin to Elijah, there are plenty of baby boy names that start with E. Here's a list of E names — from popular to unique — that will help you select the perfect option for your little one.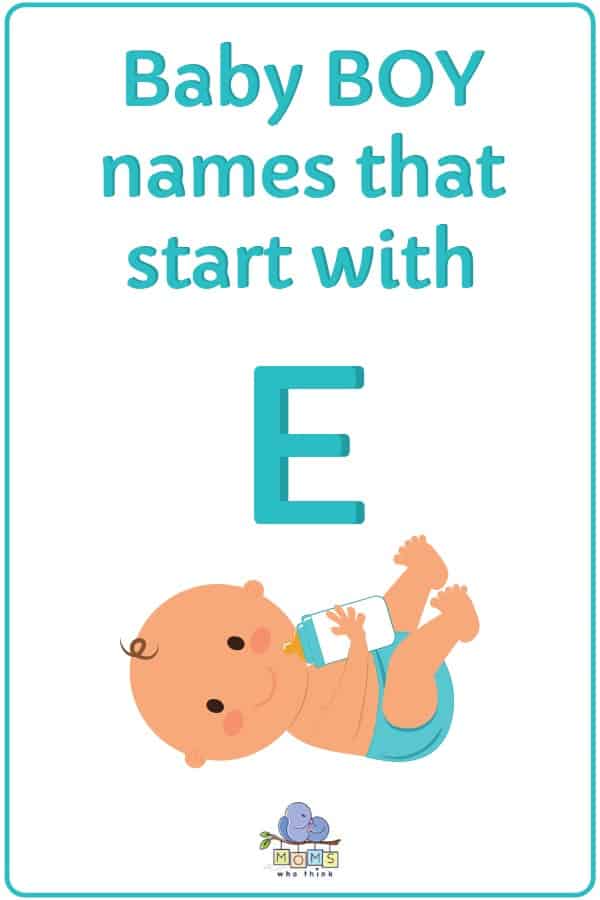 Modern Baby Boy Names Starting with E
First we'll start with the most popular baby boy names in 2021:
Ethan — Ethan has been in existence for hundreds of years, and the Hebrew version for thousands. Despite this, the name did not even rise to the top 100 list until the end of the twentieth century.
Elijah — Elijah was a prophet in the Bible who was said to have never died. Instead, God took him in a chariot of heaven to the afterlife.
Ermias
Erin — Erin and Aaron sound the same, but each spelling comes from a different country.
Emily — Emily is a name that appears in the title of many songs, including "For Emily, Whenever I May Find Her" by Simon and Garfunkel, "See Emily Play" by Pink Floyd, "Emily's Song" by Moody Blues and "A Rose for Emily" by the Zombies.
Emma — Emma was popularized in America due to the introduction of a character by Jane Austen. In modern times, the name is popular due to actresses Emma Watson and Emma Stone.
Edric
Ethyn — Ethyn as a given name comes from the Biblical Hebrew name Eitan. Eitan is the name of several minor figures in the Bible.
Edrick — Edrick Lee may be the most famous person with the name. He's a professional rugby league footballer who plays for the Newcastle Knights in the NRL. Born in Brisbane, Queensland, Australia, he's been playing professionally since 2012. He also played basketball as a child.
Edmond — Edmond is most popular because of Edmond Halley. Halley's comet received its name from this noted scientist.
Eben — Eben is a unique alternative to other two-syllable names for boys. It is similar to Ethan and Evan but feels more formal.
Everette
Eiden — Eiden was the 285th most popular name for boys born in Spain in 2010.
Ellison
Eros
Evan — Evan has an origin story detailing that it is the Welsh version of the Hebrew name John. Evan is actually a word in Hebrew, however, rather than a name. It means "rock."
Esai
Eloy
Elio — Elio originated in Italy, but it is now popular throughout Europe. Parents use it in Spain, and in France, it is a top 250 option.
Elyas — Elyas may gain some popularity from pop culture. The character Elyas Machera appeared in the popular "The Wheel of Time" book series by Robert Jordan. He's considered a Warder and a Wolfbrother. The book series has been made into a TV show, which may add to its appeal.
Elyjah
Eitan — Eitan as a given name is uncommon in the US where the spelling Ethan is more popular. Eitan is a very common name in Israel, however, and there is a location in southern Israel that shares the name.
Eli — Eli was not only a judge in Israel. He is the person who trained the popular character Samuel from the Bible.
Eric — Eric ranked among the top 100 names for boys from 1950-2010. It is also the namesake of popular songs like "Eric the Half a Bee" by Monty Python.
Edson
Erwin
Elias — Elias is the name used in Greek Orthodox versions of the New Testament of the Bible instead of the Hebrew name Elijah.
Edward — Edward originated during similar times to the names William and James, but it is not as consistent. This is a baby name that moves in and out of the spots for one of the most popular names for boys.
Edgardo — Edgar is name that was largely dormant from the Middle Ages until the 19th century!
Elon — Elon Musk is definitely the most notable person in pop culture with the name. Born in South Africa in 1971, he's the CEO of Tesla, founder of SpaceX, and the founder of several other companies.
Eithan
Ezrah
Evander — Evander is one of the most celebrated Greek baby names for boys. In 2020, a total of 193 boys received the name Evander at birth in the United States.
Eliam
Emmanuel — Emmanuel features in many Christian hymns as one of the names of God.
Eduardo
Everest — Everest is a name almost always associated with the tallest mountain in the world in modern times. It's 29,032 feet high and most likely the highest point on the planet. It sits on the border of Tibet and Nepal.
Eian
Ezekiel — Ezekiel is the name of an Old Testament and Hebrew Bible prophet that authored the Book of Ezekiel that predicted the fall of Jerusalem and the eventual repopulation of Israel.
Ender
Elam
Erick
Easton — Easton, though the name has been around for centuries as a surname, is only, just in the last two decades, a popular first name. This may be due to the Kardashian-Wests using cardinal directions to name their child North, for instance.
Ezra — Ezra feels fresh in modern culture despite being a Biblical name. It is popular due to poet Ezra Pound, blogger Ezra Klein, and even the son of Paul Reiser is named Ezra.
Edwin — Edwin ranked among the top 100 baby names for boys from 1900-1941. It is also the namesake of the song "The Ballad of Doris and Edwin" by Christine Lavin.
Edgar
Emmit — Emmit is also a Cornish word that is used to refer to tourists!
Erik
Elliot — Elliot as a given name is also commonly spelled Elliott. In a rare example, both spellings are equally popular.
Emilio — Emilio and Emiliano both have the same origins, and each is very popular. Emiliano is only slightly more popular, however.
[wpdreams_ajaxsearchpro id=2]
---
Unique Baby Boy Names Starting With E
While it's fun to see what lots of other people are naming their babies, many people prefer to find baby names that are more uncommon. To that end, below is the some of the more unusual & unique boy names that start with E:
Everett — Everett has a strange meaning of "brave boar" or "wild boar herd." This meaning has deep symbolism though as the German people saw the boar as a representation of strength and bravery.
Emanuel — Emanuel is a Hebrew term meaning "God is with us" and is used as a refrain in many Jewish and Christian prayers and hymns.
Eason
Elliott — Elliott is a popular name for script writers, ranging from characters in "Glee" to "E.T., The Extra-Terrestrial."
Everardo
Evin — Evin as a given name has many possible origins. Two of those origins are Welsh and Irish. Despite the relative closeness of the countries, the names do not share a common origin. In Welsh, Evin is a variant of the name John. In Irish, Evin comes from the term "eimh" combined with a common Irish diminutive.
Emmett — Emmett is one of the rare names that has never made it past the top 200 list on the Social Security Index. It seems to be getting closer with a ranking of 106 in recent years, however.
Enrique — Enrique is a name that easily crosses different cultures thanks to the many nicknames alternating between Spanish and English-based names.
Esteban
Eder — Eder is a masculine baby name, but there are feminine options. The variants for girls include Eider and Ederne.
Emmitt — Emmitt Smith is one of the most notable people with the name. Born in 1969, the former running back is considered one of the greatest to ever play football. He's the NFL's all-time leading rusher. Smith spent most of his career with the Dallas Cowboys and played his final season with the Arizona Cardinals. In 2010, he was elected into the Pro Football Hall of Fame. He won three Super Bowls and numerous awards throughout his career.
Emerson — Emerson began as a more popular name among boys as it started with the meaning of Emery's son. Now in modern times, the name is much more popular among girls, almost requiring a new meaning.
Emmet — Emmet is a variant spelling of Emmett that is more common in Ireland because of Irish political activist and rebel Robert Emmet.
Efren — Efren is more popular in Spanish-speaking cultures. The name it's derived from, Ephraim, was considered a Jewish name for years, but the Puritans adopted it around the 1600s.
Elan
Ernesto
Eliyahu
Enzo — Enzo as a given name has only become popular in the US in 2003, but the name is traditional in my European countries such as Italy and France.
Eddie
Ezequiel — Ezequiel as a given name comes from the Hebrew name Ezekiel. Ezekiel is considered a prophet in Judaism, Christianity, and Islam.
Ethen — Ethen is a preppy name that has biblical roots going back all the way to Ethan the Ezrahite.
Ely
Ellis — Ellis is typically a name for baby boys, but on rare occasions, it's used for girls. The famous writer Emily Brontë actually used it for a pen name. She actually wrote the novel "Wuthering Heights" under the name Ellis Bell.
Eden — Eden as a name can be found in the Book of Genesis in reference to the Garden of Eden. So, the name has been around a long time. Since 2008, Eden has been in the top 1,000 most popular names for both boys and girls. This makes it one of the most prolific gender-neutral names of this time frame, and perhaps a great choice for your new little one!
Estevan
Emir — Emir, when written in the Turkish language, has a dotted İ all the time so that it looks like "emir" or "EMİR".
Emery — Emery as a name comes from the material emery, also called corundite, which is a stone that has industrial applications.
Elisha
Emory — Emory as a name comes from the emery, also called corundite, which is a stone that has industrial applications.
Eugene — Eugene is such a popular name that there are variants of Eugene in 44 languages!
Eliel
Elian — Elian has only ever broke the top 1000 list of popular baby names when used for boys despite that the name is gender-neutral.
Ewan
Eleazar — Eleazar is thought to be related to another biblical name, Lazarus. In the Bible, Lazarus is famous for being one of Jesus's miracles. The story goes that Jesus brought him back to life four days after he died. It's recounted in the book of John.
Emil — Emil as a given name fell out of favor in the US in the mid 1980's. However, Emil has remained a popular name in countries in northern and eastern Europe like Finland, Poland, Iceland, and Norway.
Earl
Edison — Edison as a given name owes some popularity to the famous inventor Thomas Alva Edison. Edison was born in 1847 and did work in the fields of electric power generation, mass communication, sound recording, and motion pictures.
Edmund
Efrain — Efrain fell off the list of the top 1,000 baby names in the United States in 2014, but it had been on the list for well over half a century. Ironically, the original spelling, Ephraim, made its way onto the list in 2013, just as Efrain was making its exit. Ephraim was still on the list as of 2020, but it ranked at number 1,000.
Ephraim
Ernest — Ernest Hemingway is probably the most notable person with the name. The literary giant was a novelist, short-story writer, journalist, and sportsman, and his work influenced American literature in the 20th century. Hemingway spent much of his life living in Paris, Key West, and Cuba, though he eventually moved to Idaho where he lived his final years.
Elvis
Ean — Ean as a given name is the Manx version of the names Ian or John. The name is popular on the Isle of Man.
Ervin
Enoch — Enoch isn't just a given name. It's also a place name throughout the United States. Kentucky, Utah, West Virginia, Texas and Georgia all have cities or communities with the name.
Eliseo — Eliseo first appeared among the top 1,000 baby names for boys in 1928 and remained intermittently popular throughout the 20th century. The name Eliseo underwent a resurgence in 2014 as the 959th most popular baby boy name that year. Eliseo has ranked among the top 1,000 names for boys ever since.
Elmer — Elmer Fudd may be the most notable character with the name. A part of the Looney Tunes universe, he's known for his odd way of speaking and trying to hunt Bugs Bunny.
Eliezer
Eamon
Ever
Did you find any winners in the list of rare boy names that start with E? If not, don't worry! We have thousands more names on the site to choose from. Be sure to check out all baby names that start with E as well as middle names that start with E.