So you're having a baby boy, or you're thinking you might have a boy? Congratulations! It's time to figure out what name you're going to give him. There's thousands of choices out there, but we've picked some of the most popular and the most unique for you to look at today. From Edwin to Elijah, there are plenty of baby boy names that start with E. Here's a list of E names — from popular to unique — that will help you select the perfect option for your little one. We've also got some tips to help you settle on the right name for your child, since we understand that picking the right name can feel like an insurmountable challenge. Let's get into it!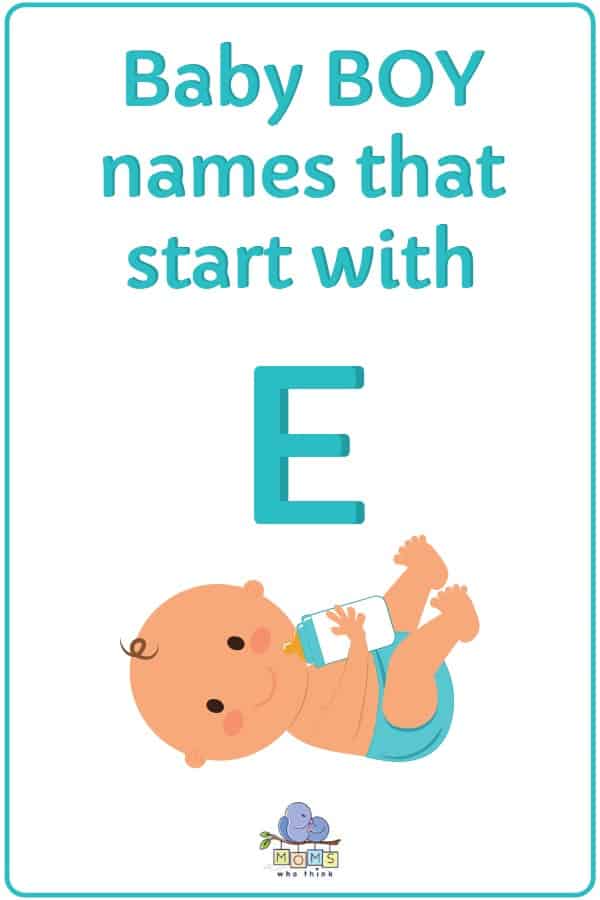 Most Popular Boy Names Starting With E in 2023
First, we'll start with the most popular baby boy names that start with E in 2023:
Emiliano
---
Unique Baby Boy Names Starting With E in 2023
While it's fun to see what lots of other people are naming their babies, many people prefer to find baby names that are more uncommon. To that end, below are some of the more unusual & unique boy names that start with E:
Earnest
Eagan or Egan
Ebin
Elmo
Edik
Eglon
Eleph
Ebenezer
Ephraim
Elmore
East
Elvis
Eutimio
Tips for Picking a Baby Name
Picking a baby name can be tough. There's thousands of options to consider, so how can you possibly settle on the right one? We've got some tips here to help you settle on the right name for your new child. Don't stress too much; you'll have a great name picked out for your baby in no time.
Make a system to keep track of all of the names you like. With how many names there are out there, you're bound to find a lot that pique your interest. When you start looking at names, come up with some system for tracking all of the ones you like. You might use a Google or Excel sheet, or just write the names down in separate lists.
Don't pick a name last minute. By waiting until the end of your pregnancy to pick a name, you're forcing yourself into a position where you'll have to rush to pick a name. Picking your baby's name is one of the most important things you'll do, so you should take your time with it. Give yourself a good month or so to think this over.
Your interests can be inspiring when it comes to picking a baby name. Everyone has interests, you included! If you're stumped on what to name your child and you've already gone through all the lists, why not look toward your favorite media for ideas? Just make sure whatever you pick isn't too outlandish.
Don't pick a name that's too out there or eccentric. It's tempting to pick something that's especially unique when considering names for your child. Don't go overboard, though. Your child might be vulnerable to bias or bullying if their name is too out there. Children can be mean, unfortunately. Remember that your child is the one who has to live with the name they're given; don't make it hard on them.
Consider naming your child after an ancestor. Naming a baby after a close relative is cool and all, but what about your more distant ancestors? Some of them might have cool names that you want to consider for your child. If you go especially far back, you might find some particularly unique names. Maybe there's an ancestor of yours that had a particularly strong impact on your family's legacy.
Consider all the nicknames your child could receive. Some names have a lot of nicknames associated with them, while others only have one or two. Either way, every name has a nickname associated with it. How do you feel about the nicknames that your child might receive? Do you love them or hate them? If you hate them, that may be a sign to start thinking about other names. Your child might want to go by a shortened form of their name once they get older, so keep this in mind. If you aren't okay with that, consider a different name or adjust your expectations.
Don't be too creative. Too much of anything is a bad thing, and baby names are no exception. There's no need to go crazy with how you spell your child's name. You don't need to add a bunch of extra or silent letters, strange characters, or other oddities to your child's name. Not every word can double as a name. Think about how a name you're considering would look on a resume or college application. Would your child face bias because of their name? If so, it might be worth it to consider a different name.
Did you find any winners in our list of boy names that start with E? If not, don't worry! We have thousands more names on our site to choose from. We've got name lists for every letter, so there's plenty for you to look at. It's important to carefully consider your child's name before giving it to them. You'll want to give them a name that you'll be happy with, but that they'll also be able to be happy with, too! Keep in mind how your child's name will fit in the "real world", and whether they'll encounter any bullying or bias as a result of their name. Congratulations again on your baby boy!
The image featured at the top of this post is ©Africa Studio/Shutterstock.com.