When it comes to choosing a baby name, the letter U is definitely one of the more unique choices. You wouldn't think there are many options, but there are surprisingly numerous options to consider. Our extensive list includes both popular and uncommon names, ranging from Uba to Uzziah and everything in between. Peruse the selection below and find your favorite.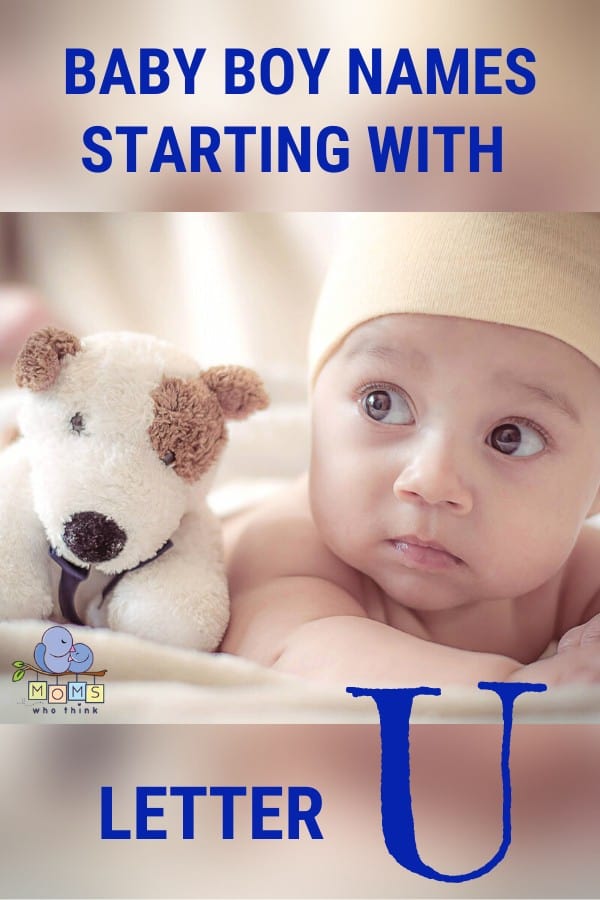 Top Baby Boy Names Starting with U in 2023
When choosing a name for your baby, it's important to remember that certain names often become associated with specific personality traits. This is especially true when a celebrity shares the same name. While many names carry positive emotions when associated with individuals, they can sometimes evoke negative qualities like fear, laziness, or mischievousness. Think about who or what you associate different names with when choosing your baby boy's name, consider the impact that a name can have on shaping your child's identity, and choose one that resonates with your desired qualities and values. Let's start with the most popular baby boy names from 2023:
Uriel was the most popular baby boy name starting with U in 2023. This should come as no surprise as Uriel has been the most common baby boy name starting with U as far back as 2009. What a run!
---
Unique Baby Boy Names Starting With U
While it's fun to see what lots of other people are naming their babies, many people prefer to find baby names that are more uncommon. To that end, below is the some of the more unique baby boy names starting with U.
Ulrik
Upton
Urbano
Umberto
Ukiah
Ulric
Ulrich
Umer
Ulyses
Uday
Urias
Ujala
Ugo
Umber
Uzuri
Ulrick
Udell
Usama
Usamah
If you haven't decided on a name yet for your little boy, no need to worry! There are even more baby boy names where that came from. Peruse all the baby names, including middle names, that start with the letter U to find the perfect fit for your new addition.
Tips for Picking a Baby Name
Choosing your baby's name can be challenging, especially since there are thousands of options available. It seems impossible to settle on just one! No need to fret before, though. We've come up with some helpful tips to assist you in finding the perfect name.
Create a list of names that both you and your significant other like. Given the multitude of names to choose from, you may not reach a decision immediately. Choose a list of names that appeal to both of you and then slowly narrow it down from there. Yes, this process will take some time, so be sure to start early. Consider ranking the names you jot down to narrow it down over time. Alternatively, you can organize them in a different way — alphabetical or thematic order.
Begin thinking of a name well in advance. Waiting until the last minute to select a name for your baby can lead to unnecessary stress, which is not beneficial for you or your baby. Start coming up with baby names early on to give yourself enough wiggle room in case you encounter difficulties. This way, you can avoid any stress associated with this matter.
Think about naming your child after an ancestor. While naming a baby after a close relative is popular, have you thought about honoring more distant ancestors? If you go back far enough, you might even find some intriguing names. By looking further back into your family history, you could discover some unique names and have an interesting story to tell. This could also serve as an opportunity to learn more about your family's history or your partner's lineage.
Consider potential nicknames. You may adore a particular name, but have you thought about the nicknames that may come with it? For instance, you may like the name William, but are you comfortable with nicknames like Bill or Willy? Similarly, you might want to consider whether the name could be easily twisted into a mean-spirited nickname by your child's peers. If a name is susceptible to bullying, there's a good chance a classmate could exploit that.
Were you able to find any suitable names among the list of rare boy names starting with U? If not, don't worry! Our website offers a plethora of names for you to choose from. Be sure to explore all the baby names — as well as middle names — that start with the letter U.