U is the name of the game with these baby boy names. From Uba to Uzziah and everything in between, hundreds of boy names starting with the letter U along with the meanings and origin of each name.
Baby Naming Tip – Different types of personalities are often associated with specific names. This is especially true if there is a celebrity associated with that name. Many names carry positive emotions when comparing the name with a person, but sometimes they evoke the negative traits of scariness, laziness, or troublemakers. Think about who or what you associate different names with when choosing your baby boy names.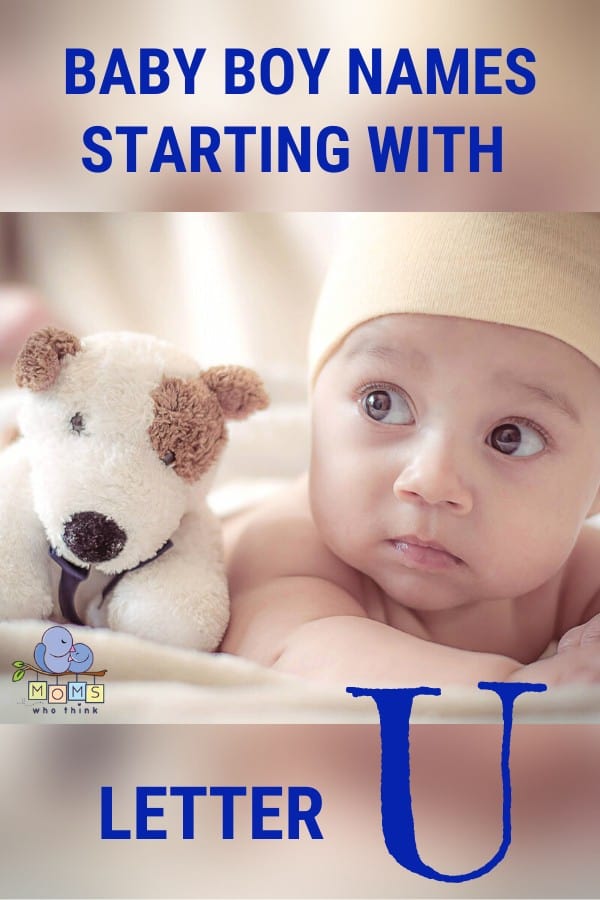 Most Popular Baby Boy Names Starting with U in 2018
First we'll start with the most popular baby boy names from 2018. They were:
Uriel
Umar
Urijah
Unknown
Uziel
Uzziah
Uri
Uzair
Urban
Urias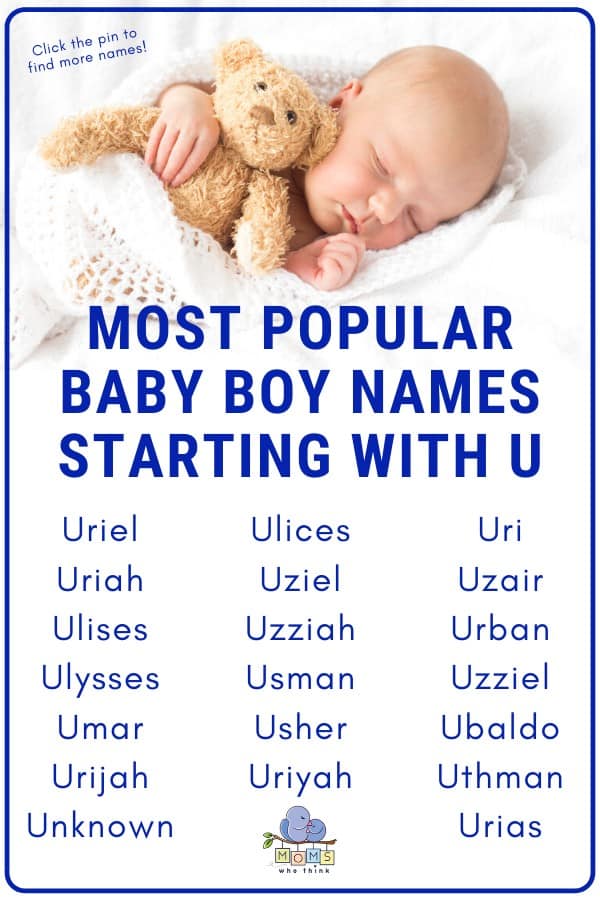 Uriel was the most popular baby boy name starting with U in 2018.  This should come as no surprise as Uriel has been the most common baby boy name starting with U as far back as 2009. What a run!
Here's how the top three names have looked over the past decade:
Uriel wasn't just popular for U boy names in 2018. Overall it was the number 492 most popular name among all baby boy names in 2018. Here's how it looked when compared to all baby boys born in 2018.
[wpdreams_ajaxsearchpro id=2]
---
While Uriel was a popular choice in 2018, you can see it was only about 98% as popular a baby boy name as Alijah.   Just for fun, let's take a look at the most popular baby boy names beginning with U throughout history.
Unique Baby Boy Names Starting With U
While it's fun to see what lots of other people are naming their babies, many people prefer to find baby names that are more uncommon. To that end, below is the some of the more unique baby boy names starting with U.
Umair
Ulisses
Ulrich
Uziah
Ulugbek
Uilliam
Usmon
Ugonna
Ulyses
Umer
Urie
Uzay
Ulric
Uday
Ugochukwu
Ukiah
Unnamed
Utah
Ubaid
Overall, Umair was the 5718th most popular boy name in 2018 with 16 babies. That means there were 36x more Uriels than Umairs last year. That makes it a very unique name!
If you don't have your name in mind yet, don't worry! Below we present a list of literally every baby boy name — including middle names — starting with U, the name's meaning and origin. Good luck and have a wonderful day.
Uba through Ulfred
Uba African — wealthy
Ubul Hungarian
Udeh Hebrew — praise
Udell Anglosaxon — From the valley of the Yew trees.
Udit Hindu
Udo German — Prosperity, fortune.
Udolf Old English — A prosperous wolf.
Uehudah Hebrew
Ufuk Turkish
Ugo Italian — Italian form of Hugh. Heart and mind.
Ugod Hungarian — name of a clan
Ugor Hungarian — Hungarian
Ugur Turkish
Uilleam Scottish Gaelic — Scottish Gaelic form of William. A strong and resolute protector.
Uisdean Scottish
Uland Teutonic — The noble land.
Ulbrecht Teutonic — Noble splendour.
Ulf Swedish — Wolf-like, courageous.
Ulffr Scandinavian
Ulfred Old English/Teutonic — Peace.
Ulmer through Uri
Ulmer Old English — A famous wolf.
Ulprus Latin
Ulrich Teutonic — A ruler.
Ultan Irish — From an old Gaelic name.
Ulucan Turkish
Ulysses Greek — The angry one, wrathful. The famous wanderer of Homer's odyssey.
Umar Arabic — Flourishing, long-lived.
Umberto Italian — A famous warrior.
Unai Basque
Unni Norse — modest
Unwin Old English — The enemy.
Upen Hindu
Upendra Hindu — an element
Upor Hungarian
Upravda Slavonic — The upright one.
Upton Old English — From the upper farm or town.
Upwood Old English — From the forest on the hill.
Urban Latin — A city dweller. The name of several early saints and popes.
Uren Welsh
Uri Russian — God is light. Also see Uriel.
Uriah through Uwan
Uriah Russian — God is light. A biblical name that is best known from the Charles Dickens character Uriah Heep in David Copperfield. Also see Uriel.
Urie Russian — God is light. Also see Uriel.
Uriel Hebrew — Light. Also see Uriah.
Urien Welsh — Have privileged birth, or born in the town.
Urjavaha Hindu — of the Nimi dynasty
Uros Hungarian — little lord
Ursel Latin — A bear. The masculine version of Ursula.
Urson Old French from Latin — A little bear.
Urvan Latin — A city dweller.
Usamah Arabic
Ushnisha Sanskrit — A crown.
Usko Finnish — Faith.
Usman Arabic — An Ottoman Turk, or a servant of God.
Utah   — The name of an American State. A boy or girl's name.
Utt Arabic — wise and kind
Uttam Hindu — 3rd Manu
Uttanka Hindu
Utz Teutonic — A ruler.
Uwain Welsh
Uwan Aboriginal — To meet.
Uwe through Uzziah
Uwe Scandinavian — A well-known Scandinavian name.
Uxio Galician
Uyeda Japanese — From the Rice field.
Uzi Hebrew — My strength.
Uzor Hungarian — name of an ethnic group
Uzziah Hebrew — The power or strength of God.