From Tabari to Tytus the letter T and the subsequent names that start with it offer names of all origins and cultures. While there are simply far too many names to list them all, here are 2023's top boy names that start with T!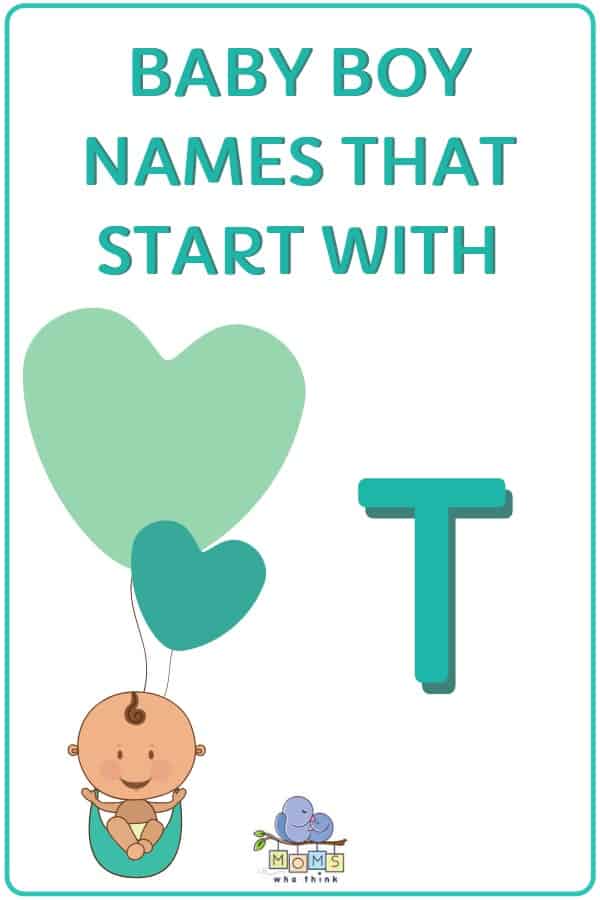 Modern Baby Boy Names that Start with T
Modern baby names starting with T pull heavily from classical names of wide-reaching origins. Some are the names of famous presidents and actors and can lead themselves to very cute nicknames. Here is the list of the most popular T names in 2023.
---
---
Unique Baby Boy Names Starting With T
For the parents out there looking for a truly unique name, T might be your home sweet home. These names range extremely wide in the language of origin, spelling, and pedigree. Some of these names have a vaguely Viking or old Norse feel to them and some will feel more Central African. No matter what you chose, your baby boy will have a one-of-a-kind name. Here are the most unique T names of 2023:
Terah
Tu
Terrie
Tailor
Thyra
Tailer
Tarren
Thibault
Talbert
Tallin
Tarrance
Thorbjorn
Tirion
Tong
Tacoma
Tadeusz
Tancredi
Tawfiq
Tay
Telly
Tips for Picking the Right Baby Name
Picking the right baby name can be tough. There are thousands of options out there, so how can you know which one to pick for your child? We've got some tips here that will help you get through the challenge of picking the right baby name for your new kid.
Keep your process organized. Making lists can be very helpful when trying to pick a baby's name. Given that there are so many options out there, if you don't keep organized you're liable to forget some of the ones you liked! You can make lists for each letter, or organize them by theme. Ranking the names you like might also be a helpful way to stay organized.
Think about how a chosen name will be perceived in the real world. Unfortunately, not everyone will be as receptive to an especially unique name as you. Children like to pick on others they perceive as different; if your child has an out-there name, they're likely going to get bullied. It's important to remember that your child is the one who has to live with the name they're given. Think about how a given name would look on a job application; might your child be taken less seriously because of their name?
Consider initials. Sometimes, initials can come together to form words themselves. If your child's initials would come together to form odd or bad words, you may want to consider a different name. Alternatively, you could try spelling a name differently. For example, spell Cameron as Kameron to switch up your child's initials.
Consider all spellings. It will be easy for you to pronounce your child's name (at least it should be) when it read off a list of names. However, not everyone is going to be finding the process as easy. If you chose a modern or more unique name consider how someone might pronounce it while reading it.
If this selection of R names isn't quite suiting your fancy, there's no reason to stress. We have a long list of kinds of names over at the Moms Who Think baby name list above!
The image featured at the top of this post is ©Tatyana Vyc/Shutterstock.com.