Whether you're interested in a classic M name like Matthew, or something with a little edge to it, like Maverick, there are so many wonderful baby boy names that start with M. Take a look at this list and start selecting your favorites.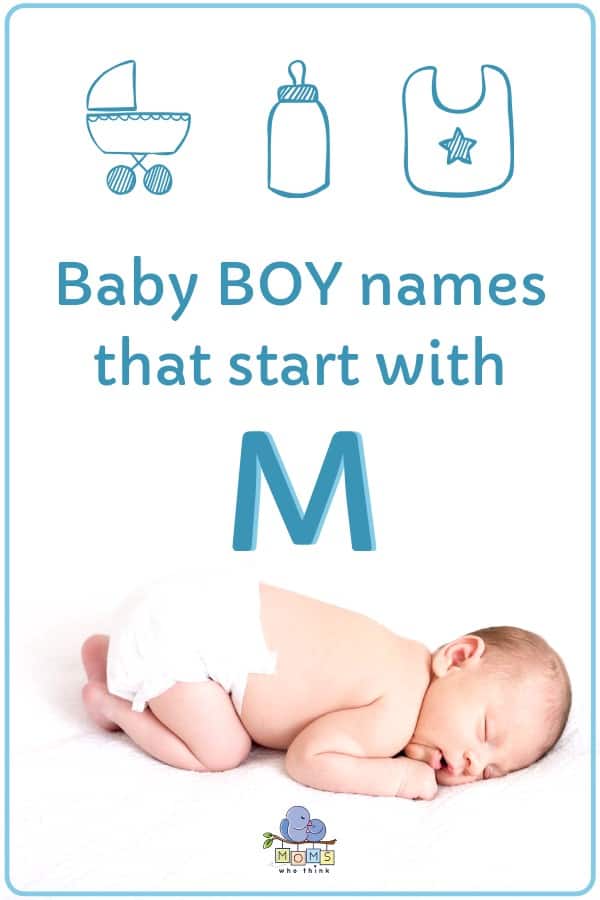 Modern Baby Boy Names Starting with M
First we'll start with the most popular baby boy names in 2021:
Michael — Michael as a name, had a historic run as the most popular name of the 20th century in the United States. From 1954 to 1998 it was the number one baby boy name, with the sole exception of 1960 when it came in second to "David". It fell out of the top five names in 2011, the first time since 1949.
Matthew — Matthew has consistently ranked among the top 50 names for boys since the 1960s. It is also the namesake of numerous popular songs (such as "St. Matthew" by The Monkees or "Matthew & Son" by Cat Stevens).
Mason — Mason seems to be a go to name for werewolves with two popular examples on television recently: Mason Lockwood from "The Vampire Diaries" and Mason Greyback from "Wizards of Waverly Place".
Malique — Malique as a given name is a variant transcription of Malik. Al-Malik is one of the 99 names of Allah in the Islamic religion.
Marlin — Marlin comes from the Welsh name Myrddin, which is also the original name of Merlin from the King Arthur stories!
Martez — Martez may sound familiar to Star Wars fans. That's because there's a family with the surname Martez in the Star Wars universe. Trace and Rafa Martez are sisters who were orphaned when their parents died during a hostage situation.
Manny
Matheus
Maverik
Mehki
Muhammed — Muhammed is one of the most popular names in the world. However, this spelling is considered relatively rare.
Mohamad
Mathis
Malek
Merritt
Mickey
Madison — Madison has been a name since the beginnings of England, but it really found its use as a first name after the release of "Splash." A character in the movie chose her name after seeing the street sign for Madison Avenue.
Mackenzie — Mackenzie was popular as a boy's name for centuries before becoming more commonly known as a girl's name.
Montrell
Miguel — Miguel became popular in Spanish culture because of author Miguel de Cervantes Saavedra, born in the sixteenth century. He wrote the well-known book "Don Quixote."
Masyn — Masyn is an alternative to Mason. Mason was rank two for boys in 2011, but Masyn has never been a top 1,000 baby name.
Micah — Micah is the name of several biblical figures such as Micah the prophet and Micah of Mount Ephraim. Parents can also find the name in the song "Where Is Micah?" by Five Iron Frenzy.
Malikai
Massiah
Maxon
Monte
Maxwell — Maxwell is derived from the Scottish surname Mackeswell or MacSuail. The name originally referred to people from Melrose, in Roxburghshire, Scotland. There are also Maxwells from Ulster, Ireland, as an Anglicized version of Miskell.
Max — Max is one of the most popular names used in pop culture as a simple name for male characters. It is found in video games, movies, children's shows, and more.
Marcus — Marcus is likely a derivation of the name Mars or the Roman god of war. The month of March is named for him. In Ancient Greek culture, his name was Ares, and he was the son of Zeus and Hera.
Miles — Miles as a given name eventually became used as the Anglicized version of the Scottish name Maoilios which means "servant of Jesus" in Scottish Gaelic.
Mark — Mark as a given name is related to the name of the Roman god of war, battle, and men Mars. Mars is also the name of the fourth planet from the Sun.
Montana — Montana is a one of many trendy western state names, and yet it has roots based in another country.
Mylo
Macklin — Macklin seems to have a variety of meanings according to different users of the name including "Son of Flann the red-haired" and "Driftwood".
Malachi — Malachi is the name of several prophets in the Hebrew Bible including the author of the Book of Malachi.
Marshawn — Marshawn Lynch is probably the most notable person with the name. The former football star played for the Buffalo Bills, Seattle Seahawks, and Oakland Raiders between 2007 and 2019. Nicknamed "Beast Mode," Lynch was a fast and powerful running back who made several Pro Bowls and was a Super Bowl champion in 2014.
Maddox — Maddox as a name surged in popularity in 2003 likely due to Angelina Jolie and Brad Pitt's son, Maddox, who they adopted in 2002.
Mateo
Matheo
Mattias
Manuel
Mitchel
Mario — Mario has always been extremely popular in Italy. The name became one of the most well-known in America because of the video game character Mario.
Martin
Marcelino — Marcelino as a given name comes from the Latin name Marcellus combined with the diminutive suffix -ino.
Mykel — Mykel first appeared in 1975, given to six newborn baby boys.
Myles — Myles is a great name option if your baby is born around Thanksgiving. It was the name of a famous Pilgrim, Myles Standish.
Maddex — Maddex is an attention-getting alternative spelling for the ultra-popular name Maddox.
Montgomery
Marco — Marco as a given name has a namesake in the Italian explorer Marco Polo and the children's game of the same name.
[wpdreams_ajaxsearchpro id=2]
---
Unique Baby Boy Names Starting With M
While it's fun to see what lots of other people are naming their babies, many people prefer to find baby names that are more uncommon. To that end, below is the some of the more unusual & unique boy names that start with M:
Maximus — Maximus became a popular boy name after the release of the movie "Gladiator." The main character had the name.
Monroe
Malik — Malik first appeared among the top 1,000 baby boy names in 1970. By the 1990s, Malik had become one of the top 500 baby names for boys and has remained in this popularity range ever since.
Mccoy — McCoy is quite a common surname. Some notable people with the name are actor Sylvester McCoy, musician Charlie McCoy, and jockey Tony McCoy.
Marcos — Marcos first appeared among the top baby names for boys born in the United States as the 1,000th most popular baby name of 1920. It went on to rank among the top 500 boy names from 1967-2021. Marcos also ranked among the top 30 baby names for boys born in Spain from 2002-2020.
Micaiah
Marshall
Malakhi — Malakhi once ranked among the top 1,000 baby names for boys born in the United States as the 922nd most popular name of 2019.
Murphy
Mitchell
Morris
Maverick — Maverick as a given name comes from frontiersman Samuel Maverick who was known for refusing to brand his cattle. Use of the term "maverick" also comes from him.
Mathew — Mathew ranked among the top 500 baby names for boys born in the United States from 1900-1929. It experienced a second period among the top 500 boy names from 1956-2015.
Moises — Moises as a given name is derived from the Hebrew name Moses. Moses is a prophet from the Hebrew Bible. Moses' mother set him adrift in a basket on the Nile River. He was rescued by the pharaoh's wife, which is where the meaning of the name comes from.
Mac — Mac is a Scottish, Irish, and Latin baby boy's name. Mac comes from the Latin name Magnus and means "great". Mac is also an Irish term that means "son of" and is commonly used in Scottish and Irish surnames.
Marcellus — Marcellus ranked among the top 1,000 baby names for boys for much of the 20th century until the late 1980s. After a 30-year hiatus from the list, Marcellus reemerged as the 962nd most popular baby name for boys in 2018. Marcellus has ranked among the top 1,000 baby boy names ever since.
Maximiliano
Milo — Milo is the name of an ancient Roman wrestler from Croton whose Olympic career remained unsurpassed for centuries. Writers like William Shakespeare and Alexandre Dumas each made references to Milo's achievements within their respective literary works.
Marvin
Matteo — Matteo is a popular baby name among celebrities. Popular names like Colin Firth and Ricky Martin have named their child Matteo.
Madden — Madden as a surname is quite popular. It has just been recently that it has become more popular as a given name. Sports loving dads have grabbed on to it as a given name for both their sons and daughters. The popularity of the Madden football video games has kept the name in the spotlight since its creation way back in 1988!
Mauricio
Maxton
Maxx
Mohamed
Malcolm — Malcolm as a given name comes from the name of the 6th century Irish monk Saint Columba who is thought to have brought Christianity to Scotland.
Marques
Maximilian — Maximilian may not be one of the top 100 baby boy names in the United States, but several European countries have a different opinion. In 2020, it was the 18th-most popular name in Germany, and in 2019, it was the top name for baby boys in Austria.
Messiah — Messiah used to not be allowed in the state of Tennessee. That is no longer the case, however, as the law was overturned.
Moses — Moses as a given name is best known as the name of the Biblical prophet Moses. Moses was placed in a basket in the Nile River by his mother so that he would be spared. He was found and raised as a son of the Pharoh.
Maurice
Marquez — Marquez is also a common surname. One of the most notable people with the surname is Columbian writer Gabriel Garcia Marquez. The novelist, short-story writer, screenwriter, and journalist died in 2014, though he was considered one of the most important Spanish authors of the 20th century. He earned the 1972 Neustadt International Prize for Literature and the 1982 Nobel Prize in Literature. His most famous work was the book "One Hundred Years of Solitude."
Marko
Maddix — Maddix is one of the more popular variations of Maddox for boys. In the United States, a total of 92 newborn boys received the name Maddix in 2020. Although less common, Maddix is also a viable option for girls. A total of 24 newborn girls received the name in 2020.
Mayson
Morgan — Morgan as a name has one infamous namesake in a figure from the stories of King Arthur: Morgan le Fey.
Mekhi
Muhammad
Marion
Marc
Maison
Meir
Mauro — Mauro means "Moorish" and refers to a person of Moroccan heritage or a follower of Islam. The Moors conquered much of the Iberian peninsula and some regions in Italy in the mid-700s.
Melvin
Musa — Musa is a Middle Eastern version of the baby name Moses. Moses was a popular character in Genesis of the Old Testament who is said to be a Biblical hero. He delivered the Israeli people from the hands of the Egyptians and received the Ten Commandments.
Marley — Marley as a name was originally a surname given to people from certain places in England such as Devon, Kent, and Sussex.
Moshe — Moshe as a given name is a variant of the name Moses. Moshe has become popular in the US since the mid 1970s.
Masen
Micheal — Micheal is likely just a simple spelling variation of Michael. Some experts believe that the alternative began because of an error on a birth certificate.
Mohammed
Did you find any winners in the list of rare boy names that start with M? If not, don't worry! We have thousands more names on the site to choose from. Be sure to check out all baby names that start with M as well as middle names that start with M.