Baby boy names that start with the letter M give you a wide range of possibilities. Maximilian or Max for short has been around for a few thousand years for example. Whether you're interested in other classic M names like Matthew, or prehpas something with a little edge to it, like Maverick, there are so many wonderful baby boy names that start with M. Take a look at this list and start selecting your favorites.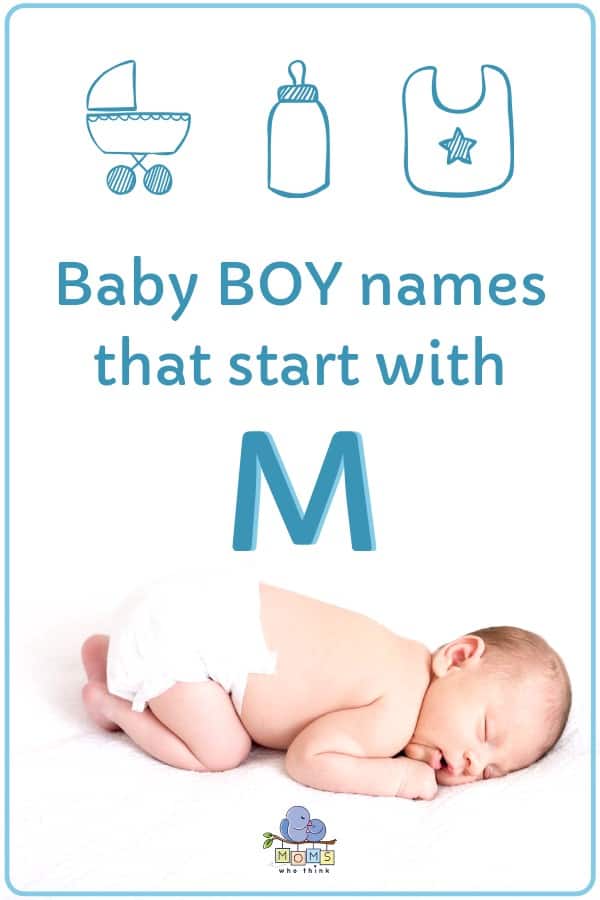 Modern Baby Boy Names Starting with M
First, we'll start with the most popular baby boy names in 2023. Modern M names are a touch different from most other names due to the pedigree and long use of names that start with M. That being said, take a look at this modern list to get those gears turning as you and your partner start to discuss possible M names for your baby boy.
---
Unique Baby Boy Names Starting With M
While it's fun to see what lots of other people are naming their babies, many people prefer to find baby names that are more uncommon. When chosen with a lot of care and attention to detail you can pick a great name that will stand out on any class list. More unique M names will come from non-western languages to add to the uniqueness. Below are some of the more unusual & unique boy names that start with M:
Mackensie
Meritt
Mishal
Mori
Murphee
Murphey
Muska
Maryland
Massie
Mahavir
Mallik
Mann
Marvyn
Mateja
Mats
Montie
Maik
Maji
Markeece
Masao
Tips for Picking a Baby Name
Picking a baby's name can be tough. There are thousands of options out there; how can you possibly pick just one? No need to worry before your new baby boy is even born. Here are some tips here to help you pick out just the right baby name.
Make a list of all the names you and your partner like. There are thousands of names to choose from, so you might not settle on one right away. Make a list of all the names you and your partner like, and then slowly whittle the list down. This might take some time! You might want to rank the names you write down, to make it easier for you to narrow it down over time. Or, organize them a different way- alphabetically or thematically are some other options.
Start thinking about a name in advance. You don't want to try to pick a name for your baby at the last minute! This can be stressful; unneeded stress isn't good for you or for your baby. Start considering baby names early enough to give yourself wiggle room in case you find it difficult. That way, you won't have to face any stress over this issue.
Consider naming your child after an ancestor. Naming a baby after a close relative is cool and all, but what about your more distant ancestors? Some of them might have cool names that you want to consider for your child. If you go especially far back, you might find some particularly unique names. Maybe there's an ancestor of yours that had a particularly strong impact on your family's legacy. You might discover some interesting things in your search for an ancestor-inspired name! This could also be a great segue into learning more about your family's history, or your partner's ancestry.
Think about nicknames. You might love a particular name, but do you love the nicknames that come with it? For example, you might love William, but are you okay with Bill, Billy, Will, or Willy? In that same idea, are their names going to be turned into a mean nickname by other children? If it's an easy name to turn into a tease, you can almost guarantee at least one of their classmate will call them that.
Did you find any winners in the list of rare boy names that start with M? If not, don't worry! We have thousands more names on the site to choose from. Be sure to check out all baby names that start with M as well as middle names that start with M.
The image featured at the top of this post is ©FamVeld/Shutterstock.com.