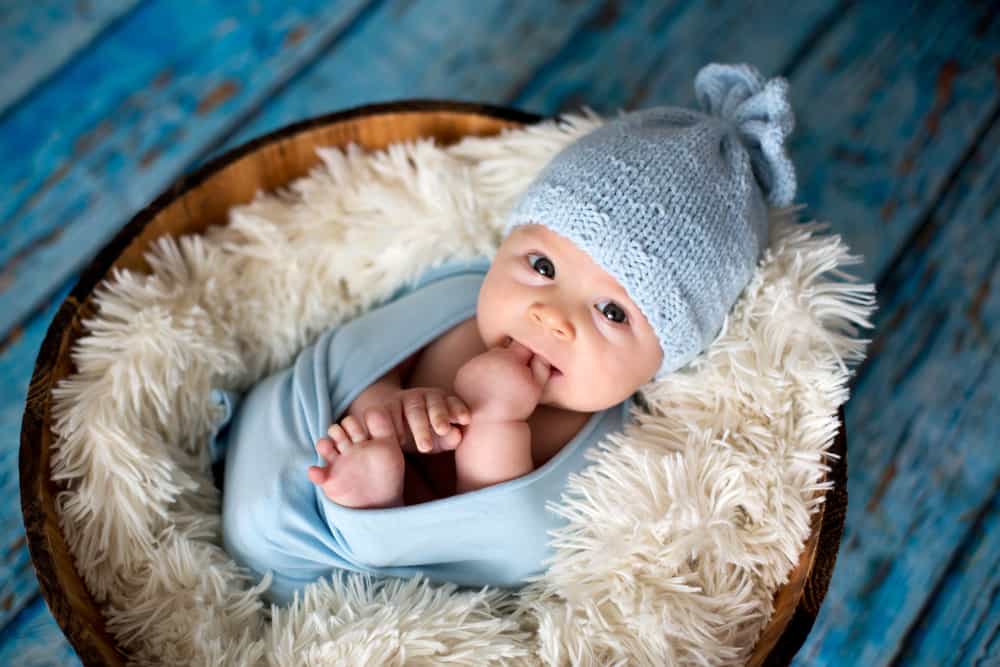 Nicholas and Noah are just two of the countless baby boy names that start with the letter N. Peruse this list to find the perfect fit for your baby.
Modern Baby Boy Names Starting with N
First we'll start with the most popular baby boy names in 2021:
Noah — Noah has been a name for centuries, but it did not come to the top 10 list of the Social Security Index until 2009, where it has remained ever since.
Nathan — Nathan is sometimes a nickname as well, especially when used for names like Nathaniel and Jonathan.
Nicklas
Notnamed
Nicklaus — Nicklaus saw some popularity in the 1980s and 1990s, most likely because the original spelling — Nicholas — was a top 10 baby name at the time. It was most popular in 1997 when it ranked at number 891 on the list of the top 1,000 baby names for boys in the United States.
Nicholas — Nicholas is a baby boy name historically associated with aristocracy and religion. It is the namesake of five different popes and two different czars of Russia.
Nolen
Nathaniel — Nathaniel has only gone past the top 200 list a couple of years. Even then, from 1956 to 1971, the name did not rise above number 244.
Nolan — Nolan Ryan is probably one of the most famous Nolans in history. The Major League Baseball Hall of Famer pitched for four teams in four different decades, striking out over 5,700 batters. He pitched seven no-hitters and holds over 51 baseball records.
Nery — Nery is a common name for boys in South America, and it became popular in North America during the 2010s as well. The name Nery was the 901st most popular baby name for boys in 2007.
Nehemias — Nehemias holds most of its popularity as a baby name in Spanish and Portuguese speaking areas of the world since it's rather rare for use in the English language.
Nicolas — Nicolas as a given name is popular both in French-speaking and English-speaking countries. However, the name is pronounced differently between the two languages. Nicolas is pronounced NEE-KAW-LA in French, dropping the "s" sound at the end.
Nikita — Nikita the Tanner is a Slavic folk hero. In the story, a dragon is terrorizing the land, taking beautiful women. One day, the dragon took a princess, and the only person who could help her was a humble tanner named Nikita. He is reluctant at first but eventually saves the princess.
Niklaus
Neel
Nova — Nova does not only mean new as a name. It is also a scientific term for a new star. During the late 1800s and early 1900s, there were some astrological findings, which may have made this name popular.
Neo — Neo is a name largely associated with the movie series "The Matrix." He is played by Keanu Reeves. The character is a computer programmer named Thomas A. Anderson who works as a hacker under the name Neo.
Niam
Neymar
Noam
Noble
Nikola
Nixon — Nixon was originally an English surname and only recently became popular as a given name. The most well known Nixon is probably 37th president of the US, Richard Nixon.
Nathanial
Nehemiah — Nehemiah was a common given name during the Puritan era of New England. The name reappeared among the top 1,000 baby names for boys as the 827th most popular name of 1998, and it has remained on the list ever since. It is also the namesake of the song "Nehemiah" by Hope of the States.
Nevin — Nevin first appeared among top baby names as the 960th most popular baby name for boys in 1912. The name Nevin ranked among the top 1,000 boy names from 1912-1941.
Noel — Noel is a unisex baby name but the variant spelling Noelle is far more commonly used as a girl's name.
Nikolas
Nasir — Nasir is also the name of a village in Iran!
Nate — Nate is an exceptionally popular name among American athletes. It is the given name of 42 football players and 12 basketball players who rose to fame during the 20th century.
Nikko — Japan's Nikko National Park has been designed as a World Heritage Site by UNESCO. It is home to some of Japan's most famous shrines.
Nathen
Nickolas — Nickolas ranked among the top 500 baby names for boys from 1977-2010.
Nelson — Nelson became a popular first name in the nineteenth century because of admiral Horatio Nelson. He destroyed a fleet of Spanish and French ships in the Battle of Trafalgar.
Nathanael — Nathanael and Nathaniel both come from the name Netan'el. Nathaniel is the French and European variation. On the other hand, Nathanael likely originated in Greece.
Noe
Nash
Nico — Nico is actually the shortened form of the baby name Nicholas. Despite this origin, it is now a popular standalone.
Nikhil — Nikhil is a common name in India, Nepal, and Great Britain. It is commonly used to name baby boys in Nepali, Hindi, Marathi, and Bengali cultures.
Neil — Neil ranked among the top 500 baby names for boys born in the United States during each year of the 20th century. It is also the namesake of the songs "Young Neil" by Blonde Redhead and "Oh Neil" by Carole King.
Nikolai — Nikolai first appeared on the list of top 1,000 baby boy names in 2007 and has remained popular ever since. This Slavic variation of Nicholas is also highly revered among members of Russian and Danish royalty.
Niko
Nazir
Nigel — Nigel ranked among the top 1,000 names for boys born in the United States from 1971-2010. It is also the namesake of the song "Making Plans for Nigel" by the rock band XTC.
Neal — Neal is rarely seen among girls. Some parents like this spelling option for a strong unisex name.
Nestor — Nestor is also a baby name well-known in Greek mythology.
Nick
Norman
[wpdreams_ajaxsearchpro id=2]
---
Unique Baby Boy Names Starting With N
While it's fun to see what lots of other people are naming their babies, many people prefer to find baby names that are more uncommon. To that end, below is the some of the more unusual & unique boy names that start with N:
No unique N names yet but we're adding new ones every day!
Did you find any winners in the list of rare boy names that start with N? If not, don't worry! We have thousands more names on the site to choose from. Be sure to check out all baby names that start with N as well as middle names that start with N.