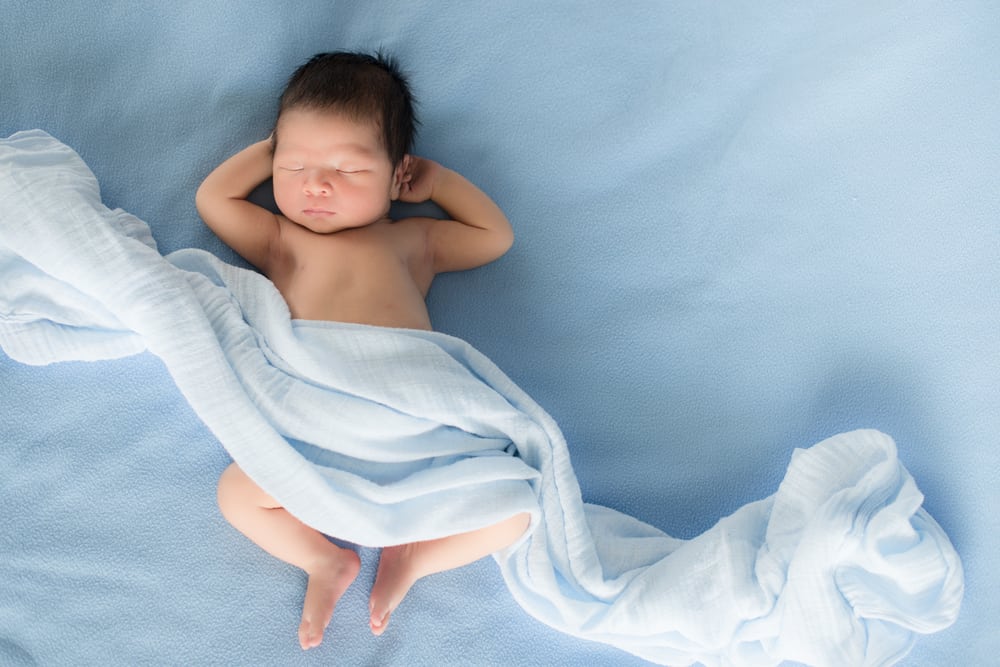 Whether you're looking for a popular name like Billy or something more unique, like Bowen, here is your list of baby boy names that start with the letter B.
Modern Baby Boy Names Starting with B
First we'll start with the most popular baby boy names in 2021:
Benjamin — Benjamin has had one of the longest streaks on the top 50 list for baby boy names. It has remained on this list since 1975, even on the top 10 list now.
Bill
Broc — Broc, and its original spelling Brock, are popular names used in folklore. They were traditionally the names used for badgers in these stories, which makes sense since they mean "badger."
Bane — Bane is quite a well-known character in the DC Comics universe. He's a supervillain and adversary to Batman. He's appeared in several books, movies, and TV shows, and Tom Hardy played him in the 2012 film "The Dark Knight Rises."
Bradon — Bradon peaked as the 2,548th most popular baby name for boys in 1994.
Braelyn — Braelyn is typically only used as a name for baby girls born in the United States. However, the name has been picking up some steam in Australia.
Brantly — Brantly is likely a variation of the surname Brantley, which is also now a first name. It could also be a form of Brand, which translates to "firebrand" or "sword."
Braylan
Braydin — Braydin sounds similar to the baby name Bradan in Irish culture that the surname, O'Bradain, came from. Bradan has a completely different meaning, however, of "salmon."
Bradlee — Bradlee isn't just a given name; it's a surname too. Some notable people with the name are Ben Bradlee, a prominent journalist and newspaper editor; his father, football player Frederick Bradlee; and his son, journalist Ben Bradlee Jr., as well as musician Scott Bradlee.
Braven — Braven debuted on the charts as the 3,324th most popular baby name for boys in 2010. Experts predict an increase in popularity in the coming decades due to the 2018 action film of the same name.
Brexton
Brodey
Brandon — Brandon was one of the top 10 names for boys during the 1990s. It is also the namesake of several popular songs, including "Brandon" by Motley Crue.
Babyboy
Blade — Blade is a modern baby name with growing popularity. Although its etymology hails from Old English, the name Blade has only recently become a given name. In 2020, a total of 28 newborn boys received the given name Blade in the United States.
Brannon — Brannon as a given name comes from the Irish name Bran. Bran the Blessed was a figure from Welsh mythology that was the giant, powerful warrior that protected his people.
Brayden — Brayden most commonly means salmon according to the ancient Gaelic text. This is because salmons are known as being one of the most intelligent fish.
Bayron
Boyd
Brando
Brooklyn — Brooklyn Beckham is the most famous celebrity with the name. He is a professional model who aided in popularizing this name among boys, but it is now rising in popularity for girls too.
Bryer — Bryer is a name that's associated with being "a strong man."
Brayton — Brayton could be a variation of the more common name Braden. Braden was a variation of the Irish surname O' Bradain.
Blake — Blake is a popular surname as well as a given name. People like the poet William Blake, children's author Quentin Blake and the character Daphne Blake from the cartoon "Scooby-Doo" are all great examples.
Bellamy — Bellamy is a popular baby name because it gives a modern twist to names like Bella and Isabella for girls. It also gives a bit of an edge to boys.
Bradford — Bradford follows the trend of surnames used as first names. It is one of the only, however, that is not on the top 1,000 list as of 2020 or 2021.
Bryan — Bryan is one of the only names to stay in the top 1,000 for popularity every year since the Social Security Administration began keeping records in 1900.
Brian — Brian has had one of the longest streaks on the top 50 list of baby boy names that begin with B. It was a top 50 name from 1954 to 2001, even on the top 10 list from 1967 to 1979.
Bryce — Bryce ranked among the top 100 baby boy names in the late 1990s and early 2000s. The name has been among the top 500 names for boys since 1970.
Brently — Brently was most popular in 2014 with 121 baby boys born with that name.
Barron — Barron is also the name of the Barron sept of the Scottish Clan Rose!
Braxten
Baker
Brody — Brody first appeared among the top 1,000 baby boy names in 1976. It ranked among the top 100 baby boy names from 2008-2014 and remained a common choice throughout the late 2010s. Periodically, Brody is also a baby name for girls. A prominent example is Brody Jo Hamilton (daughter of volleyball player Gabrielle Allyse Reece).
Bryson — Bryson as a boy's baby name owes some of its popularity to the rising popularity of American rapper and musician Bryson Tiller who is called the "King of R&B" by his fans.
Bjorn — Bjorn is quickly recognizable due to its Scandinavian origins. Tennis star Bjorn Borg spread it throughout the world.
Brandyn — Brandyn ranked among the top 1,000 baby names for boys from 1985-2000.
Brantley — Brantley is modern when used as a first name, but it has traditional roots in England. The name became modernized through the country music singer, Brantley Gilbert.
Brady — Brady as a name in the United States traces back to at least 1883, it has been a popular boys name in the past. It remains a popular boy name, but it is gaining popularity as a girl's name as parents look for more gender-neutral names.
Bowie
Beaux — Beaux is a given name and middle name, but in France, it's also a fairly common surname. One notable person with the name is Cecilia Beaux, an American painter who studied in Paris and was known for painting a portrait of Edith Roosevelt among other dignitaries. Another is Ernest Beaux, a French perfumer born in Russia who is known for creating the scent for Chanel No. 5.
Braxton — Braxton gained in popularity in America from the television show from the 1980s called "Braxton Family Values." Prior to this decade, the name was rarely used, though an important Civil War general called Braxton Bragg had the name in the nineteenth century.
Bradley — Bradley as a name, dates back to at least 1086. Although it is derived from a British surname, it actually became popular in the United States as a first name before it gained popularity in England.
Banks — Banks is also an incredibly popular last name!
Broden — Broden as a given name is the transferred use of the Swedish surname that means "bridge". It is also related to the name of a location in Moray, Scotland, and derived from Brodie.
Benaiah
Bear
Brandan — Brandan first appeared among the top 1,000 baby names for boys in 1980. The name Brandan ranked among the top 1,000 baby boy names for 21 consecutive years from 1980-2001.
Benjamin was the most popular baby boy name starting with B.  This should come as no surprise as Benjamin has been one of the most common baby boy name starting with B for decades. What a run!
[wpdreams_ajaxsearchpro id=2]
---
Unique Baby Boy Names Starting With B
While it's fun to see what lots of other people are naming their babies, many people prefer to find baby names that are more uncommon. To that end, below is the some of the more unique baby boy names starting with B.
Bryden
Bently — Bently is not as widely used for girls when compared to the parent name "Bentley".
Brixton
Bret
Bennett — Bennett is a common surname that has joined the ranks of popular first names. The name Bennett became one of the top 500 baby boy names in 1998 and has remained high on the list ever since.
Bentley — Bentley is an Old English name popularized in the 1970s through the song "Billy Bentley" by British singer Ian Dury. It was also among the top 100 baby boy names in the U.S. from 2010 to 2016.
Brendan — Brendan was one of the top 100 baby names for boys born in the late 1990s. Some experts attribute this occurrence to the popularity of blockbuster movies starring actor Brendan James Fraser. Brendan is also the namesake of songs like "Brendan #1" by Fugazi.
Braden — Braden follows the trend of baby names that end in the "-en" sound that are popular for boys. Despite this, the name is actually somewhat traditional as it was once an English and Irish surname.
Boone
Boaz — Boaz has undergone a 21st-century revival in the Netherlands. The name first appeared among the top baby names for Dutch boys as the 113th most popular name of 2008. Boaz then went on to rank among the top 100 baby names for boys born in the Netherlands from 2010-2021. In addition, Boaz is also the namesake of the song "El Rey Boaz" by Alto Mando.
Brantlee — Brantlee ranks among the top 1,000 baby names for boys from 2013-2016.
Brentley — Brentley, as a more modern name, has only recently saw moderate popularity starting in 2012, but it has since dropped off with it last breaking the top 1000 in 2019.
Bradly — Bradly comes from the name Bradly. It became popular in England because of Charles Dickens. He had a character in a book named Bradley. The title of the novel was "Our Mutual Friend."
Beau — Beau is a French word, but it is rarely used in France. It is a more common baby name in America than anywhere else.
Beckett — Beckett as a name is derived from several different English surnames. One of these surnames (meaning "beak") was given to a person who had a big nose.
Bentlee
Brock — Brock may be a popular name for athletes, but one of the most famous Brocks in history was the actor Brock Peters. He played Tom Robinson in the movie "To Kill a Mockingbird," and had roles with both the "Star Wars" and "Star Trek" franchises.
Brennan — Brennan ranked among the top 500 baby names for boys from the 1980s through the mid-2010s. It is also the namesake of the song "Brendan on the Moor" by The Clancy Brothers.
Beckham
Braxtyn
Brigham
Braylon — Braylon is most known for the NFL player with the same name. That individual is Braylon Edwards who played for the Seattle Seahawks and New York Jets.
Braylen
Brooks
Brant — Brant is not only a name for little boys. It is also what a certain type of wild geese is called.
Braedyn
Brad — Brad ranked among the top 1,000 baby names for boys from 1942-2007.
Benedict — Benedict was a popular name in the Christian church. Not only did a Saint Benedict form the sect of Benedictines, but there were 16 popes with the name.
Bryton — Brighton probably originates as a name from the English city of Brighton!
Brysen — Brysen as a given name comes from the name Brice. Brice is a name of Gaulish origin that means "speckled". It was in common use in both France and England after the Norman conquest.
Briggs
Bronx
Bodhi — Bodhi as a name came to the masses with the Patrick Swayze portrayal of the adrenaline sports junkie slash bank robber in the iconic 1991 movie "Point Break". Although a bank robber, Bodhi embraces the Zen of the ocean and being one with nature. He epitomized the chill surfer who saw beyond what was in front of him.
Brett — Brett Favre is an NFL legend who assisted in keeping the name as popular as it was for as long as it was.
Brayson
Bruce — Bruce initially began as a surname as well as a nickname for Robert I, King of Scots who was dubbed "Robert the Bruce".
Brayan — Brayan has spent many years as a top 500 baby name in America. Despite this, it is still more popular in Spanish-speaking countries, especially when considering the number of professional soccer players with the name.
Bryant — Bryant saw a flux of popularity as a given name thanks to the famous late basketball star Kobe Bryant.
Barrett
Braydon
Brenden
Braedon — Braedon dates back to the Gaelic byname Bradan. Bradan is likely the word for "salmon," but it could also come from the word "brad" and a suffix. "Brad" means "thief" in Gaelic.
Braulio — Braulio first appeared among the top 1,000 baby name for boys in 2004. The name ranked among the top 1,000 baby boy names from 2004-2006.
Brecken — Brecken as a given name comes from the medieval Irish name Breccan. It derives from the Irish term "brecc" meaning "speckled, freckled" and a diminutive suffix. It is related to the name Brychan.
Brennon — Brennon is a variation of a given name that is more commonly found as a surname.
Brycen
Braylin
Blayne
Byron
Braeden — Braeden quite possibly means "salmon," which was an important animal in Celtic myth and literature. Often associated with wisdom, the salmon of Celtic myth swam in the Well of Segais and ate the magic hazelnuts that fell into the water. A guy named Finegas was meant to eat the salmon and gain its wisdom, but his apprentice, Fionn, cooked it instead. He burnt his thumb on the fish, and going forward, all he had to do was suck his thumb to gain wisdom.
Did you find any winners in the list of rare boy names that start with B? If not, don't worry! We have thousands more names on the site to choose from. Be sure to check out all baby names that start with B as well as middle names that start with B.