From Vachel to Volf and everything in between, explore a diverse collection of baby boy names that start with the letter V, as well as their meanings and origins. Discover hundreds of uncommon and interesting options to help you in your journey of choosing the perfect name for your new addition.
Baby naming tip: If you're looking for unusual baby boy names, consider looking into names from other countries, including India, China, or the Philippines. Additionally, draw inspiration from mythology, the Bible, and literary and film inspiration references to find a name that holds meaning for you.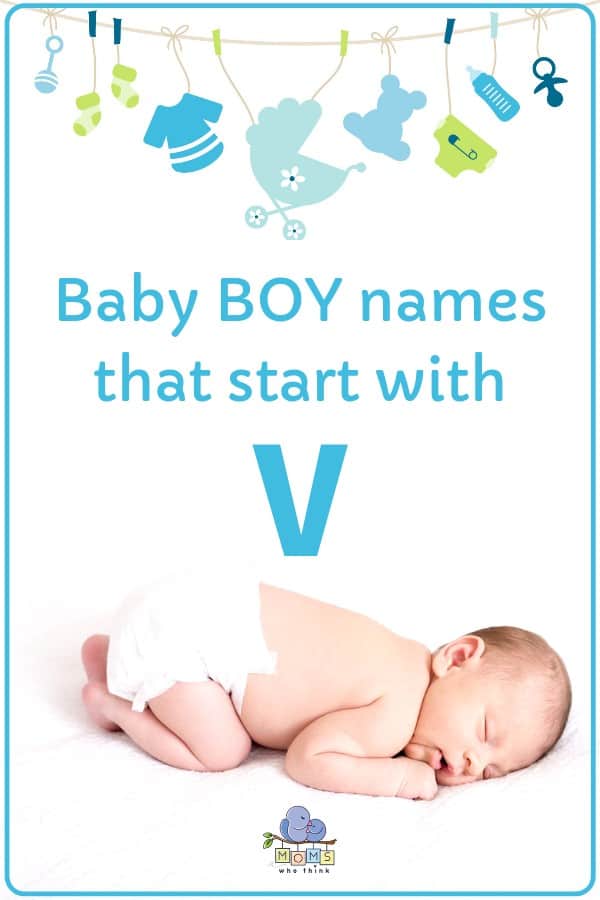 Top Baby Boy Names Starting with U in 2023
Is it just us, or do the names become even more intriguing the further we get down in the alphabet? Still, even with the letter V, there are plenty of options and variations to choose from. Let's delve into the most popular baby boy names starting with V in 2023.
When it comes to choosing a baby name beginning with the letter V, the possibilities are endless. You may even stumble upon some hidden gems that you wouldn't normally have considered. This comprehensive list aims to ignite your creativity and encourage you to venture into even more options available. While we have already covered the most popular names, let's now delve into a collection of distinctive and rare choices.
---
Unique Baby Boy Names Starting With V
While it's fun to see what lots of other people are naming their babies, many people prefer to find baby names that are more uncommon. To that end, below are some of the more unique baby boy names starting with V.
Viviani
Vivyan
Vartan
Voltaire
Valdemar
Vandan
Varick
Venancio
Vero
Vic
Victoriano
Vidar
Valin
Vasily
Victorino
Vinton
Vitali
Vyvian
Vahe
Valeriano
If you have yet to select a name for your baby boy, there's no need to worry! Rest assured, there are even more baby names for you to consider. Explore this extensive collection, including delightful options for middle names, that start with the letter U. Soon, you'll discover the ideal name that perfectly complements your little one.
Tips for Picking a Baby Name
Choosing the perfect name for your new baby can be just one of the challenges new parents have to deal with. Because there are so many options available it can sometimes feel like an impossible task to just settle on one name. However, no need to worry! We have come up with some valuable tips to make this process just a bit easier for you.
Start by creating a list of names both you and your partner like. With such an extensive list of names available, coming up with a decision may prove difficult. Choose a list of names that appeal to both of you, and then gradually narrow it down from there. Remember, the process will take some time, so be sure to start early. Consider ranking the names or organizing them in alphabetical or thematic order to make the process easier.
Be sure to plan well in advance. Waiting until the last minute to make this important decision can lead to unnecessary stress. By giving yourself ample time to come up with a name, you not only save that yourself stress but you also give yourself enough wiggle room in case you encounter difficulties. This can lead to a more relaxed experience.
Consider naming your child after more distant ancestors. While naming a baby after a close relative is popular, sometimes that can cause hard feelings with other family members. Exploring deeper into your family history may reveal some even more unique choices. Additionally it can provide an opportunity to delve into your family's heritage or your partner's family history. This will add a more meaningful layer to your baby's name.
Think about the potential nicknames that could arise. While you may love a particular name, it's important that you think about some possible nicknames that could come up with your chosen name. For instance, you may choose the name William, but are you comfortable with nicknames like Billy or Will? It's also worth considering if the name can be easily twisted into a mean-spirited nickname by your child's classmates. If you find a name is susceptible to teasing, it could be wise to consider other options.
If you've gone through these lists and you still haven't found any suitable names for your child, fret not! Our website has even more names for you to explore. Head on over to peruseall the baby names, including middle names, that start with the letter U. Soon enough, you'll find the perfect name for your little boy.
The image featured at the top of this post is ©Minnie Zhou / Unsplash.