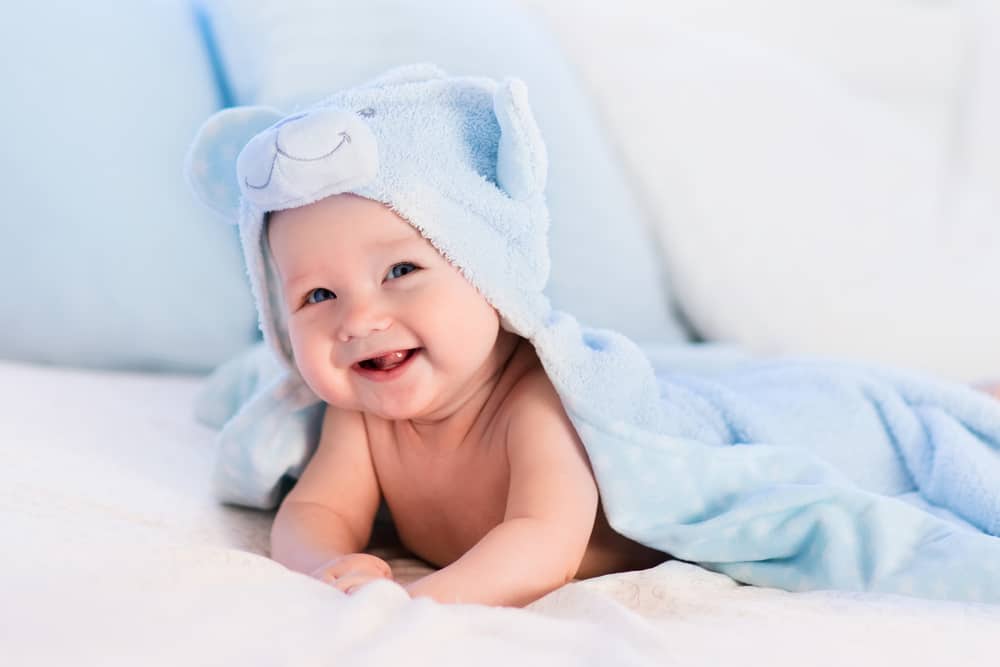 Classic names like John or James never go out of style, but there are still more baby boy names that start with the letter J that have a more updated feel. Take a look at this comprehensive list of baby boy names that start with the letter J.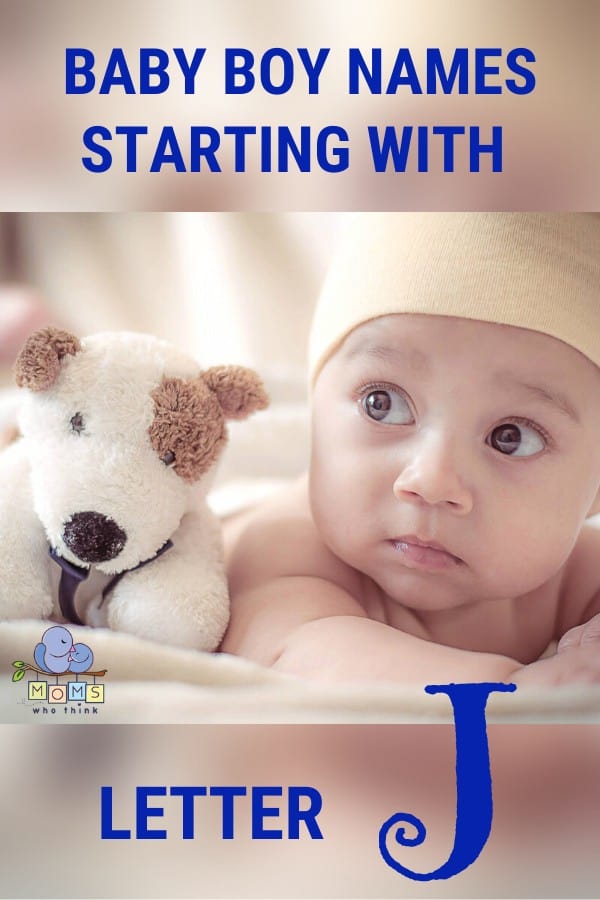 Modern Baby Boy Names Starting with J
First we'll start with the most popular baby boy names in 2021:
Jacob — Jacob and the name James actually are both based on the same Latin root. That root word is Iacobus. Some languages actually use the same word for each of these names.
James — James is a classic favorite among top names for boys. The name has ranked in the top 20 names for boys every year since 1900. James was also the number-one most popular boy name from 1940-1952.
Joseph — Joseph has been a very popular name since the publication of the Old Testament. Throughout the Bible there are several Josephs, and with the broad reach of the Bible, many cultures and countries have found the name to be a great one to bestow upon their baby boys.
Joshua — Joshua is a baby name with a nickname that is more commonly used than even the full spelling. That nickname is Josh.
John — John was originally a more popular name among Byzantine Christians in western Europe than the Puritans in eastern Europe. During the Crusades, however, the Christians from England brought the name back, especially to England.
Jackson — Jackson is one of the most popular baby names used among celebrities. MAria Bello, Scott Wolf, Maya Rudolph, Spike Lee, and Katey Sagal have all named their children this.
Jonathan — Jonathan as a boy's name has remained consistently in the top 100 names given in more than 24 countries around the world.
Jayden — Jayden has controversy surrounding the true origin. Some think that the name is a modern invented name with no meaning while most believe the name to be Hebrew (Jadon) or Greek (Jason).
Jabez — Jabez is a character in the Bible who prayed to God asking for blessings. One author took this prayer to create a book called "The Prayer of Jabez" that is about this type of request of God.
Jayquan — Jayquan isn't a name that's popular with celebrities just yet, but there is a rapper who uses the moniker but spells it "J-Kown." His real name is Jerrell C. Jones, and he's best known for his hit single "Tipsy" in 2004.
Jessy — Jessy is the least popular of the three spelling variations. It is only a top 6,000 option at rank 5,992. Jessie is a top 1,200 baby name at number 1,160. Jesse is on the top 400 list at rank 346.
Jarren
Jack — Jack was popular during the Medieval period. Jack was a slang word that was synonymous with the word "man" and thus many fairy tales and stories came to feature characters named Jack.
Jerrell — Jerrell first appeared among the top 1,000 baby names for boys in 1934. The name Jerrell remained on the popularity list for six decades. Jerrell is also a highly respected name among athletes. Experts credit famous football players like Jerrell Alexander Freeman, Jerrell Harris, and Jerrell Jackson with popularizing the name. Jerrell is also the middle name of Heisman Trophy winner Cameron Jerrell Newton.
Jkwon
Jeancarlos — Jeancarlos is one of nearly a dozen different ways to spell this name!
Jancarlos
Jahseh — Jahseh rose in usage as a given name during the late 2010s. In 2020, over 80 newborn boys received the name Jahseh in the United States. Some experts attribute this rise to the fame of rapper Jahseh Dwayne Ricardo Onfroy. Jahseh is also the namesake of the song "Jahseh Higgins" by King Coleman.
Jaelyn — Jaelyn may not be too popular these days, but it has been a celebrity baby name over the last few years. Football player Khari Jones chose the name for his daughter, as did "16 and Pregnant" reality stars Ebony Jackson and James Baldrick.
Jaiceon — Fewer than five hundred babies in the United States have been named Jaiceon in the last decade!
Judd
Jayveon
Jaceyon — Jaceyon is likely a variation of the ancient Greek baby name Jason. Jason, as mentioned, was a mythological hero. He married Medea, an ancient sorceress, who helped him get the golden fleece.
Jordan — Jordan is named after the Jordan River that is found in the Middle East. This is said to be the river where John the Baptist baptized Jesus Christ as indicated in the first four books of the New Testament.
Jose
Julian — Julian is a masculine given name but for a brief window of time during the Middle Ages Julian was also commonly used as a feminine name. Eventually the feminine Julian became Jillian.
Jeremiah — Jeremiah as a name has been consistently popular in the United States for more than a century. It has never dropped below #615 most popular boy's baby name since 1900.
Jason — Jason is one of the few boys' names that has spent longer than a decade on the top five list. For five years in a row, the name was in the number two spot.
Justin — Justin was the name of the first recorded Christian philosopher, Saint Justin Martyr of Rome, who was named the patron saint of philosophers after his death.
Jajuan — Jajuan first appeared among the top 1,000 baby names for boys in 1997 and has remained in use ever since. In the United States, a total of 19 baby boys received the name Jajuan at birth in 2020.
Jacquez
Juwan
Jarett — Jarett dates back to the more popular option, Garrett. Both of these options were originally surnames in England. Garrett specifically became popularized, creating variations like Jarett, in the nineteenth century. Pat Garrett shot Billy the Kid.
Jaret — Jaret first appeared among the top baby boy names as the 726th most popular name in 1997. The name Jaret ranked among the top 1,000 baby names for boys for three years from 1997-1999.
Jonael
Jasen
Jhett
Jiraiya — Jiraiya as a given name is of Japanese origin. In Japanese folklore, Jiraiya is a masculine name. However, since arriving in the US some years ago Jaraiya has gained some traction as a feminine name.
Juan — Juan is a very popular name among athletes. There are soccer players, baseball players, tennis players, football players, and more with this option.
Jaxyn — Jaxyn is a rising star among the multiple variations of the name Jackson. In 2020, nearly 100 newborn boys received the name Jaxyn in the United States.
Jahlil — Jahlil Beats, aka Orlando Jahlil Tucker, is one of the hottest music producers in hip-hop. He's currently signed to Jay-Z's Roc Nation, and he's produced songs for everyone from Puff Daddy and Lil Wayne to T.I. and Meek Mill.
Josiah — Josiah as a name is similar sounding to the more common Hebrew names Joseph and Joshua but the three names have no origin in common.
Jesus
Jalon
Jaheem
Jaxtyn
Jade — Jade is a highly valued stone in Chinese culture where it is called yù. The stone is symbolic of the soul and immortality and is closely associated with the word for emperor.
Jomar — Jomar has Arabic and Norwegian origins. Some families use it in the Philippines and Brazil as a nickname. It is the shortened form of Jose Maria.
Jody
Jaidon — Jaidon is a unique name. Only seven babies were born in Michigan with this name in 2007. The highest use of the name in the United States was in 2008 when there were 134 Jaidons born.
[wpdreams_ajaxsearchpro id=2]
---
Unique Baby Boy Names Starting With J
While it's fun to see what lots of other people are naming their babies, many people prefer to find baby names that are more uncommon. To that end, below is the some of the more unusual & unique boy names that start with J:
Jaycion — Jaycion may have been a modern invention of the baby name Jason. This latter name was an important figure in Greek mythology as he was the leader of the Argonauts.
Jayshawn — Jayshawn as a given name is a combination of Jay and Shawn. Shawn is an Anglicized name and the Irish form of the name John.
Javeon — Javeon dates back to the baby name Javon. Javon is likely a modern name, but some individuals believe it comes from the ancient Hebrew Javan. Javan translates to "Greece" in Hebrew.
Jakoby
Jiovanni
Jasiel
Jesse — Jesse is a unisex baby name, but typically, one spelling is for girls and one for boys. Jesse is more commonly seen for boys, while Jessie more so for girls.
Jaden — Jaden ranks at number 293 on the Social Security Index. Its alternative spelling, Jayden, however, which only adds one letter, is over 250 points higher.
Jayceon — Jayceon was the most improved name of the year 2014. It climbed 845 spots to become a top 1,000 baby name that year.
Jahiem
Joel — Joel has always at least been on the top 400 list of the Social Security Index. Most of the time, however, it has been on the top 200 or top 100 lists.
Jaxon — Jaxon is a popular name among celebrities, including Kristin Cavallari. It is the name she chose for her son.
Jeremy — Jeremy as a given name was originally a vernacular term for the name Jeremiah and was a phonetic spelling of how the name Jeremiah was pronounced in certain English dialects.
Jalin
Jace — Jace is sometimes used as a diminutive for the name Jason.
Jonah — Jonah Hill is probably the most notable person with the name. Born in 1983, the actor, writer, and comedian has appeared in dozens of movies, like "Superbad," "Knocked Up," and "21 Jump Street."
Jim — Jim ranked among the top 100 baby names for boys from 1900-1907, from 1933-1948, and again from 1959-1963.
Jake — Jake as a name is very popular among the English-speaking world. In fact, it has even become an affirmation that everything is OK, the term "everything's jake" is an optimistic way to let everyone know that all is good.
Jalyn
Juanpablo
Jordin — Jordin is name that was originally derived from the name of the Jordan River!
Jameer — Jameer has not had much popularity compared to the variant "Jamir".
Jaceon
Jeremih — Jeremih is a variant of Jeremiah that has recently experienced an uptick in use as a given name. In 2020, a total of 57 newborn boys received the name Jeremih in the United States. Some experts attribute this occurrence to the fame of award-winning rapper Jeremih.
Journey — Journey the band was formed in 1973. They hail from San Francisco and are made up of former members of the groups Santana and Frumious Bandersnatch. Although they have had period where they were estranged, they continue to perform today. Their most recognizable song is "Don't Stop Believin'" which was released in 1981.
Jorge
Jaquez — Jaquez as a given name is a Spanish name. It is the less common spelling of Jacquez.
Javier — Javier has ranked among the top 500 baby boy names since 1950.
Jarod — Jarod first appeared among the list of top baby names for boys in 1971. It ranked among the top 500 baby boy names from 1979-1985 and remained popular through the early 2000s.
Jionni
Jalil
Jencarlos
Jarell — Jarell has never been a top 1,000 baby name, but the alternative spelling with two "Rs," Jarrell, made the list during the 1980s and 1990s. It first made the list in 1984 and got as far as number 690 on the list in 1987. It fell off the list after 1992, when it last ranked at number 947.
Jarred — Jarred ranked among the top 500 baby names for boys for two decades from 1980-2000.
Jarrod — Jarrod first appeared among the top 1,000 baby names for boys as the 513th most popular name in 1996. The name Jarrod ranked among the top 500 baby boy names consistently from 1967-1999.
Jacorey — JaCorey Shepherd may be the most notable person with the name. Born in 1993, Shepherd is a former football player who played college ball at Kansas and spent several years in the NFL playing for the Philadelphia Eagles, San Francisco 49ers and Pittsburgh Steelers. He was born in Mesquite, Texas.
Jessiah — Jessiah as a given name is common in the Hebrew Bible. There are five men named Jessiah mentioned, two of which were alive during the time of King David.
Josue — Josue as a given name is commonly used in the United States, Spain, Portugal, and France. The variation originated in Catalonia in eastern Spain.
Jeffrey — Jeffrey is a variant spelling of Geoffrey that first appeared during the medieval period. While the J spelling is less popular in Britain it far exceeds the G spelling in the US.
Jared — Jared is a Biblical name. Jared was a descendent of Adam that sired Enoch when he was 162 years old and lived for more than 900 years.
Jaxson
Jacques — Jacques Cousteau may be one of the first people who comes to mind when you think of the baby name Jacques. The French naval officer turned explorer and scientist spent his life studying the sea and was a leader in marine conservation. He created many films and wrote several books dedicated to ocean life before passing away in 1997.
Johnathan
Jude — Jude is a Biblical name, but most now associate it with the song "Hey Jude" or the actor Jude Law.
Jaylen — Jaylen first appeared on the list of top 1,000 baby names for boys in 1993. The name became one of the top 500 baby names for boys in 1996 and has remained on the list ever since. Jaylen was also a top 1,000 baby name for girls during the 2000s.
Jones
Javien
Jethro — Jethro Bodine was the name of the lovable and not too bright goofball nephew on the hit 1960s sitcom "The Beverly Hillbillies." He was played by Max Baer, Jr.
Jakobi — Jakobi is a popular name for boys born in the Midwestern region of the United States. For example, Jakobi has ranked among the top 1,000 baby names for boys born in Illinois, Indiana, and Missouri since 2010.
Jaiden — Jaiden Kaine is probably the most notable person with the name. The Cuban-American actor is most notable for playing Beau in the "Vampire Diaries" TV show and Zip on the show "Luke Cage."
Did you find any winners in the list of rare boy names that start with J? If not, don't worry! We have thousands more names on the site to choose from. Be sure to check out all baby names that start with Jas well as middle names that start with J.