Classic names like John or James never go out of style, but there are still more baby boy names that start with the letter J that have a more updated feel. Of course, there is never anything wrong with classic names and some traditional J names will have some religious means. Take a look at this comprehensive list of baby boy names that start with the letter J.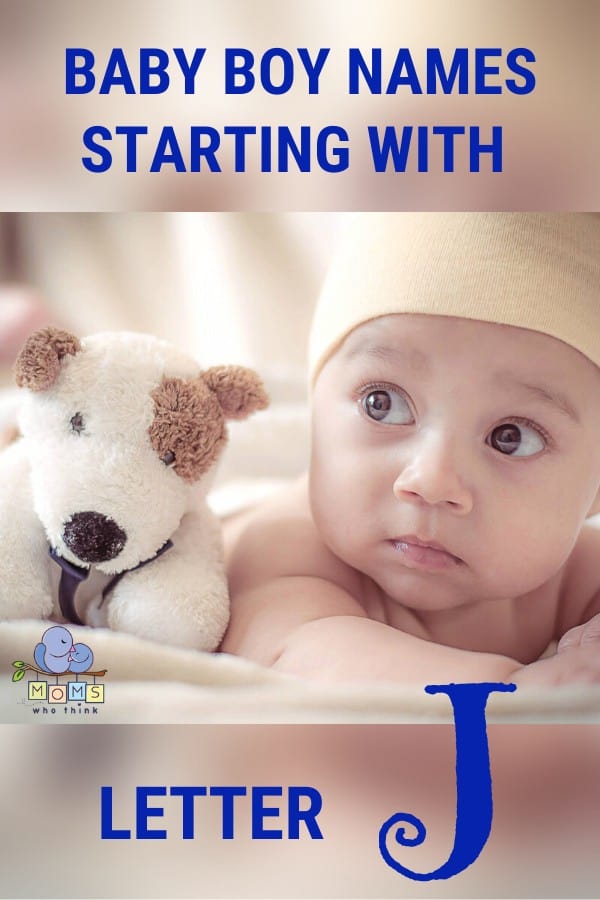 Modern Baby Boy Names Starting with J
First, we'll start with the most popular baby boy names in 2023. This is by no means the only popular J name being used but just a popular list for you to get started with:
---
Unique Baby Boy Names Starting With J
While it's fun to see what lots of other people are naming their babies, many people prefer to find baby names that are more uncommon. To that end, below is the some of the more unusual & unique boy names that start with J:
Jeanmarie
Jailin
Jasmeet
Jedadiah
Jerone
Jomei
Jacinth
Justan
Jamael
Janus
Janzen
Jereck
Jerrad
Joiner
Jorell
Jacek
Jacian
Jacobus
Jacson
Tips for Picking a Baby Name
Picking a baby name can be awfully tough. There's thousands of options out there; how can you possibly pick just one? No need to stress; we've got some tips here to help you pick out just the right baby name.
Make a list of all the names you and your partner like. There's thousands of names to choose from, so you might not settle on one right away. Make a list of all the names you and your partner like, and then slowly whittle the list down. This might take some time! You might want to rank the names you write down, to make it easier for you to narrow it down over time. Or, organize them a different way- alphabetically or thematically are some other options.
Start thinking about a name in advance. You don't want to try to pick a name for your baby at the last minute! This can be stressful; unneeded stress isn't good for you or for your baby. Start considering baby names early enough to give yourself wiggle room in case you find it difficult. That way, you won't have to face any stress over this issue.
Look to your interests for ideas. Do you have a favorite movie or video game? Perhaps you'll want to pick a name from there to give to your child. This can be a unique way to settle on a name if you're struggling to come up with the right one. This might even give you a middle name, too! You can also name your child after your favorite singer or actor. However, be careful on which charater you choose as you may not be the only one who had this idea and two of the same Sci-fi characters are going to make their first day at school interesting.
Think about your child's experiences with a name before settling on it. While you might want to give your child an extremely unique name, the other children around them might not think it's so cool. Try to balance being unique with not giving your child a name that will leave them vulnerable to bullying. There's plenty of cool names out there that are able to strike this balance! If you want your child to have an extremely unique or unusual name, consider making it their middle name instead of their first name.
Consider naming your child after an ancestor. Naming a baby after a close relative is cool and all, but what about your more distant ancestors? Some of them might have cool names that you want to consider for your child. If you go especially far back, you might find some particularly unique names. Maybe there's an ancestor of yours that had a particularly strong impact on your family's legacy. You might discover some interesting things on your search for an ancestor-inspired name! This could also be a great segue into learning more about your family's history, or your partner's ancestry.
Think about nicknames. You might love a particular name, but do you love the nicknames that come with it? For example, you might love William, but are you okay with Bill, Billy, Will, or Willy? It's possible your child might be called these nicknames, or might want to go by one of them, as they get older. Make sure you're okay with that before giving your child a certain name.
Don't be too creative. Too much of anything is a bad thing, and baby name creativity is no exception. There's no need to go crazy with how you spell your child's name. You don't need to add a bunch of extra or silent letters, strange characters, or other oddities to your child's name. Not every word can double as a name. Think about how a name you're considering would look on a resume or college application. Would your child face bias because of their name? If so, it might be worth it to consider a different name.
Did you find any winners in the list of rare boy names that start with J? If not, don't worry! We have thousands more names on the site to choose from. Be sure to check out all baby names that start with Jas well as middle names that start with J.
The image featured at the top of this post is ©FamVeld/Shutterstock.com.