So you're having a boy, or you think you might be having a boy! Congratulations. It's time to pick out a name. Picking out a name for your child can be challenging, but we're here to help. Whether you're looking for a traditional name like David or Daniel, or something more progressive like Denim or Dash, here's a list of baby boy names that start with the letter D to help you in your search.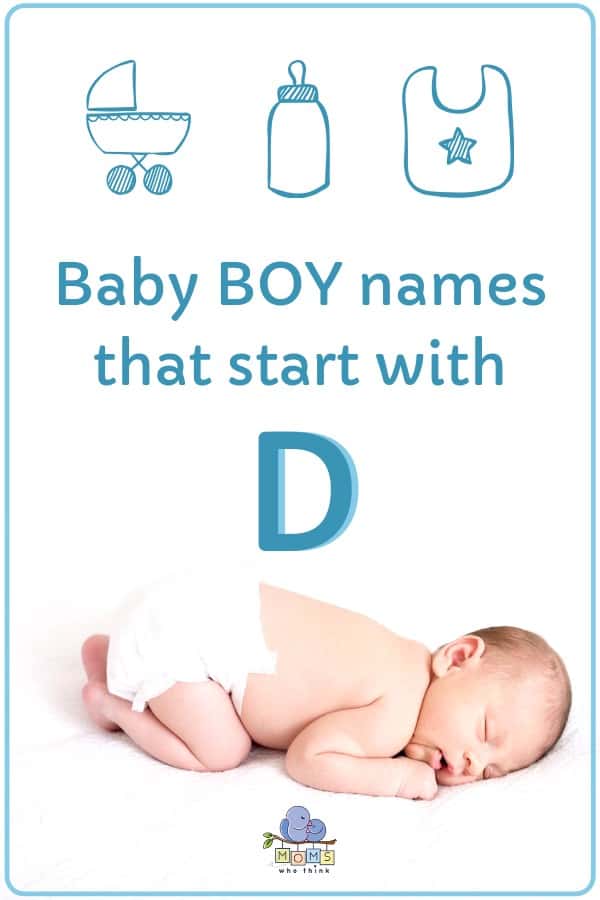 Most Popular Baby Boy Names That Start With D in 2023
First we'll start with the most popular baby boy names that start with D in 2023:
Dawson
Denver
---
Unique Baby Boy Names Starting With D
While it's fun to see what lots of other people are naming their babies, many people prefer to find baby names that are more uncommon. To that end, below are the some of the more unusual & unique boy names that start with D:
Dyonisus
Divon
Dai
Domingo
Digby
Dusty
Dabi
Daiton
Daelen
Dakarai
Dafydd
Dalburt
Dagney
Dakodas
Dallen
Tips for Picking a Baby Name
Picking a baby name can be tough. There's thousands of names to choose from. How can you possibly settle on just one? If you're struggling to settle on a name, we've got some tips here to help you. Don't stress too much over the issue of picking a name- sooner or later you will find the one that works for you!
Write down all of the names you and your partner like. As you come across names, it's a good idea to write all of them down. You'll likely come across a lot of names that you like, so you'll probably forget them if you don't write them down. Figure out a way to keep everything organized as you go, so that you have an easy way to reference them later.
Plan ahead. Once you find out you're pregnant, start thinking about when you should decide on a name for your baby. The first trimester isn't a great idea, since this is when your chance of miscarriage is at its highest. You don't want to wait until the end of your third trimester, either, since then you'll be rushing to pick a name. Pick a rough date that you want to have a name chosen by.
Your interests can inspire you. Everyone has works of fiction that they love. You likely have a favorite movie, T.V. show, or book. Why not honor that love with a name for your child? There's tons of great names in fiction, so turn to your favorites for inspiration. Just don't pick anything that's too far out there.
Is this a name your child can live with? While this might sound harsh, it's important to consider. People will target those who have weird names for harassment, and some companies or colleges may think poorly of someone with a very odd name. It also might be hard for a young child to spell, which could have consequences for them in school. Try to pick something unique, but not too unique.
Get inspired by your ancestry. Take a look through your family tree for ideas! There might be a great-great-great uncle or a great-great-grandfather with a very cool name that you'll end up loving. Or, you might pick someone who had a great influence on your family. Family-inspired names don't have to just come from close relatives. They can come from anywhere in your family tree!
Think about what nicknames your child might receive. Each name has a nickname, so think about the one your child might receive. Is it one you're okay with? You might end up loving a name, but not the nicknames that come with it. Your child might end up wanting a shortened form of their name as they grow older, so you need to decide now if you're okay with that. For example, a child named William might choose to be called Will later in life.
Do research the names you like. It's important that you understand the names you've picked for your child. Don't go and pick something that has a weird origin or an odd meaning without knowing it! Also consider that some names have associations that come from places other than their origins. For example, the name Donald is now largely associated with former President Donald Trump. Are you okay with people assuming you've named your child after a certain celebrity or historical figure, even if that wasn't the reason you picked the name?
Did you find any winners in our list of unique boy names that start with D? If not, don't worry! We have thousands more names on the site to choose from. Be sure to check out all of our other lists on baby names!
The image featured at the top of this post is ©Independence_Project/Shutterstock.com.