If you're here, chances are you're looking for a unique name for your upcoming baby boy. If so, you're in the right place! There are tons of names that start with Q that offer a certain uniqueness or level of rarity. From Qadir to Quirino and everything in between, there's lots of options to choose from. Join us as we take a look at some of the most popular, and the most unique, boy names that start with Q in 2023.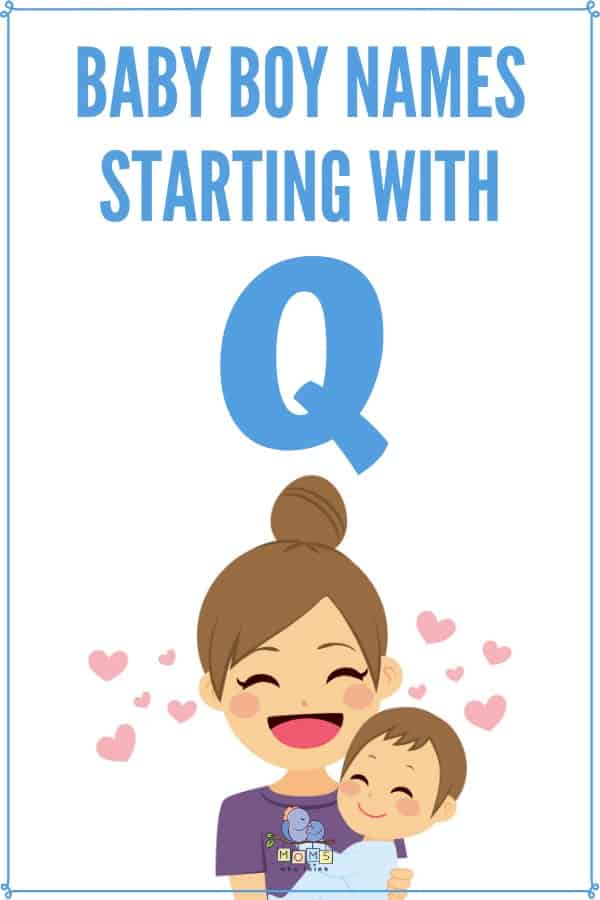 Most Popular Baby Boy Names Starting with Q in 2023
First we'll start with the most popular baby boy names from 2023. They were:
Quincy
Quest
Quinto
Quin
Quasim
Quade
Quent
Qadry
Quigley
Quennel
Quint
Qadir
Quasay
Quintrell
Quetzal
Quillen
Quinn was the most popular baby boy name starting with Q in 2023.  This should come as no surprise as Quinn has been the most common baby boy name starting with Q as far back as 2009.
Just for fun, let's take a look at the most popular baby boy names beginning with Q throughout history.
Unique Baby Boy Names Starting With Q
Sometimes, picking a unique name for your kid can be a great thing. If you're looking for a cool name, Q was the right letter to pick! There's tons of unusual or uncommon names that start with the letter Q. Some of them include:
Quillan
Qusay
Qadir
Qusai
Quan
Quintyn
Quintrell
Quashawn
Quintavious
Quentyn
Quintez
Quartez
Quavon
Quinston
Quint
Quavion
Quintavius
Quron
Quanah
Quantrell
Tips for Picking a Baby Name
When picking a baby's name, keep these tips in mind:
Don't overcomplicate it. Picking a baby's name can be a time-consuming process, but it doesn't need to be a complicated one. You don't need to give your baby's name a crazy spelling or make it the most rare name possible for it to be cool and unique. Keep an organized system for tracking your names to help keep things simple.
Consider whether naming your child after a family member is a good idea. While many people choose to do this, it can cause family drama. Someone might get upset if you pick another family member's name instead of theirs. They may take it as a sign that you prefer that family member over them, or they might expect that your next child will be named after them. While in an ideal world everyone should respect your name choice for your baby, in reality that doesn't happen. If you want to use a family member's name, consider an ancestor from long ago. That's less likely to cause drama for you, either now or down the line.
Alternate spellings are okay, as long as they don't go overboard. Sometimes, changing up a couple letters in your child's name can be fun. It's a great way to make their name more unique! However, you don't want to go crazy. You don't need to add five extra letters to your child's name. Not only is this overkill, it'll make it harder for your child to spell their name when they're young. It may also make them more likely to be teased by their peers.
Be knowledgeable on the name you pick. The meaning of a name is definitely something to consider when choosing your baby's name. You can add special significance to your name choice if it means something that matters deeply to you. Whether spiritual, literary, or symbolic, a name's meaning can be a guiding factor when deciding on baby boy names. You don't need to be an etymological expert, but you should know about the meaning and origin of your child's name. You want to pick a name whose meaning fits with what you're looking for and with your particular values; not every name fits the bill! Keep in mind, too, that some names have associations that don't have to do with their origin. For example, if you name your child Leonardo, some people may assume he's named after the actor when that's not the case.
Conclusion
If you don't have your name in mind yet, don't worry! It's okay to take time to consider all of your options. Make sure you give yourself ample time to consider this, and pick a name that fits what you're looking for! Keep the tips we've given in mind as you go forward. If you'd like more inspiration, we have lists for all letters of the alphabet for you to take a look at! Congratulations again on your bouncing baby boy!
The image featured at the top of this post is ©Vasiuk Iryna/Shutterstock.com.