If you're here, that probably means you're looking for a particularly unique name for your baby girl. If so, then you're on exactly the right page. We've got plenty of unique names that start with X here, as well as some of the more popular ones. Let's get into it.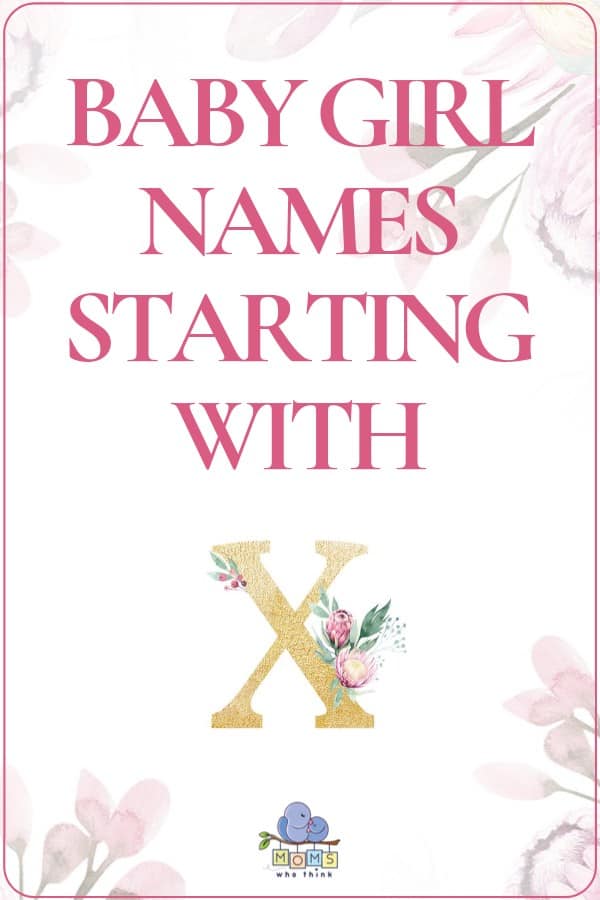 Most Popular Baby Girl Names Starting with X in 2023
First we'll start with the most popular baby girl names starting with X in 2023. They are:
Xiomara
Xyla
Xochitl
Xylia
Xenophon
Xinia
Xavia
Xiao
Xanthia
Xuxa
Xamira
Xuan
Xylina
Unique Girl Names Starting With X in 2023
Looking for something special? We've got you! Let's check out 15 unique and unusual girl names that start with X
Xaviera
Xanthe
Xanthippe
Xavienna
Xeenia
Xeni
Xidorn
Xylona
Xi'an
Xue
Xoese
Xinyi
Xipil
Xitllali
Xiuhcoatl
Need some more names? Check out some more great X names for girls below.
Xandy through Xyza
Xandy Greek — protector of man
Xanthe Greek — Yellow, bright or golden-haired.
Xaquelina Galician
Xaviera Arabic/Spanish — Arabic: Brilliant, bright. Spanish: Of the new house. Feminine form of Xavier.
Xenia Greek — Hospitable, welcoming.
Xenobia Greek
Ximena Greek/Hebrew — Greek: A heroine. Hebrew: He heard.
Xiomara Spanish — Xiomy
Xuxa Spanish — A Queen or ruler. Feminine form of Xerxes.
Xylia Spanish — A Queen or ruler. Feminine form of Xerxes.
Xylia Greek — wood dweller
Xylona Greek — from the forest
Xyza Gothic — by the sea
Tips for Picking a Baby Name
Picking a baby name can be a tough gig. Check out some tips for how to make the baby name choosing process easier for you and your partner.
Don't be over-the-top eccentric. If you're on this page, then that means you probably want a truly unique or unusual name for your daughter. We applaud that! It's important, however, to not go overboard. A name that contains an unusual assortment of letters or that's extremely long might be hard for a young child to spell. A name that's extremely short might sound odd, especially if your last name is also very short. Try to keep these things in mind. Unique doesn't necessarily mean overly complicated!
Think about pronunciation. How will you want the name pronounced? If you want a pronunciation that's different than typical, you might want to adjust the spelling of your child's name to account for this. Remember to avoid names that are extremely difficult to pronounce; your child (and their peers) will thank you.
Respect the origins of a name. Every name comes from somewhere. Certain names are considered very significant by their culture of origin; as such, it might not be appropriate for someone not of that culture to use it for their child. Always do your research; it's important to be informed about the names you're interested in.
Involve your partner. Picking out baby girl names that both you and your partner like is the best way to involve both parents in one of the most important decisions you'll make. You may want to get advice from other close family and friends in the process, but limit yourself so you're not overwhelmed with everyone else's opinions. Would you or your partner like the name if it was your name?
How to Find Other Unique Baby Names
This list is full of great baby names that are unique. However, you might still be in need of more names! Many parents go through dozens of names before they settle on the right one. If you want more unique baby names, here are some great ideas for how to find them.
One idea that works for a lot of people is to turn to their favorite fiction for inspiration. So many fictitious works, especially those in the fantasy and science fiction genres, have names that are quite original. Of course, you'll want to make sure you aren't picking anything too out-there, as we talked about earlier. But, many fictitious names are perfectly acceptable for real-world use.
Sometimes, slightly altering the spelling of a common name can make it much more unique. Think about some names that you commonly hear, and how you could slightly alter them to make them much more unique. For example, John is sometimes spelled as Jawn; this spelling is much more unusual and will help your child stand out.
Celebrities can also be a source of inspiration. Many celebrities have stage names that would make for cool and unusual first names. Think about the stage names used by your favorite singers or other performers, and see if any of them seem appealing for your baby. You might be surprised at what you can come up with! Some song titles may also provide inspiration, since there are a number of songs out there with names for titles.
Conclusion
X offers a lot of unique names for a baby girl. Did you find any you like? If not, we've got lists for all the other letters in the alphabet that you can check out. Be sure to keep our tips in mind as you search for the right name, and best of luck! Bookmark our site so you can always return to it whenever you want to continue your search for more baby names.