Average Joe Boys Names

Bill
Bob
Buddy
Claude
Fred
Ed
Floyd
Guy
Henry
Jack
Joe
John
Kevin
Larry
Lloyd
Mark
Max
Paul
Ralph
Rick
Sam
Scott
Tom
Wally
Wayne

Plain Jane Girls Names

Annabelle
Betty
Carol
Cindy
Dana
Dawn
Doris
Edith
Jane
Janet
Jill
Martha
Mary
Nancy
Norma
Patty
Pauline
Sally
Sarah
Shirley
Sue
Thelma
Velma
Vera
Wilma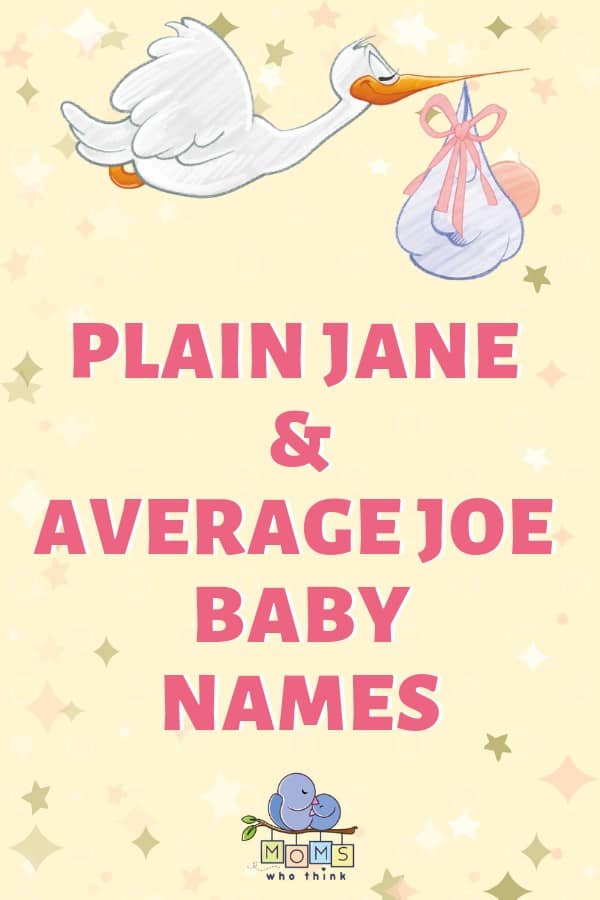 How to Pick a Name For Your Baby
Picking a name for your baby can be a challenging thing! You'll want to make the right choice, since they'll have to live with this name! Once you and your partner sit down to start settling on a name, follow our tips for an easy process.
First, spend some time looking around for different names that you like. Given that you're on this article, you've probably already started this step! Write down all of the names that you like. You don't need to be too specific at this stage; just note down whatever ones catch your eye! Do try to limit yourself to 100 names; any more than that is overwhelming.
Once you have a good list of names, start narrowing it down. This is going to take some time. Cross out any names that you and your partner disagree on. You might settle on a name in the first round; if so, congrats! The name selection process was easy for you.
If you get through the whole list without settling on anything, it's back to the drawing board. We have tons of articles with name ideas on our site, so be sure to bookmark our site in case you need to come back for more ideas. It may take several tries and several lists before you can actually settle on a name that both of you like. Take your time, and don't rush to pick.
You may eventually need to compromise on a name if you can't settle on anything that you and your partner like. If this is the case, think about alternative spellings as a potential compromise. Don't get too crazy with the spelling; a particularly complicated or unusual spelling will cause issues for your child in the future.
The image featured at the top of this post is ©iStock.com/katrinaelena.