If you're looking for a great baby boy name that starts with O, then you're in the right place. Oscar, Oliver, Otis, Owen- there is no shortage of baby boy names that start with the letter O. We've got a great list of options to help you find the perfect name for your little boy. In addition, we've got some great tips for you when deciding on a new name for your baby. Hopefully they'll help you settle on just the right one!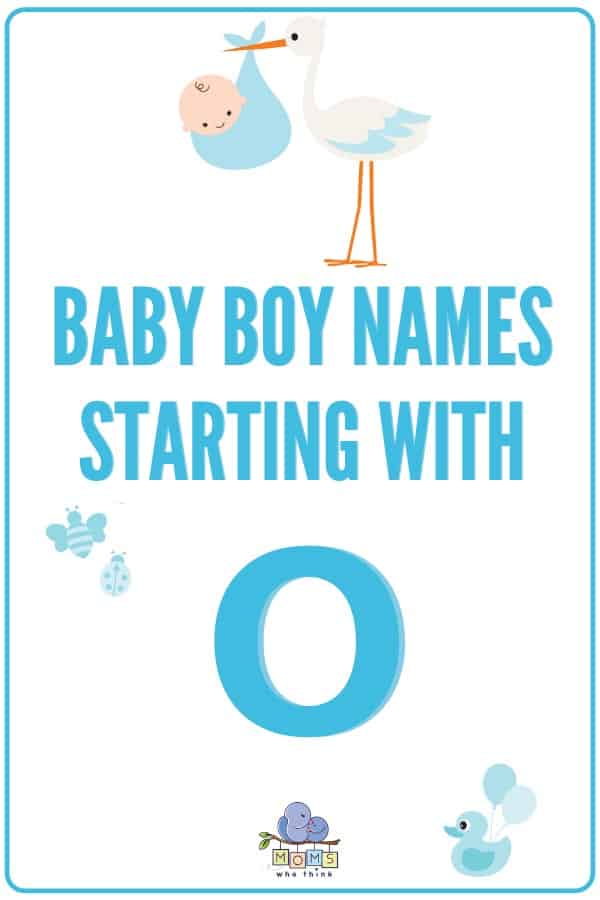 Modern Baby Boy Names Starting with O
First we'll start with the most popular baby boy names that start with O in 2023:
Otto
Onyx
Omari
Osman
Osvaldo
Octavio
---
Unique Baby Boy Names Starting With O
If you want something unique for your child, then we've got you. We've collected 15 of the most unique or uncommon boy names that start with the letter O. Check them out:
Orpheus
Oberon
Obi
Othello
Oleander
Odie
Olatunji
Obadiah
Obsidian
Olin
Ollivander
Odhran
Tips for Choosing a Baby Name
When picking a baby name, there's a few things you'll want to keep in mind. We've got several tips for you here, to help you pick the best possible name for your little bundle of joy.
Think about how the name will age. Some names, like Christian, sound better on younger people than older people. Other names, like Virginia or Esther, sound better on older people than younger people. These are things to keep in mind when picking a name. Are you okay with your child's name sounding too young or too old for them?
Keep your partner involved. Assuming your partner will be an active part of your baby's life, it's important to keep them involved when thinking of baby names. They'll have to love the name, too! You can each make your own lists of the names you love, and then cross-check them with each other when you're done. You may not find any names you both love on the first go-around, but keep trying!
Consider how your chosen name will fit into the real world. Is this a name that your child can have without ridicule from their peers? Names with overly complicated spellings, odd pronunciations, or a lot of eccentricity may summon negative reactions. While it's important to not let the opinions of others influence you too much, you also want to protect your child from bullying when you can. Part of this means picking a name that can fit into the "real world" well.
How do you feel about the shortened version of your child's name? Practically every name has a shortened version. Is the shortened version of your chosen name one that you like, or does it make your skin crawl? Some names have multiple shortened versions, so be sure you and your partner are okay with all of them. If not, that's a sure sign to go and find a different name.
Is your chosen name trendy or popular? Some parents don't care if the name they've picked for their baby is popular, while for others it's a big deal. If you fit into the latter category, then double-check the popularity of a name before giving it to your child. If you pick a name that's in the Top 100, your child is more than likely going to encounter a good number of people who share the same name as they do.
Conclusion
Hopefully you were able to find some great names from our list. If not, we've got plenty of other lists for you to check out! We've got lists for every letter in the alphabet, so there's no shortage of great names for your future child. Remember all of the tips we discussed above; these will all help you pick the best name possible for your child. Congratulations again on your upcoming baby boy!
The image featured at the top of this post is ©Natalia Deriabina/Shutterstock.com.