Selecting the perfect name can be a daunting task. Besides, this name will potentially shape his identity for a lifetime. Whether you just can't agree on a name with your significant other, or you don't even know where to begin, this list has you covered. From traditional options such as Harry or Holden to something a little more unique like Hero or Holt, our comprehensive list of baby names that start with the letter H offers a range of possibilities. Remember not to settle for a name that doesn't resonate with you or your partner. Instead, consider printing out this list and circling the options you like the most. Additionally, delving into the meaning behind some of these names can provide further clarification.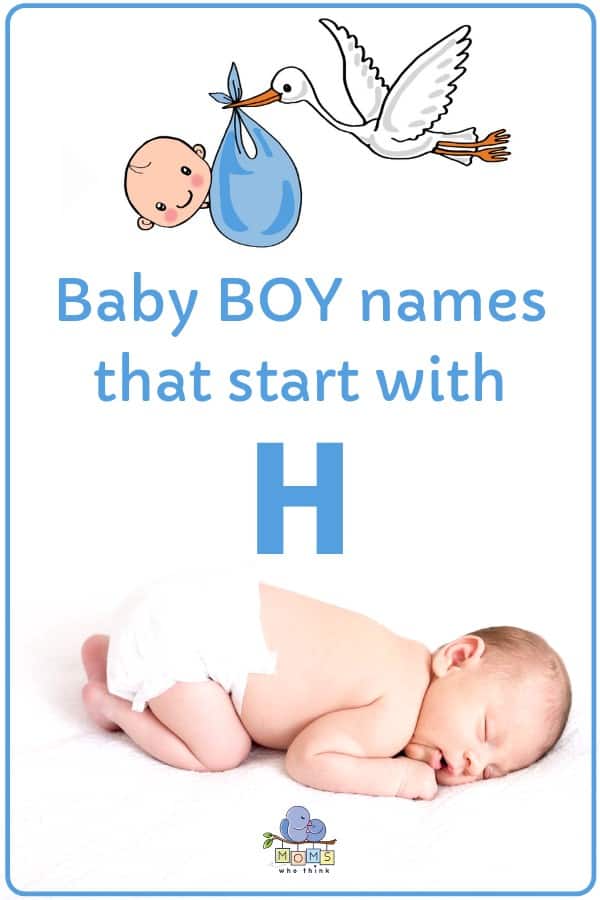 Top Baby Boy Names Starting with H in 2023
First, we'll start with the most popular baby boy names that start with G in 2023:
When it comes to choosing a baby name that starts with the letter H, the possibilities are endless. You may come across a gem that you haven't previously considered. This list is meant to ignite your creativity and implore you to explore even more options. While we've just covered the most popular names, let's now dive into a selection of unique and uncommon choices.
---
Unique Baby Boy Names Starting With H in 2023
While it can be interesting to find out what names are currently popular, many parents opt to find a less common name for their baby. With this in mind, we've compiled a list of rare and unique names that begin with the letter H:
Harlea
Harvee
Hayle
Hadly
Harloe
Hau
Haaken
Hadrien
Hairo
Hines
Hameed
Hein
Hernando
Haku
Harish
Harman
Hektor
Hipolito
Holmes
Did you happen to come across any choices in this list that really resonated with you? If not, there's no need to fret. There are even more baby boy names for you to choose from. Explore all the baby names, including middle names, that start with the letter H to find the perfect fit for your new addition.
Tips for Picking a Baby Name
So you've reviewed the list of baby names, but find that you're still struggling to pick the right name for your baby. No need to worry! Review these helpful tips to help you make the right choice for your new baby.
Avoid rushing to use a relative's name. It's a convenient route to take, and may even make the namesake thrilled. However, it's important not to rush to do this! There are thousands of names out there that are unique to your baby. With so many options available, you are sure to find something special for your child. Plus, choosing a different name prevents any potential family drama.
Create a list of preferred names. Go through that list with your partner, and gradually narrow it down. This may take a lot of time and patience, but in the end it's well worth it.
Plan ahead when choosing a name. Besides, you don't want to have to pick the name at the last minute. You have enough to worry about with a baby on the way, and procrastinating can only lead to stress for both you and your partner. Start thinking of your favorites now, allowing yourself ample time to explore different possibilities.
Seek inspiration from your interest. Do you have a favorite singer or actor? Or even a favorite movie or video game? Drawing from your passions is a unique way to settle on a name if you're struggling to come up with one. You might even come up with a great middle name this way too!
Consider being practical with your choice. It's not uncommon to want to give your child the most unique name, however, it's essential to balance individuality with the potential impact on your child's experiences. Try to keep a good balance between being unique and practical. There are loads of options to choose from. If you do happen to choose an extremely unusual name, maybe consider using it as a middle name instead.
Be sure to honor your culture. If you're struggling to come up with the right name, look to your heritage for inspiration. Giving your child a name that connects them to their cultural roots is not only unique but also meaningful. This is a great way to teach them about their family's history, it's unlikely that their peers will share the same name.
Think about potential nicknames. While you may love a particular name, ask yourself if it's important that nicknames also be associated with it. For example, if you like William, are you comfortable with potential nicknames like Billy or Will? Remember, your child may be called these nicknames as they get older, so ensure you c are content with the variations before settling.
Research the meaning of the name. A name you may love may have a deeper meaning or origin that aligns with your preferences. Understanding the significance ensures it meets your expectations. A lot of names have roots in specific languages or are associated with certain significant figures. For instance, the name Brady may be associated with retired Quarterback Tom Brady.
If you haven't found a winner on this list, fret not! Our website offers a wide variety of baby boy names and their meanings to help you choose the right one for your new addition.
The image featured at the top of this post is ©Jason Sung / Unsplash.