From traditional options like Harry or Holden to something more unique, like Hero or Holt, here is a solid list of baby names that start with the letter H.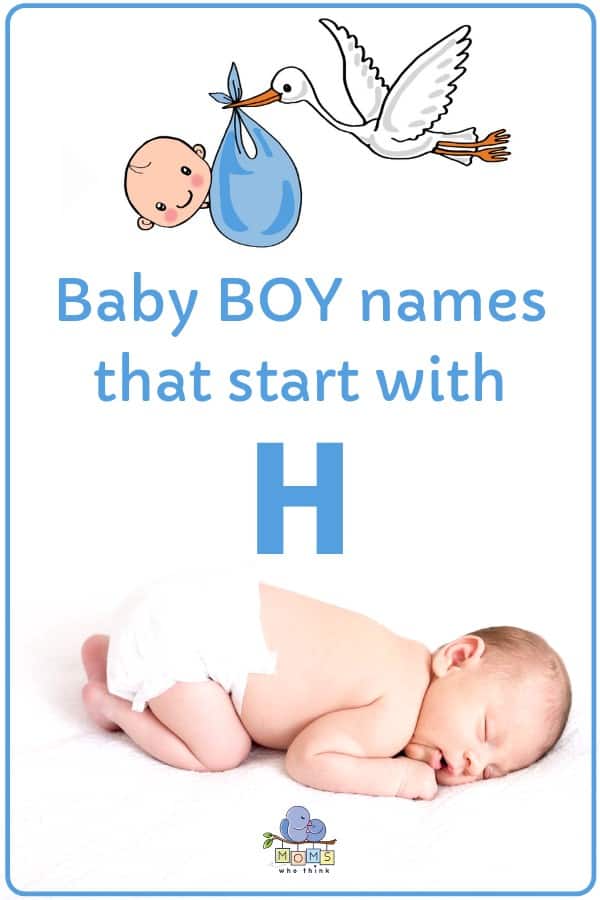 Modern Baby Boy Names Starting with H
First we'll start with the most popular baby boy names in 2021:
Horacio
Hannah — Hannah as a name, dates back to 1880 in the United States. Hannah has been in the top 10 girl names eight times in the last 20 years. More impressive than that is it has been in the top 100 names 49 times!
Hansel
Hussain — Hussain is both a given name and a surname common among Muslims. Both names come from Husayn ibn Ali who was a grandson of Muhammad.
Huxton
Henley — Henley is spelled the same as the name of a shirt. Henley shirts may have received their name from the same boat town in England.
Honor
Hunter — Hunter is typically a boy's name, but it is gaining popularity as a name for baby girls. There are even a few famous female Hunters, like actresses Hunter Tylo and Hunter King, and model and human rights activist Hunter Schafer.
Henry — Henry is a name that has been used for European royalty since the 10th century, starting with Henry 1 the Fowler in Germany. There were even eight kings in a row in England with the name Henry.
Haydn
Hayden — Hayden Panettiere was the actress in the television show "Smallville" which really helped to make the name one that is unisex rather than just for boys.
Huck
Hoyt — Hoyt Axton is one of the most notable people with the name. He was a country music singer who was especially popular during the 1960s. He's more notable as a songwriter. Some of his more popular tunes include "Joy to the World," "The Pusher," and "Never Been to Spain."
Harrison — Harrison as a given name started its climb back to popularity in 1977, the same year that the original Star Wars movie released in theaters, starring actor Harrison Ford.
Hudson — Hudson as a name has a namesake in the Hudson River which is named after famed explorer Henry Hudson who charted areas of present-day Canada and the northeastern United States.
Huxley
Henri
Hadi
Hakeem — Hakeem is a name personally approved by the prophet Muhammad. According to the Quran, he saw any of the 99 titles of Allah as worthy for little boys.
Hector
Hussein
Herman — Herman Munster from the 1960s sitcom "The Munsters" may be one of the most notable characters with the name in pop culture history. He resembles Frankenstein's monster and is a lovable buffoon and family man.
Hiram — Hiram is seen as an ancient choice in terms of biblical names so much so that it has become a trendy option.
Hendrix — Hendrix comes from the same German root name as Henry!
Harlem — Harlem comes from a suburb in New York City, Harlem. The neighborhood got its name, however, from a city in the Netherlands. That town was Haarlem.
Herbert
Holden — Holden took a while to become a popular name for boys. It has been around for decades, as evidenced by a character in "The Catcher in the Rye," but did not become popular enough for the Social Security Index until 2000.
Hernan
Hollis
Henrik — Henrik is a common name in the Danish Royal Family and, most notably, the name of the country's young prince. Born on May 4, 2009, Prince Henrik is the son of Prince Joachim and Princess Marie. His official name is His Highness Prince Henrik of Denmark, Count of Monpezat.
Hugo — Hugo as a given name is especially popular in European countries such as Spain, Portugal, Denmark, and the Netherlands. In 2018, Hugo was #1 for boys in Spain.
Haden
Heriberto — Heriberto ranked among the top 1,000 baby names for boys born in the United States for 50 years from 1954-2004.
Harlan — Harlan is becoming popular again as a first name. There is still significant use of the name as a surname too, however, especially when considering popular Supreme Court justice John Harlan from the early twentieth century.
Hayes — Hayes sees some use among girls. It has a similar sound to River or Ivy. It has a naturalistic feel.
Hyrum
Hank — Hank first appeared on the list of popular baby boy names in 1946. The name ranked periodically throughout the subsequent decades. Hank experienced a major resurgence as a given name in 2010 and has ranked among the top 1,000 baby names for boys ever since. It is also the namesake of numerous songs like "From Hank to Hendrix" by Neil Young, "There's A Little Bit of Hank in Me" by Charley Pride, and "The Night Hank Williams Came to Town" by Johnny Cash.
Harper — Harper only became a popular baby name for girls in the mid-2000s, but the most popular female named Harper was born way back in 1926. Author Harper Lee was born "Nelle Harper Lee" in Monroeville, Alabama. She's famous for writing the book "To Kill a Mockingbird," for which she won a Pulitzer Prize.
Harley — Harley first gained popularity as a given name during the late 1800s. The name Harley ranked among the top 300 baby boy names from 1900-1940. Harley demonstrated similar popularity as a baby girl name starting in the mid-2010s. The name ranked among the top 300 baby girl names from 2015-2020.
Hagen — Hagen was the half-brother of Gunther in the "Nibelungenlied." Gunther was the lover of Brunhild in the work. He was one of the most popular characters in Germanic folklore.
Harry
Hamza
Harold — Harold is such an old name that its roots go back to the proto-Germanic words harja-waldaz!
Harvey — Harvey as a given name became popular due to a 6th century hermit named Saint Herve or Saint Harvey who is the patron saint of the blind, bards, and musicians.
Hasan
Hans — Hans is a name that has been in continuous documented use since the 14th century!
Hassan
Haiden — Haiden may not be a top 1,000 baby name for boys anymore, but Hayden certainly is. As a matter of fact, it ranked at number 177 in 2020. The name was pretty popular through the 1940s, but it fell out of favor and made a comeback in 1986.
Heath
Hezekiah — Hezekiah is a Biblical Hebrew name that belonged to several individuals including a King of Judea who ruled in the 8th and 7th centuries B.C.
[wpdreams_ajaxsearchpro id=2]
---
Unique Baby Boy Names Starting With H
While it's fun to see what lots of other people are naming their babies, many people prefer to find baby names that are more uncommon. To that end, below is the some of the more unusual & unique boy names that start with H:
Howard
Hugh — Hugh has been a popular name since the Middle Ages. It's also one of the only names to make the list of the top baby names in the United States every single year.
Humberto — Humberto is the Spanish and Portuguese version of the Germanic name Humbert!
Haven — Haven is an originally gender-neutral name that has become increasingly popular for baby girls. It is also the namesake of musical acts like the Haven of Rest quartet.
Harris
Did you find any winners in the list of rare boy names that start with H? If not, don't worry! We have thousands more names on the site to choose from. Be sure to check out all baby names that start with H as well as middle names that start with H.