Emilio has a classically Latin feel and an international expectation. This boy's name finds its original home in Italian and Spanish families, but it is now used no matter the cultural heritage. This is seen especially in the fact that Emilio is a top 300 name in America.
Meaning and Origin of the name Emilio:
Emilio is great boy's name of Italian and Spanish origin meaning "to strive," "to excel," or "to rival."
Emilio is the Spanish and Italian version of the Roman and English name Emil. This latter name comes from the ancient Roman surname Aemilius, which is derived from the Latin word aemulus (meaning "striving" or "rivaling"). Emilio has now become one of the most popular names used for families of Italian and Spanish heritages.
Symbolism of the name Emilio:
Emilio can trace its origins back to the Roman surname Aemilius. This surname comes from the Latin word that is "aemulus" which means "rival." Emilio holds that same meaning.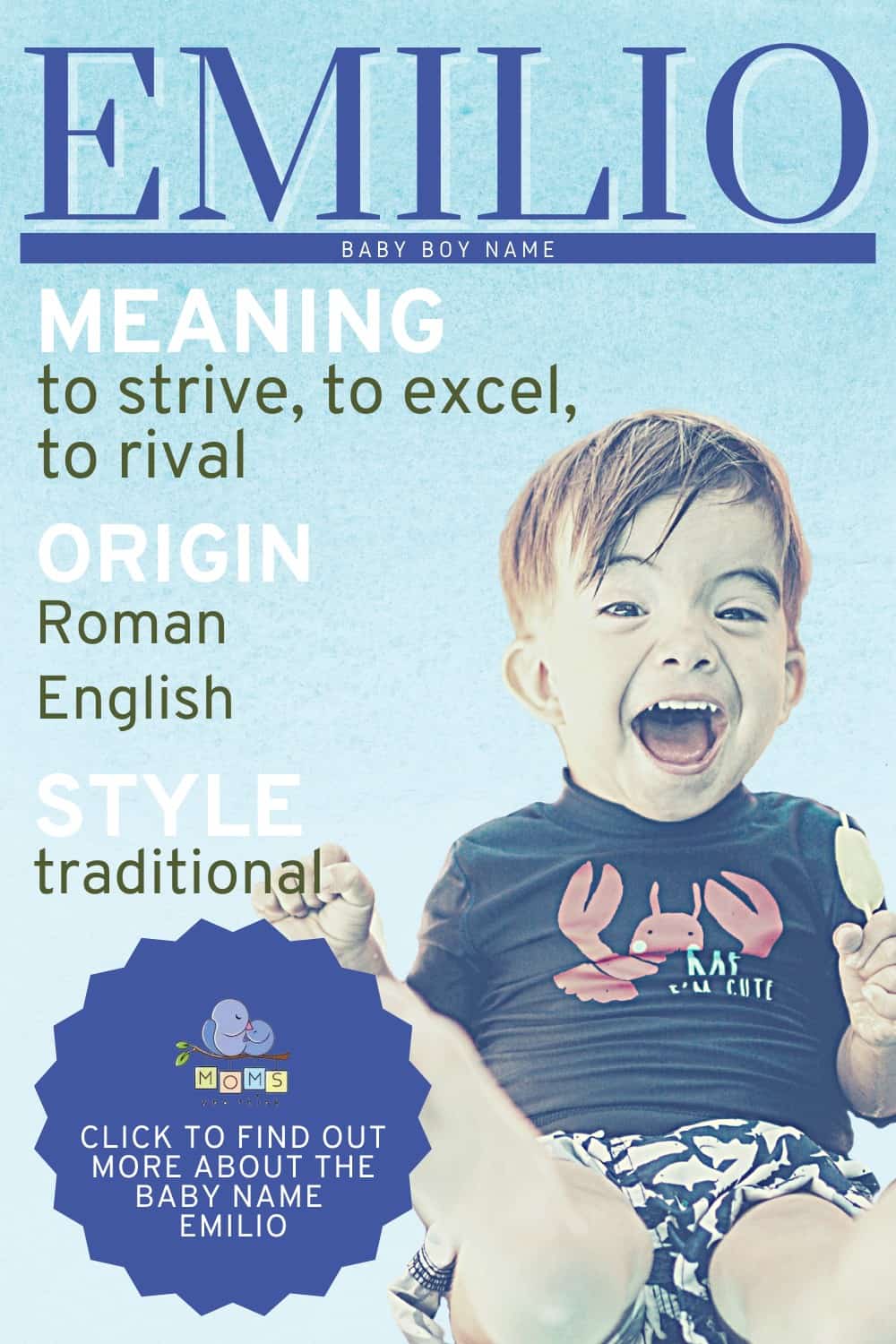 Style of the name Emilio:
Classical
Gender of the name Emilio:
Emilio is a Spanish and Italian name intended for boys.
Pronunciation of the name Emilio:
eh-MEE-lyo
Number of syllables in the name Emilio:
Three
Emotion evoked from the name Emilio:
Emilio feels strong, international, and formal. It is strong and still has a classic feel.
Alternative spellings for the name Emilio:
Emillio
Emyllyo
Emylyo
Emmilio
Emmillio
Nicknames for the name Emilio:
Emilio is a wonderful name for any baby boy. There are several ways to shorten Emilio to create nicknames. Below is a list of nicknames you may want to consider when deciding on the perfect nickname for your son.
Popularity of the name Emilio:
In modern times, Emilio is the most popular on the Social Security Index that it has ever been. Since 2016, the name has been a top 300 name, though it spent time on this list from 2004 to 2008 as well. In 2020, the name ranks at number 229 for all of boy names.
Related names for the name Emilio:
Great middle names for Emilio and their meanings:
Miguel (who is like God?)
Hugo (mind)
Louis (famous warrior)
Felipe (friend of horses)
Reuben (see, a son)
Brooks (near a stream, near a brook)
Jordan (flow down, descend)
Famous people with the name Emilio:
Emilios in popular culture:
Emilio Largo (character from "James Bond" series)
The image featured at the top of this post is ©Tatyana Vyc/Shutterstock.com.