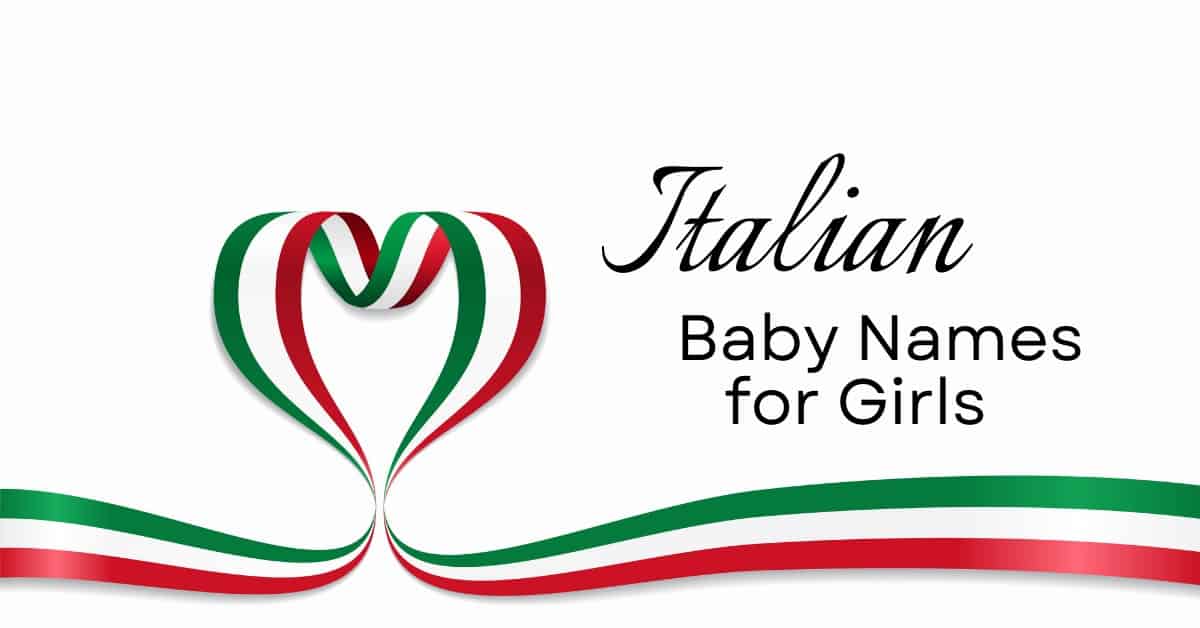 Embrace the finest qualities of the Italian culture by selecting a name that instills an appreciation for gioia di vivere. From Carmela to Serafina, this list of Italian baby names for girls is extensive and filled with beautiful options. Take a look!
RELATED: 25 Italian Baby Names
Alessia

Alessia is a trendy Italian name for girls. Meaning "defending warrior", has a similar feel to other traditional names like "Alexis" while still having an interesting spin.

Amara

Amara is a feminine name backed by not just Italian origins, but other regions as well from Arabic to West African. It means "grace, immortal, tribe", and it is a lovely, cross-cultural choice.

Bella

Bella is an Italian girl's name derived from "Isabella". It has the perfect meaning of "beautiful", and it fits on its own as a given name or as a nickname for the likes of "Arabella" or "Annabella".

Bria

Bria is a simple Italian name used for girls. It comes with a sweet meaning of "vigor, liveliness", fitting for a bubbly baby girl.

Carmela

Carmela is a long-standing Italian girl's name. No matter how familiar it is, it remains a cute choice, and as it means "garden", it can work as a more colorful name filled with personality.

Clarice

Clarice is a classic Italian name used for girls dating back decades. It's a perfect choice for those seeking something more old-fashioned that still has a nice sound with a sweet meaning of "bright, clear".

Daniella

Daniella remains a recognizable Italian name that many girls in and out of the community carry around. It works as a feminine form of "Daniel", which makes it appropriate when basing the name off an older male relative or even a twin brother.

Donna

Donna is a timeless Italian girl's name. As it translates directly to "lady" in the language, it easily fits a beautiful baby girl.

Emilia

Emilia is a popular Italian name that is historic yet has a lovely modern feel. It's fitting for girls cross-culturally too with its easy approach.

Federica

Federica is a feminine and Italian twist on the name "Frederick". Meaning "peaceful ruler", it has a pretty appeal that makes it look elegant without feeling overly formal.

Francesca

Francesca is a popular Italian name for girls used not just throughout Italy, but across other communities and cultures in the world. It works as a feminine version of "Frances".

Gabriella

Gabriella is the Italian feminine version of "Gabriel". It works well when paired with a brother or other male relative with the masculine name, or even just to use for its powerful meaning of "God is my strength".

Gia

Gia is a simple Italian name used for girls that has strong staying power. Many enjoy it for its cute simplicity as well as its religious meaning of "God's gracious gift".

Isabella

Isabella is a well-known name for girls with Italian origins that also stems as a Latinate version of the name "Isabel". With a cute meaning of "pledged to God", its success is largely found in the fact that it's a truly international name that crosses cultures easily.

Luna

Luna is a beautiful Italian name used for girls that means "moon". It is beloved not just for its lyrical-like sound, but it's also appreciated by parents who enjoy mythology as it's the name of a Roman goddess.

Marcella

Marcella is the Italian name that has strong historic roots to the point that it makes for a more vintage name for a baby girl. It's backed with a bold and unrelenting meaning of "warlike".

Mia

Mia is an Italian girl's name that originated as a shorter version of "Maria". It means "mine or bitter".

Patrizia

Patrizia is an Italian take on the name "Patricia". It has an obvious feminine feel that comes with a few cute nicknames like "Patti".

Roma

Roma is an Italian place name. It works for parents who seek a bold girl's name with obvious cultural roots with an unmistakable sound.

Rosa

Rosa, with its Italian roots, serves as a Latin version of the name "Rose". It's a charming, sweet, and simple name for girls.

Serafina

Serafina is a stylish girl's name with Italian roots. Meaning "ardent", this lovely name can also be spelled "Seraphina" and have the same impact.

Sienna

Sienna is both an Italian name and a color name used for girls. It's a vibrant option that's easily used cross various cultures.

Via

Via can work as a nickname or given name with Italian roots. It is fitting for a shortened version of names like "Oliva" or even be used to name a little girl after a female relative.

Viola

Viola is of Italian origins that's commonly used for girls. Meaning "violet", it's a lyrical-like name that is easy to say and lovely to look at.

Violetta

Violetta is a vibrant Italian name that takes a more direct approach to describing "purple". In fact, it can be a more elevated version of "Violet".
Peruse thousands of baby names on MomsWhoThink.com! And follow us on Pinterest for more parenting inspiration!