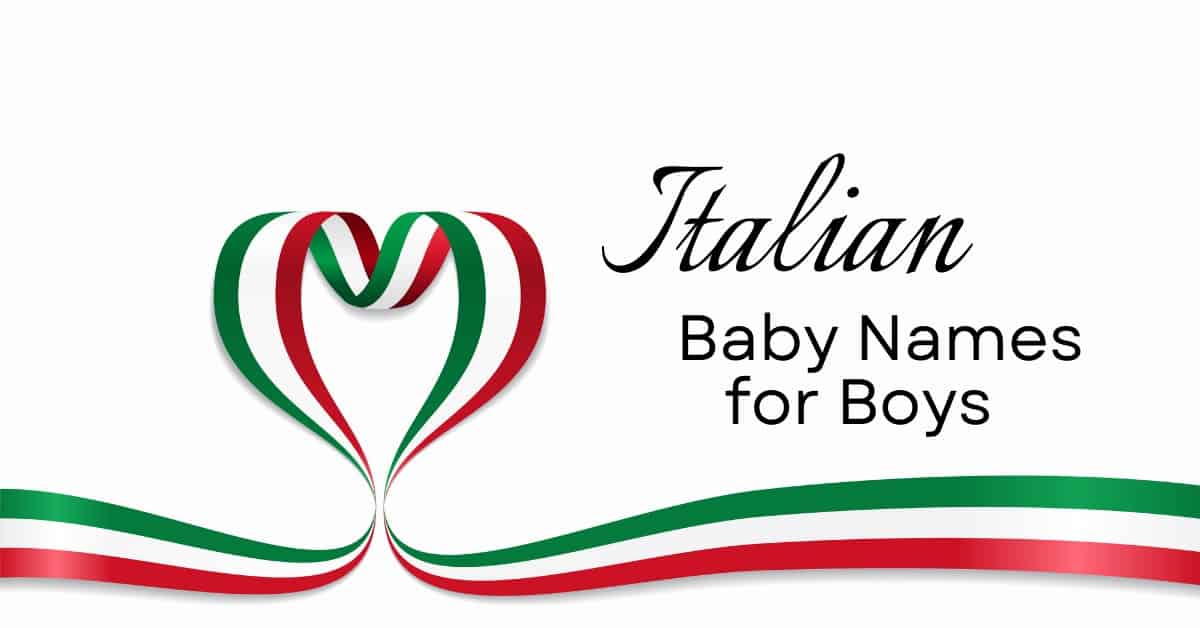 If you're looking for a strong, meaningful and impactful names for your little one, then consider one of these Italian baby names for boys. From Antonio to Giacomo and everything in between, this list features some of the most beloved Italian baby names for boys — take a look and find the perfect name for your son.
RELATED: 25 Italian Baby Names
Adriano

Adriano is a bold boy's name with Italian origins. Meaning "man from Adria", it works as a stand-in for the traditional "Adrian" name.

Alfonso

Alfonso is an Italian boy's name backed by historical royal roots. It was seen as a royal name back in Spain around the 7th century, and it has a strong name of "noble, ready".

Angelo

Angelo is a more old-school Italian name chosen for boys. It still has a stylish feel to this very day with a sweet meaning of "angel, messenger".

Antonio

Antonio is a popular name used in Italian communities for baby boys. It is a nice spin on "Anthony" backed with the same cool and cute nickname of "Tony".

Armando

Armando is an Italian name for boys that's seen as a variation of "Herman". It has an elegant feel about it backed by a strong meaning of "soldier".

Bello

Bello is a bubbly, masculine Italian name that's also used as a term of endearment. It features the lovely meaning of "handsome, beautiful", perfect for that stunning baby boy.

Bosco

Bosco is an Italian saint name used for boys. It works well as a fashionable and trendy short given name.

Brando

Brando has Italian origins largely used for boys. Meaning "firebrand, sword", it can also pay homage to the legendary actor Marlon Brando for parents who envision a future movie star.

Carlo

Carlo is of Italian origins and works for baby boys cross-culturally if needed. It can be a take on "Charles" for those that want something that stands out a bit more, and it means "free man".

Dante

Dante is a boy's name with Italian roots that's widely popular among the community. It has a nice meaning of "enduring".

Donatelli

Donatelli is an Italian boy's name that comes with a rather cool nickname of "Don". Also a variation of "Donato", the name means "given by God".

Edmondo

Edmondo is a nice Italian take on the traditional boy's name "Edmund". It works for parents who seek meaningful names since it stands for "fortunate protector".

Emilio

Emilio is an instantly-recognizable Italian name for boys. This has a rather dashing bit of charm to it with a simple meaning of "rival".

Enzo

Enzo is a highly popular Italian name for boys that is also a variation of the name "Henry". It is one of the more attention-grabbing names that's regularly used cross-culturally.

Ferrando

Ferrando is an Italian variation of the classic boy German name of "Ferdinand". This traditional name works well to bring about feelings of exploration and adventure since it means "bold voyager".

Filippo

Filippo is a common Italian name used for boys for centuries. It's a variation of the name "Philip" and means "lover of horses".

Francesco

Francesco works as an Italian variation of the boy's name "Francis". It is a charming and handsome name that means "Frenchman or free man".

Giacomo

Giacomo is a popular Italian name based off the boy's name "James". It is one that readily gravitates cross-culturally as many parents without the Italian ancestry often choose it thanks to its cool-sounding vibe.

Giancarlo

Giancarlo is a lovely combination of "Gian" and "Carlo", one of many combo names with Italian origins. Used for boys, this name can also serve as stand-ins for the names "John" and "Charles".

Giovanni

Giovanni is a doubtless classic Italian name for boys. A variation of the name "John", it means "God is gracious".

Luigi

Luigi is a cute Italian name that spins the traditional "Louis" name. It's a nice choice for a strong baby boy too as it means "renowned warrior".

Marco

Marco is an Italian take on the boy's name "Mark". Meaning "warlike", it is certainly a universal name that crosses cultures well.

Paolo

Paolo is an Italian variation of "Paul" with a clear masculine slant that makes it fitting for boys. It has a rather tender feel to it with a simple meaning of "small".

Rafaele

Rafaele is an attractive Italian name that is a stand-in on the usual "Raphael" name. It can work for those looking for a name with a religious touch that isn't too obvious as it means "God has healed".

Tristano

Tristano is an Italian take on the name "Tristan". It's a popular name choice for boys across various cultures, but this spin on it makes it perfectly fitting for those who seek something more unique sounding.
Peruse thousands of baby names on MomsWhoThink.com! And follow us on Pinterest for more parenting inspiration!