If you have some crocheting skills, these knee pads are a great craft to make for your growing baby. Babies often crawl before they walk, so protecting their knees is important. You don't need a lot of supplies to make these, making this an affordable craft.
We recommend making a few pairs of these knee pads, for when your baby inevitably gets them dirty or wears them out. We recommend washing these knee pads by hand to ensure they stay intact. Use a gentle detergent. If you can find a detergent meant for babies, that's even better. If you aren't able to wash these knee pads by hand, put them through the washer on a delicates cycle with low or no spin. To dry, we recommend line-drying to prevent any shrinkage.
These knee pads can be a special keepsake once your baby grows out of their crawling stage. You can look back on these knee pads years from now and remember all the ups and downs of being a new parent! In the meantime, your child will benefit from having something to protect their knees as they crawl.
Make sure to check out all of our articles on newborns and older babies. We have tons of information and advice available. All of our articles are regularly updated, so you can rest assured that you're getting the best and most up-to-date information out there.
Knee Pads for A Crawling Baby
Materials:
Tube socks with stretchy top (4-6")
Yarn/crochet string
Crochet hook (size appropriate for thickness of yarn)
Directions:

1.  Cut foot off socks, on raw edge poke hook through socks and do a single crochet, repeat every other rib.
2. Add addtiional rows as desired.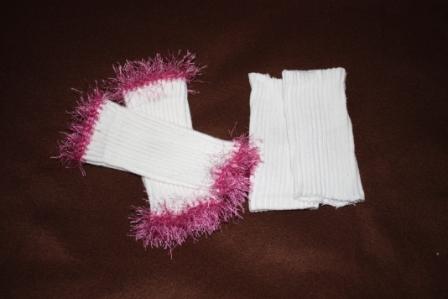 3. Repeat for the finished edge.