Let's Get Ready for Baby!
Sign up for our monthly pregnancy email series, and you'll get regular updates on your baby's development, helpful timelines to get ready for their arrival, must-have baby needs and so much more! PLUS, you'll get instant access to the MomsWhoThink "Ultimate Guide to Baby Naming in 2022."
CLICK HERE
to get started!
Ida has not been a top 1,000 baby name until 1985. It is on the rise again, however, and is a top 100 name in European countries. Ida is a name known for ebbing and flowing, but it remains a sweet and vintage-sounding option for girls.
Meaning of the name Ida:
German: industrious one
Origin of the name Ida:
The baby name Ida originated from the Germanic word "id." The name spread throughout Europe due to the Norman Invasion, but it died out during the Middle Ages. The name came back to popularity in the late 1800s because of a work by Lord Tennyson called "The Princess."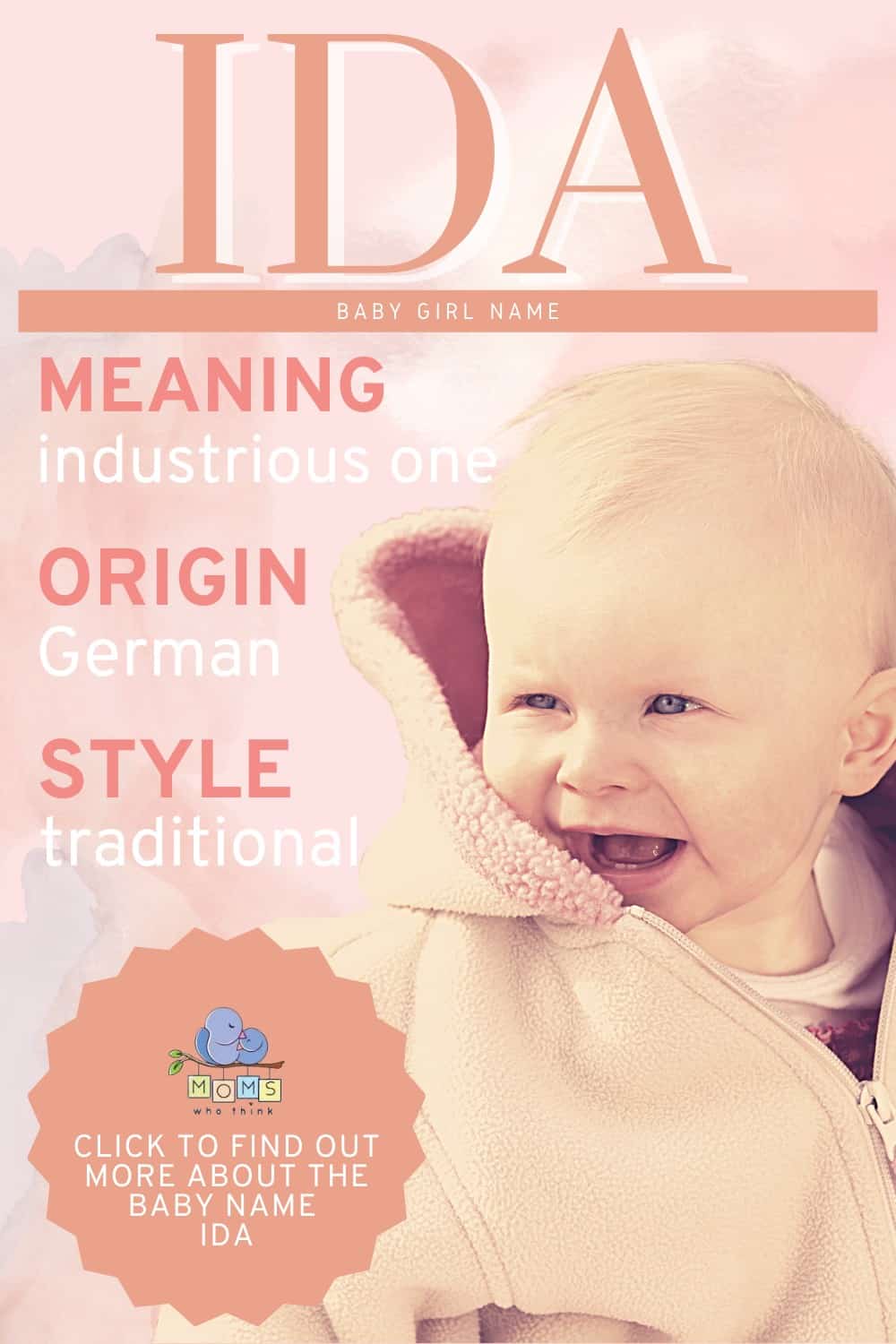 Symbolism of the name Ida:
Ida means "industrious one" because of the Germanic root word "id." That word means "work" or "labor."
Style of the name Ida:
Traditional
Gender of the name Ida:
Ida is a vintage name for baby girls.
Pronunciation of the name Ida:
IE-da
Number of syllables in the name Ida:
Two
Emotion evoked from the name Ida:
Ida feels sweet and romantic. It is wholesome and natural.
Alternative spellings for the name Ida:
Nicknames for the name Ida:
Popularity of the name Ida:
Ida was a top 50 name in America until 1914, and it remained a top 100 name until 1931. The name stayed a top 200 option until 1947, however. The last year Ida was on the top 1,000 list was in 1986 at rank 996.
Related names for the name Ida:
Great middle names for Ida and their meanings:
Rose (rose, a flower)
Eloise (healthy, wide)
Blaine (yellow)
Lux (light)
Sadie (princess)
Pearl (precious, smooth, round bead)
Marigold (resplendent Mary, golden flower)
Belle (beautiful)
Famous people with the name Ida:
Idas in popular culture: