Let's Get Ready for Baby!
Sign up for our monthly pregnancy email series, and you'll get regular updates on your baby's development, helpful timelines to get ready for their arrival, must-have baby needs and so much more! PLUS, you'll get instant access to the MomsWhoThink "Ultimate Guide to Baby Naming in 2022."
CLICK HERE
to get started!
How do we start the conversation about a CAKE better than SEX?!
Shall we start with the birds and the bees? When a man loves a woman…
No, I think its better to take our minds out of the bedroom and into the kitchen.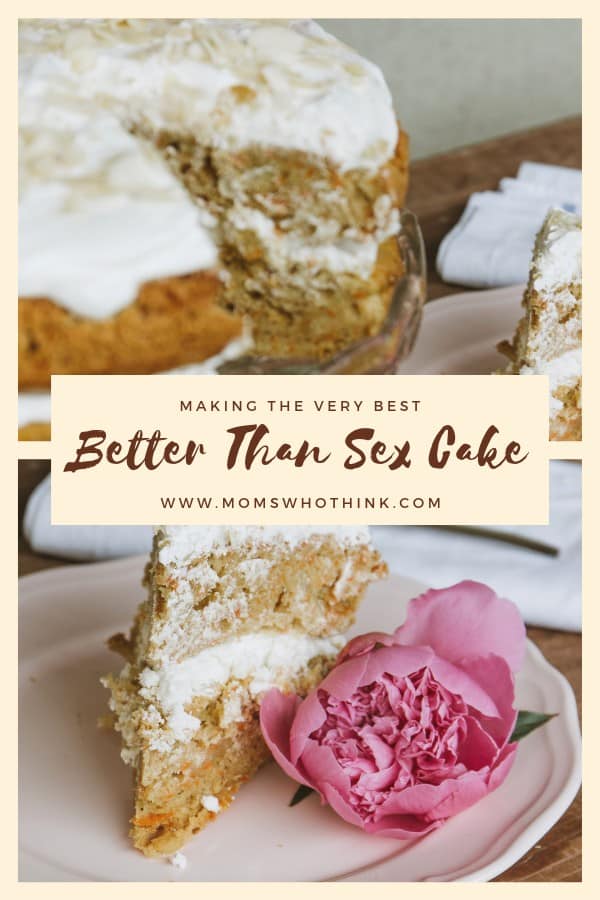 The Better than Sex Cake was first introduced in the 80's and was also known as the Next Best Thing to Robert Redford. Today, fewer younger women know of Robert Redford… but we can also substitute him with Brad Pitt…or even Jason Mamoa…
But right, back to the kitchen…and speaking of substitutions, when the cake was first created, the original recipe included a chocolate cake mix, a moist center (usually pineapple or another kind of fruit) and a whipped cream topping.
However, who's to say what cake who feels is better than sex and since then variations have been made including those that are similar to an upside down cake. Flavors like vanilla, banana and candy have also been used.
Our version features a white cake, pineapple, vanilla pudding and whipped topping which just goes to show you …different strokes for different folks!
Although the Better Then Sex Cake was introduced so many years ago, it has recently enjoyed a resurgence when it was featured on the Paula Deen show. We hope that inspires you to check out our recipe.
This wonderfully rich better than sex cake will clear up any doubts you may have about a cake being better than sex. And although everyone has different tastes, this one, with its rich flavor, is a sure winner!
Better Than Sex Cake
Ingredients:
1 (18.5 oz) package yellow cake mix (do not use the pudding in the mix type)
2/3 cup sugar
1 (20 oz.) can crushed pineapple
1 (6 oz.) package vanilla pudding mix
1 tub non-dairy whipped topping
flaked or shredded coconut
Directions:
1. Grease and flour a 9×13 inch cake pan, bake the cake according to package directions.
2. Put holes into the top of the cake (use toothpicks or wooden skewers)
3. Mix pineapple and sugar then pour over cake.
4. Cook the pudding according to the package directions and pour over cake. Chill in refrigerator.
5. Spread whipped topping over cake and sprinkle coconut on top.
6. Keep refrigerated.