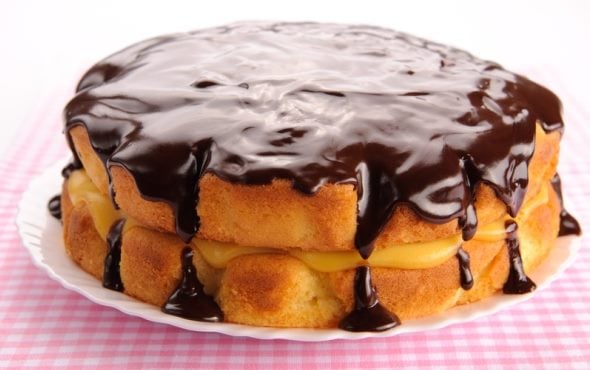 Boston Cream Pie Recipe
Let's Get Ready for Baby!
Sign up for our monthly pregnancy email series, and you'll get regular updates on your baby's development, helpful timelines to get ready for their arrival, must-have baby needs and so much more! PLUS, you'll get instant access to the MomsWhoThink "Ultimate Guide to Baby Naming in 2022."
CLICK HERE
to get started!
Boston Cream Pie is a dessert shrouded in mystery, mainly because many wonder why it is called a pie. The dessert features two layers of white cake with a custard cream between the two and a chocolate topping. There is nothing pie like about it. So why is it called a pie?
Well, no one really has the answer, but one possibility is that in the New England area, during the mid 19th century, many cakes were baked in pie tins. That could be why early variations of the recipe resembled pies.
And although no one can be sure of why the dessert is called a pie, the Boston association is pretty clear.
The Parker House Hotel, located in Boston, lays claim to being the first to serve the cake dating back to their opening in 1856. Its creation is credited to their in-house Chef Sanzian.
The first versions of the dessert were called the Chocolate Cream Pie or Parker House Chocolate Cream Pie.
In 1879, the recipe for Boston Cream Cakes appeared in the cookbook Housekeeping in Old Virginia. It was written by a woman named Marion Cabell Tyree.
In 1996, a bill was proposed by a civics class from Boston's Norton High School to make the Boston Cream Pie the state's dessert. The bill passed on Dec. 12 of that year. The dessert beat out other desserts like Indian pudding and the Toll House Cookie that also originated in the state.
Over the years, Boston cream has become a flavor in and of itself. Its primary ingredients have been used to make donuts, cupcakes, pastries, ice cream and more.
Our recipe is pretty simple and basic and uses a store-bought cake mix. However, those who want to spend time making a dessert with a more homemade taste can try their hand at creating a cake from scratch.
Either way, this is sure to be a favorite with friends, family and loved ones no matter what state you live in!
This Boston Cream Pie recipe uses fluffy yellow cake filled with luscious layers of vanilla pudding then enrobed in a dark hot fudge topping. Decadent and delicious!
Boston Cream Pie
Ingredients:
1 box yellow cake mix
1 box instant vanilla pudding mix
2 3/4 cups cold milk
16 ounces hot fudge topping, warmed
maraschino cherries (for garnish)
whipped cream (one can)
Directions:
1. Prepare yellow cake mix according to package directions.
2. Bake in two round cake pans, cool.
3. In a mixing bowl, beat pudding mix and milk at low speed for 2-3 minutes. Cover and chill for at least 30 minutes.
4. Place firm, chilled pudding between layers of cake. Top with fudge topping, pipe whipped cream around the edges. Garnish with maraschino cherries if desired.