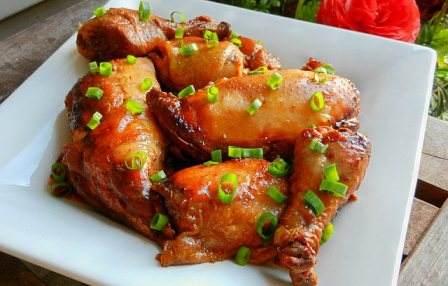 Chicken Adobo Recipe
Let's Get Ready for Baby!
Sign up for our monthly pregnancy email series, and you'll get regular updates on your baby's development, helpful timelines to get ready for their arrival, must-have baby needs and so much more! PLUS, you'll get instant access to the MomsWhoThink "Ultimate Guide to Baby Naming in 2022."
CLICK HERE
to get started!
Chicken Adobo is a Filipino recipe that you can make any where in the world as long as you have a crock pot that you can plug into the wall. Adobo is a spanish word for marinate…so if you have some members of your household who are not very adventurous, then you can truthfully say that you're making marinated chicken for dinner.
With a sweet and tangy sauce, this taste of the exotic is perfect for nights chicken seems unappealing. You'll be transported to the lush island paradise minus the volcanoes.
Crock Pot Chicken Adobo
Ingredients:
1 (3-lb) frying chicken, skinned and cut into serving pieces
5 cloves garlic, crushed
2 bay leaves
3/4 cup soy sauce
1/4 cup apple cider vinegar
1 Tablespoon finely grated fresh peeled ginger
1/4 teaspoon crushed black peppercorns
1 Tablespoon brown sugar
1 Tablespoon cornstarch
1/4 cup chicken stock
Green onions, sliced, for garnish
Directions:
1. Place the chicken pieces in the crock pot. Add the garlic, bay leaves, soy sauce, apple cider vinegar, ginger, peppercorns and brown sugar. Toss to coat.
2. In a small bowl, mix the cornstarch and chicken stock together. Pour over chicken and mix gently.
3. Cover and cook on low for 6 – 8 hours (or until chicken is cooked through). Remove the chicken from the crock pot and keep warm.
4. Place the remaining liquid from crock pot in a saucepan over medium heat. Cook until reduced to half. Pour over reserved chicken.
5. Garnish with green onions and serve at once.
Try one of our fan-favorite chicken recipes:
Click for more Chicken recipes