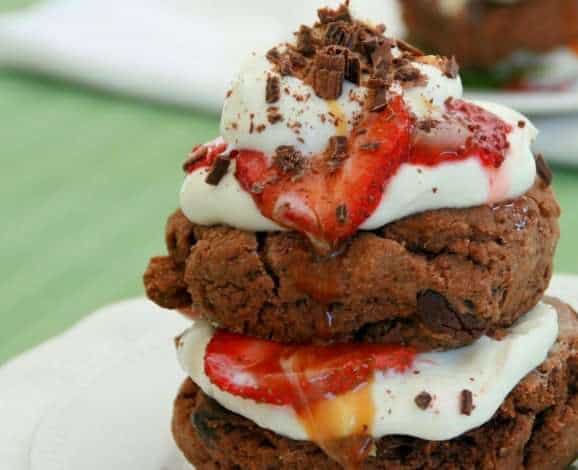 Chocolate Strawberry Shortcake Recipe
Let's Get Ready for Baby!
Sign up for our monthly pregnancy email series, and you'll get regular updates on your baby's development, helpful timelines to get ready for their arrival, must-have baby needs and so much more! PLUS, you'll get instant access to the MomsWhoThink "Ultimate Guide to Baby Naming in 2022."
CLICK HERE
to get started!
Strawberry shortcake is luscious, but much like dipping strawberries in chocolate makes the fruit heavenly…so does adding chocolate to the cake in shortcake. As easy to make as traditional strawberry shortcake, the chocolate version is a sure winner for any occasion.
Chocolate Strawberry Shortcake
Chocolate Strawberry Shortcake Ingredients:
3-1/2 cups biscuit/baking mix
2/3 cup plus 2 teaspoons sugar, divided
1/2 cup baking cocoa
1 cup milk
1/3 cup butter, melted
1 egg white
2-1/2 pints fresh strawberries
2 cups heavy whipping cream
3 Tablespoons confectioners' sugar
1 cup chocolate syrup
Chocolate Strawberry Shortcake Directions:
1. In a large bowl, combine biscuit mix, 2/3 cup sugar and cocoa.
2. Stir in milk and butter; mix well. Drop by 1/3 cupfuls at least 2 in. apart onto a greased baking sheet.
3. Beat egg white until foamy; brush over shortcakes. Sprinkle with remaining sugar.
4. Bake at 400 degrees F for 15-18 minutes. Cool on wire racks.
5. Set aside 10 whole strawberries; slice remaining strawberries.
6. In a mixing bowl, beat cream and confectioners' sugar until soft peaks form.
7. Split shortcakes horizontally. Spoon half of the whipped cream and all of the sliced berries between cake layers. Spoon remaining whipped cream on top. Drizzle with chocolate syrup; top with a whole berry. Makes 10 servings.