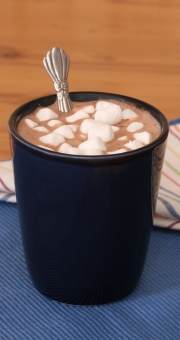 Hot Chocolate Mix Recipe
Homemade hot chocolate is easy to make and tastes much better than prepackaged mixes.
Hot cocoa is great for any time of the year to chase off the chill of a cold, rainy day or to indulge a chocolate craving.
Ingredients (makes 6 servings of mix):
1/2 cup sugar
1/2 cup unsweetened cocoa powder
1/4 cup mini semisweet chocolate chips
1/4 teaspoon salt
whole milk
Directions:
1. Combine sugar, unsweetened cocoa powder, mini semisweet chocolate chips and salt in a bowl. Mix well.
2. In a medium saucepan, warm 8 ounces of milk for each cup of hot cocoa (do not boil). Remove from heat and divide evenly into mugs.
3. Add 2 Tablespoons of the mix into each cup of milk (3 Tablespoons if you like your cocoa extra chocolatey).
4. Top with large marshmallows or whipped cream sprinkled with cocoa powder.