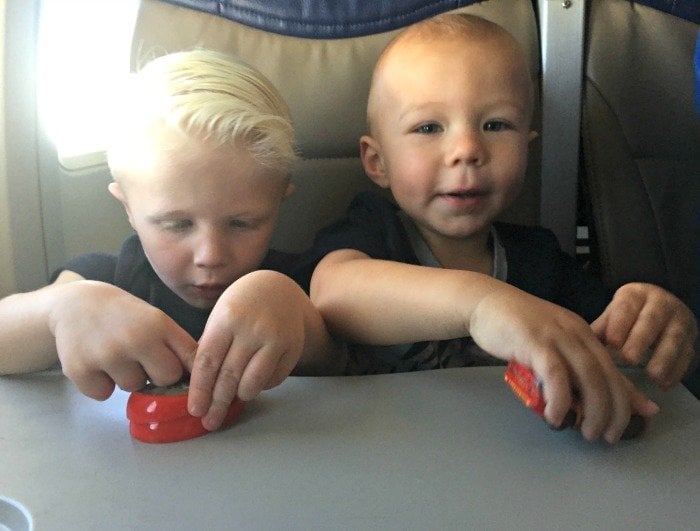 *Update: Southwest will soon be flying to Hawaii! Now is the best time to sign up. It is predicted they will have flights beginning of Jan2019*
We are back from a marvelous time at Disneyland and trying to adjust to normal life again. Disneyland at Halloween time has been on my bucket list for a long time, so I'm happy we were able to go. This year we had some great friends come with us, which made it all the more fun. They caught on to the magic of how to get free flights with credit card points, and we were all able to fly to Las Angeles together!
It was sure a nice distraction for our boys to be able to sit by each other!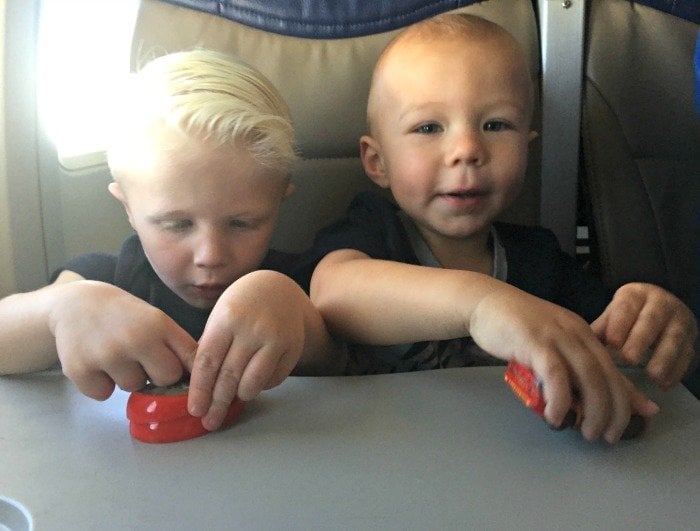 I've been meaning to write about this topic for a while, because so many friends want to know the details on how we get free flights with credit card points.
The great news….is you don't have to do anything crazy and it's really quite easy.
How to Get Free Flights Using Credit Card Points
I want to start off by saying that I don't ever recommend credit cards to those in debt, or those having a hard time managing their finances. Credit card debt is the opposite of freedom, so avoid it at all costs.
If you set up auto-pay and pay your credit card off every month, credit cards can be a huge blessing! First, they help you build credit, and second….you get rewards for something you have to do anyways: pay for things.
My husband and I have actually decided to stop using our debit cards all together just because there is much better protection on credit cards if your wallet or purse gets stolen or you become a victim of fraud.
Our Favorite Credit Card For Earning Free Flights There are multiple credit cards that you can earn a free flight with, but I've never earned enough to fly my whole family on anything but Southwest. Another benefit is Southwest is the only airline still offering free checked bags, so that's another HUGE perk. I hate dragging carry-ons through the airport when I have kids in tow, and Southwest makes it so you don't have to.
How to Get Free Flights When you sign up for the Rapids Rewards Credit Card, you will get 40,000 points after spending $1,000 in the first 3 months, which is very easy to do. They frequently have one-way fares for less than 3,000. That means our family of 5 could fly to California, Arizona or Colorado for 24,000 points (until our baby turns two, then it will cost our family 30,000 points).
If you have less in your family, you could cover multiple trips on this.
How to Double the Savings 
The best part about Southwest, is the ability to earn their companion fare. If you earn 110,000 qualifying points in a calendar year, you'll earn Companion Pass for the following full calendar year, plus the remainder of the year in which you earned it. Companion Pass is the benefit that lets you choose one person to fly free with you every time you purchase or redeem points for a flight. This is why Southwest is my very favorite way to earn points for flights! They make it so easy to earn their companion pass, which is more than a year of free flights for a travel companion. PLUS you have your points to use on other family members you might want to bring.
How to Earn the Companion Pass
You might be thinking, "yeah….but how am I going to spend enough money to earn 110,000 points?!" That's the best part. You don't have to! All of your Rapid Rewards credit cards are linked to the same Rapid Rewards account, and Southwest has multiple credit cards. If you own a business (even if it's something small you do on the side) you can apply for their business credit card, and if you don't, you can apply for their other personal card (the Rapid Rewards Premier).
What I did, was sign up for the first personal card, and then once I had earned the 40,000 points, I signed up for the second personal card for an additional 40,000 points.
That puts me at 80,000 points. The rest can be earned through purchases, or through referrals (10,000/referral). You can also earn points by booking your other travel accommodations through your Rapid Rewards account. For instance, our trip to San Diego over the summer had a few hotel options offering 10,000-20,000 points just for booking that particular hotel.
Are you starting to see the brilliance of all this?
If you decide to sign up for the cards, sign up for the Rapid Rewards Plus Card first since it has a lower annual fee ($69). If you already have the Plus, sign up for the Premier here. If you are eligible for the business card, you will get 60,000 points instead of 40,000 making you that much closer to the companion pass (but you need to spend $3,000 in the first 3 months instead of the $1,000).
I hope this helps someone. Family trips are very high priority for me and always have been. They don't have to be as expensive as some people think. Also, if you are considering a trip to Disneyland, I've included a promo code that's only good this week. Everyone have a great week, and make sure you teach your friends and family how to get free flights too, so you can travel together! We love combining our trips with other families.
Disneyland Discount Code
Use code FAM2017 to get an additional $20 off your southern California Vacation package (2-nights or more) when you book your vacation online here. This promo CAN be combined with the other current specials: Extra day free tickets, Adults at kid's prices, and 3rd or 4th night free hotel specials.
Make sure and read up on our Thrifty Disney Tips before you go!
Any of you have any more tips for how to get free flights and qualify for the Southwest companion pass?