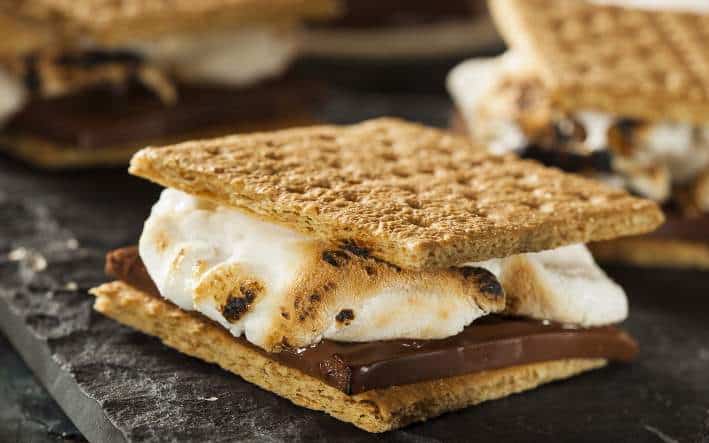 Let's Get Ready for Baby!
Sign up for our monthly pregnancy email series, and you'll get regular updates on your baby's development, helpful timelines to get ready for their arrival, must-have baby needs and so much more! PLUS, you'll get instant access to the MomsWhoThink "Ultimate Guide to Baby Naming in 2022."
CLICK HERE
to get started!
S'mores Recipes Variations
Summer means barbecues and campfires, and nothing goes with a campfire better than s'mores. Traditional s'mores are always a treat, but the following variations change things up a bit without straying too far from the ease and incredible taste of the classic camp favorite s'mores. 
How to Make the Classic Campfire S'mores
Ingredients:
Graham crackers, divided into squares
Hershey's plain milk chocolate bars, divided into squares that fit the graham crackers
Large marshmallows
8 wood sticks or long metal skewers (to roast the marshmallows)
Directions:
1. Take one (1) large graham cracker from the package and bread it along the perorations (dividing it into 4 pieces). Repeat for as many S'mores as you plan on making. Each S'more uses two graham cracker pieces.
2. Unwrap the chocolate bar. Break it into smaller pieces along the lines of the chocolate bar, big enough to fit on a graham cracker pieces.
3. Cover one of the graham cracker halves with chocolate pieces, with enough to fit your graham cracker. 
4. Place a marshmallow on the stick or skewer and hold it over the fire until roasted. Toast marshmallows over a campfire, turning the stick until the outside of the marshmallow is golden brown. 
5. Take the toasted marshmallow (still on the stick or skewer), and lay it on the side of the graham cracker with the chocolate. 
6. Now take the other half of the graham cracker and cover the hot marshmallow, pressing down firmly enough to pull out the stick.
7. When the S'more is assembled, let it sit for a few seconds to melt the chocolate and marshmallow together. 
Press down lightly on the S'more between your fingers. It's now ready to eat!
 Variations:
 *Use chocolate graham crackers in place of regular ones.
*Use Reese's peanut butter cups in place of the Hershey bar.
*Place a couple banana slices or a few strawberry slices on the cracker, then top them with the chocolate.
 *Use chocolate chip cookies instead of crackers. 
Use Rolo candies instead of the Hershey bar for a gooey chocolate caramel treat. 
 *Use caramel ice cream topping in between the chocolate and the marshmallow.
*In place of the plain ones, use toasted coconut covered marshmallows (they're available at larger supermarkets). If you can't find them, use snack size Mounds bars.