Oregon is home to spectacular scenery, from the peak of Mount Hood down to Cannon Beach. The Beaver State's rich frontier history is as long as the Oregon Trail, and the city of Portland represents its current inclusive trendiness. Families have many options for education, from the most affordable to the most expensive schools in Oregon.
Private School Review states that 10% of Oregon's K-12 students are educated in private schools, the same as the national average. While many of the best Oregon schools are public, charter, and magnet schools, parents may still opt to send their children to private schools.
Oregon is home to one of the few private middle schools designed for students with learning disabilities. Most privately educated students in Oregon find that the middle grades are an extension of elementary or high schools. Keep reading to learn more about Oregon's most expensive private schools and universities.
Elementary Schools
| School Name | Annual Tuition |
| --- | --- |
| Portland Jewish Academy | $23,200 to $24,200 |
| International School of Portland | $22,250 |
| Oak Hill School | $19,600 to $21,100 |
Portland Jewish Academy
6651 Southwest Capitol Hwy, Portland, OR 97219
This Jewish day school serves over 250 students from nursery school through 8th grade. Their unique curriculum integrates interdisciplinary learning, foreign language acquisition, community service, and traditional Jewish values like kavod/respect. Prospective students need not be Jewish to apply but should understand that participation in Jewish life is presumed, including holidays and prayer.
Annual tuition for kindergarten through 5th grade is $23,200, and middle school tuition is $24,200. The school has a tuition assistance program and offers family discounts to those with more than one child enrolled. Portland Jewish Academy has 29% more instructional hours in each school day than Portland public schools, but they balance it with arts, music, physical education, and three outdoor playgrounds.
International School of Portland
2305 S Water Ave Portland, OR 97201
The International School of Portland offers a unique program where pre-K through 5th grade students are fully immersed in Japanese, Mandarin, or Spanish. It is Portland's first International Baccalaureate elementary school and educates approximately 400 students each year. Annual tuition for grades K-5 is $22,250, and families can receive a 10% sibling discount.
While language immersion is the primary experience at the International School of Portland, students also receive an excellent education in all core curricula. Physical education, technology, art, and music classes create well-rounded students. Fifth graders exercise their language and cultural skills by traveling as a group to stay with host families in China, Japan, or Mexico. This gives them a unique experience to carry to middle school and beyond.
Oak Hill School
86397 Eldon Schafer Dr, Eugene, OR 97405
Oak Hill School was founded in 1984 to provide students with a well-rounded education that prepares them for high school and beyond. Tuition varies by grade, with Lower School (K-5) students paying $19,600 and Upper School (6-8) students paying $21,100 annually.
Located on a 72-acre campus filled with orchards, forests, and grassy hills, Oak Hill encourages students to engage in activities such as gardening and beekeeping to help them understand the natural world. Students learn Mandarin Chinese and Spanish in kindergarten, first, and second grades, then choose which language to focus on during third through eighth grade. An emphasis is also placed on visual arts, theater, music, and technology.
Middle and High Schools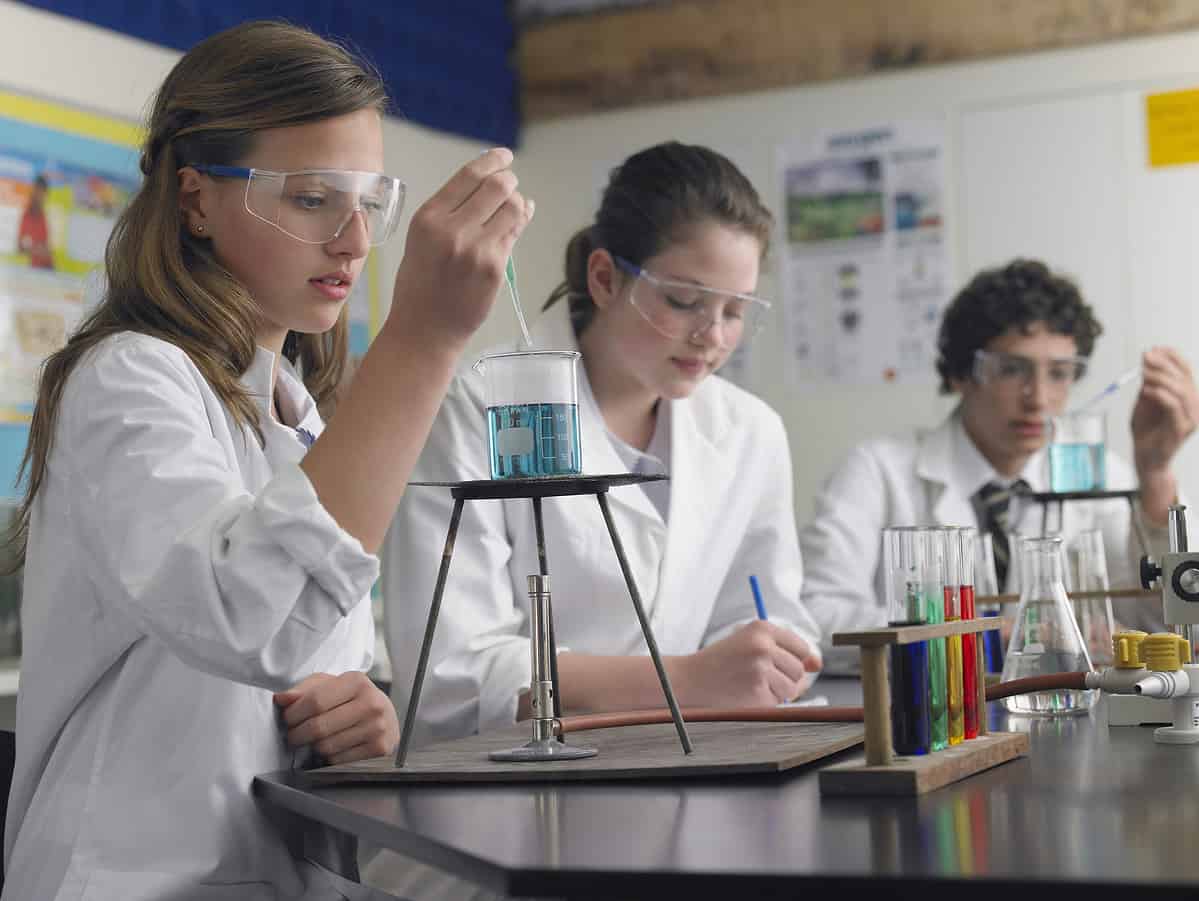 | School Name | Annual Tuition |
| --- | --- |
| Northwest Academy | $28,000 |
| Pacific Crest Community School | $17,500 |
| Bridges Middle School | $26,750 |
Northwest Academy
1130 SW Main Street, Portland, OR 97205
Located in Portland, Northwest Academy is home to over 250 middle and high school students seeking a creative, inclusive educational environment. Yearly tuition is currently $28,000. Northwest's students receive a college preparatory education that strives to create a balance between academics and the arts.
In fact, Northwest high schoolers must complete seven arts elective credits, including a full year each of performing arts and media or literary arts. The usual private school athletic programs are replaced by dance, Yoga, or Tai Chi, and students must perform 30 hours of community service to graduate. The school also focuses on providing a welcoming and diverse environment free from social cliques, bullying, and ridicule.
Pacific Crest Community School
116 NE 29th Ave, Portland, OR 97232
This smaller private school has been around since 1993 and currently enrolls approximately 90 students in grades 6-12. On its website, Pacific Crest states that its goal is to provide students with a "diverse, dynamic mix" of classroom work, independent studies, special projects, and community service. Annual tuition is $17,500.
Arts programs are cyclical and include drawing, painting, sculpting, photography, drama, film, and music. Core curriculum is also presented with more diversity than most schools, public or private. They reflect classes students may encounter at the college level, such as women's literature, African-American studies, and oceanography.
Bridges Middle School
2510 SW 1st Ave., Portland, OR 97201
Bridges Middle School is a small institution designed to meet the needs of middle schoolers with learning disabilities. It serves kids in grades 5 through 8, and the current enrollment is just 64 students. Yearly tuition is $26,750, and only about half of the families who apply are accepted.
Small class sizes allow for individualized instruction, and students also receive the support and therapies they need to reach their full potential. Social skills and self-advocacy skills are also taught, and the school relies heavily on family involvement to ensure their students' success.
K-12 Schools
| School Name | Annual Tuition |
| --- | --- |
| The Delphian School | $39,102 to $64,522 |
| Oregon Episcopal School | $34,700 to $73,300 |
| Cascades Academy | $20,630 to $20,725 |
The Delphian School
20950 South West Rock Creek Rd., Sheridan, OR 97378
The Delphian School is a day and boarding school that serves 229 co-ed and international students in grades K through 12. Over half of the student body lives on the 700-acre hilltop campus located about an hour southwest of Portland. Day school tuition is $39,102 annually, while tuition plus boarding is $64,522 annually.
Over 20 athletic programs, an immersive arts platform, and a service work requirement supplement the school's rigorous academic courses to create a well-rounded graduate. Students receive one-on-one college and career guidance. Delphian's commitment to academic integrity has resulted in 85% of graduates being accepted into their first-choice college.
Oregon Episcopal School
6300 SW Nicol Rd, Portland, OR 97223
This college prep school is huge, serving over 880 students in pre-K through 12th grade. Around 60 high schoolers from around the world use the school's boarding option. Annual tuition fees vary depending on grade level and boarding options. Kindergarten students will pay $34,700 yearly, while first through fifth graders pay $35,900. Middle and high schoolers' tuition ranges from $41,300 to $73,300 for tuition plus boarding (grades 9-12 only).
Oregon Episcopal School is open to students of all religious backgrounds. They use a curriculum that supports an inquiry-based learning method, and students begin learning Spanish in pre-K. Middle and upper school students can choose from Spanish, French, or Chinese in the World Languages program. Physical education, religion/philosophy, and fine arts programs enhance the school experience.
Cascades Academy
19860 Tumalo Reservoir Rd, Bend, OR 97703
Located on over 50 acres in scenic central Oregon, Cascades Academy serves approximately 250 students in pre-K through 12th grade. Small class sizes enhance the school's emphasis on outdoor education, experiential learning, and community service. Annual tuition is $20,630 for elementary students and $20,725 for middle and high school students.
At the lower, middle, and upper school levels, Cascades Academy focuses on "learning by doing." The methodology often takes students out of the classroom to engage in activities and experiences that lead to reflection, conceptualization, and application of the desired learning outcomes.
Colleges and Universities
| School Name | Annual Tuition & Fees |
| --- | --- |
| Reed College | $64,760 |
| Lewis and Clark College | $59,684 |
| Pacific University | $52,072 |
Reed College
3203 SE Woodstock Blvd, Portland, OR 97202
Reed College is a four-year private college located on a beautiful campus in the Eastmoreland neighborhood of Portland. It has a total enrollment of just over 1,500 students who pay the state's highest tuition cost of $64,760. Reed College students, or "Reedies," pursue Bachelor of Arts degrees in 38 majors, including anthropology, chemistry, computer science, and psychology. The school also offers a graduate program for those seeking a Master of Arts degree in liberal studies.
Lewis and Clark College
615 S. Palatine Hill Rd, Portland, OR 97219
Lewis & Clark College boasts that Portland's best view of Mt. Hood is right in their backyard. This private college is designated by Carnegie Classification as a Baccalaureate College – Arts & Sciences. Students can choose from dozens of majors in art, humanities, social sciences, math and natural sciences, and interdisciplinary programs. Annual tuition is $59,684, and 95% of the student body has received grants or scholarships.
Pacific University
2043 College Way Forest Grove, OR 97116
Pacific University's main campus is located east of Portland in Forest Grove, and its 4,000 students are spread through three other locations in Eugene, Hillsboro, and Woodburn. The school's Carnegie Classification is a Doctoral/Research University, and its current tuition plus fees is $52,072. Undergraduate students can apply for over 65 areas of study, including environmental science, gender studies, and journalism. The school also offers over a dozen pre-professional tracks in medicine and athletics and graduate and professional programs in education and other majors.
Choosing the Right Private School in Oregon
Oregon's private schools include a wide range of amenities. Language immersion, diversity and inclusion, and strong fine arts programs are just some of the features that can help parents decide the best place to educate their precious offspring. While cost is usually a factor in determining the best school, many of the most expensive schools in Oregon offer generous financial aid options.
Up Next:
The 10 Oldest Schools In Oregon Are Ancient
The 13 Largest Schools In Oregon Are Massive
The 7 Largest School Districts In Oregon Are Massive
The image featured at the top of this post is ©Nature's Charm/Shutterstock.com.