There are many places you can buy Montessori toys, from Amazon to companies that specialize in Montessori toys, you can buy them almost anywhere online. But, before we get into where you can buy them, it's important to understand what Montessori education is and what Montessori toys are.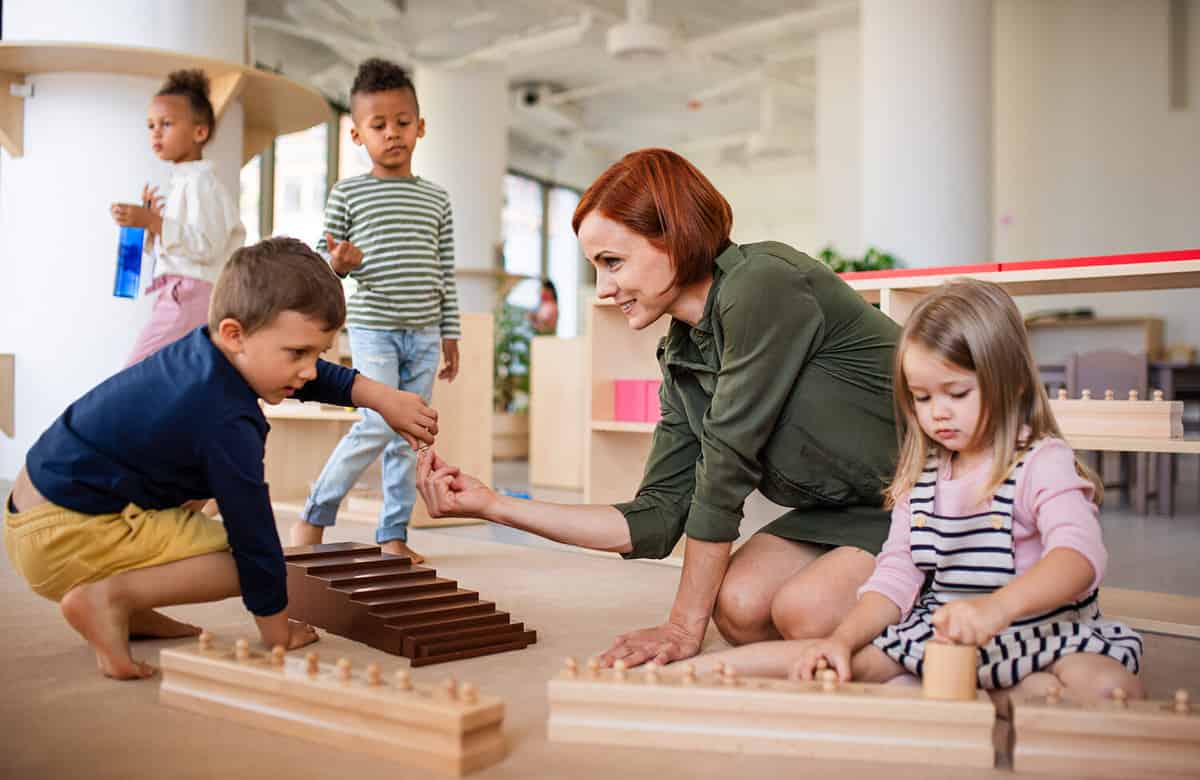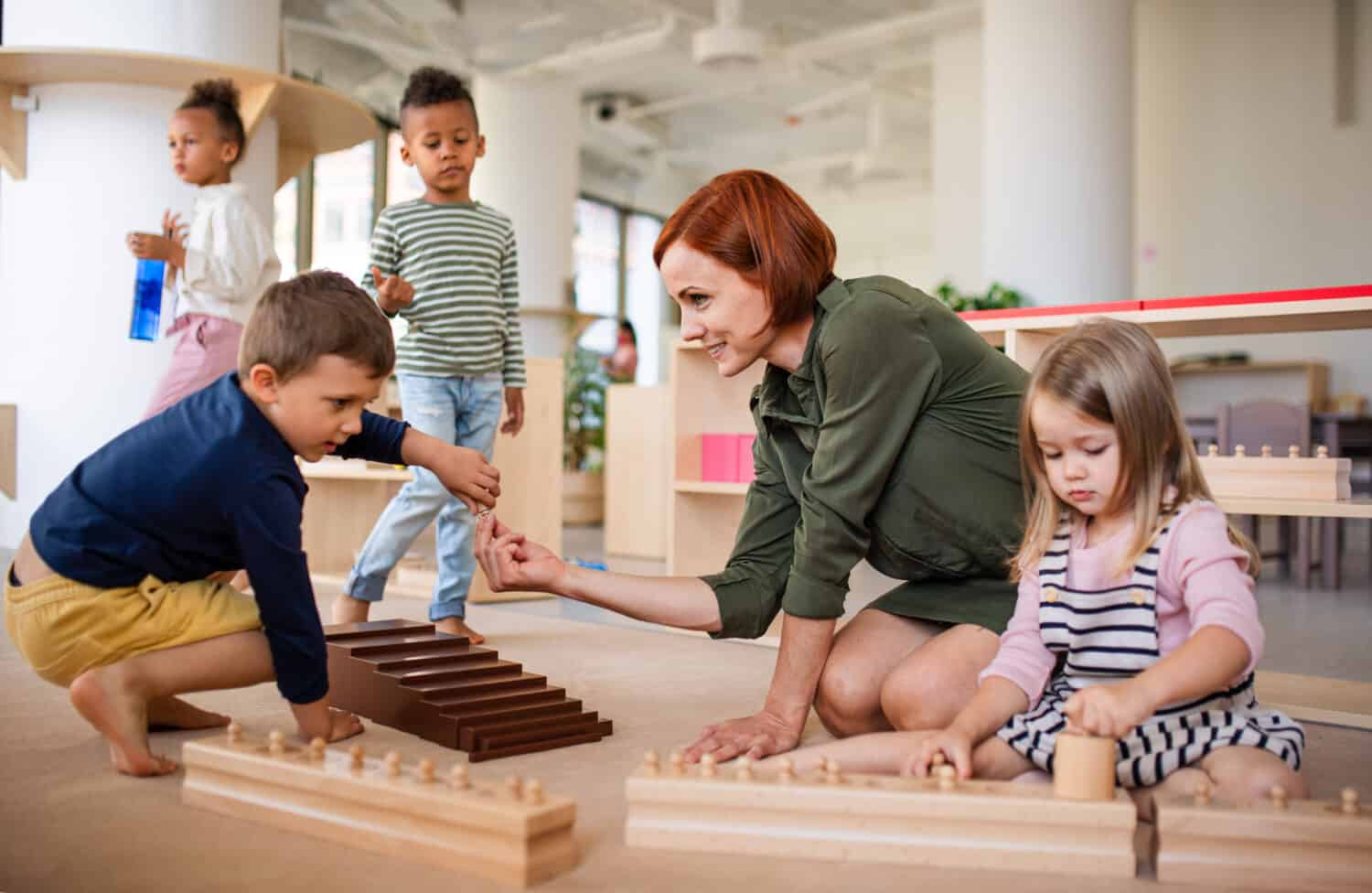 Montessori Education
The Montessori education model was created by Dr. Maria Montessori. She was a physician and an educator in the early 20th century. She created this learning model based on the idea that children desire to learn and often do so when given the time and space to discover and explore. A Montessori education provides a structured environment that gives children the freedom to learn in a self-directed manner. Typically each classroom is split into stations that focus on specific skills, and the children can choose where they'd like to learn. These stations might include basic life skills where they learn sweeping and pouring. Another station could be sensory-based and others focused on counting, writing, and reading.
Montessori Toys
Montessori toys share the same intent as the education model. They are toys meant to stimulate learning by children experimenting and discovering. Often used to help children grow their motor skills, some Montessori toys you might recognize include puzzles, sensory boards, and object boxes. Wondering if a toy is a Montessori toy? Often, Montessori toys are made of natural materials (wood, wool, cotton, etc.), they don't have bells and whistles, they are one-task learning toys, and they are toys with a purpose. A toy does not have to have all those qualifications to be considered a Montessori toy. For example, wood building blocks and plastic Lego bricks can both be considered Montessori toys.
Why are toys with bells and whistles disqualified from being Montessori? Not only are bells and whistles a disqualifier but color can also be a disqualifier. These three characteristics are known for overstimulating and distracting children. This is why many Montessori toys are typically made out of natural materials. Too many bright colors can easily distract and take away from the learning experience.
Where To Buy Montessori Toys
If you search for "Montessori Toys," many larger companies have done the kindness to categorize the toys that they offer. Please note, that just because some of these toys are listed under the Montessori category, that doesn't always mean it holds every standard for what a Montessori toy can or should be. Check out these sites below.
There are also companies that have made it their mission to create and specialize in Montessori toys.
Moonkie
Moonkie was created out of the understanding that becoming a parent brings a lot of joy but also a lot of challenges. They created a range of premium baby products that meet high-quality standards but also help elevate the parenting experience. Moonkie offers toys that are beautiful and functional with contemporary colors and practical features.
They also work to create a community of like-minded parents where people can learn, connect, and support each other. You can visit their website to read their blogs and learn something every step of the way through parenthood.
CocoVillage
CocoVillage offers a wide variety of toys for children up to seven years old. They offer a Pretend Play Collection with kitchen sets, activity tables and cubes, shopping carts, cash registers, and more. They also offer wooden houses for the imagination to blossom, including a wooden doll house and a wooden farm.
Lovevery
Designed by experts for developing brains, Lovevery offers award-winning products to support brain development so that children can get what they need at each stage. Created by friends Jessica and Rod, they believe that playtime has a purpose. After reading a doctoral dissertation on the Neurological Development of Infants, Jessica learned that our brains have 100 billion nerve cells. She also learned that the brain's communication network is formed in the first three years of a child's life. After bringing together a team of 10+ doctors and professionals, they created Lovevery to support early childhood development.
Some of their best sellers include The Play Kits, The Play Gym, The Montessori Playshelf, and The Block Set. Not only do they create these toys to support young children, but they also offer online courses for any parent who is looking for support. Their current available courses include Baby's Best Tummy Time and Food Before One.
The image featured at the top of this post is ©Natalia Lebedinskaia/Shutterstock.com.