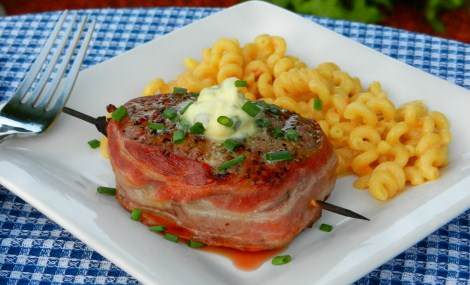 Bacon-Wrapped Steak Recipe
Let's Get Ready for Baby!
Sign up for our monthly pregnancy email series, and you'll get regular updates on your baby's development, helpful timelines to get ready for their arrival, must-have baby needs and so much more! PLUS, you'll get instant access to the MomsWhoThink "Ultimate Guide to Baby Naming in 2022."
CLICK HERE
to get started!
Mmmm…bacon…. One way to make bacon even more delicious is to wrap it around a nice juicy steak. That's exactly what we've done with this recipe which is sure to be a crowd pleaser in any home.
This steak recipe is truly one of those special meals. Bacon wrapped filet with a garlic butter sauce is elegance and taste in every bite.
Cooks may think this dish would be difficult to make, but with a little bit of patience and careful use of the tongs for searing, it can be quite simple to prepare. Yet, it will seem quite impressive when you serve it to your guests.
The aroma of the bacon and the garlic butter cannot be beat.  Roasting the garlic enhances its flavor.
The use of kosher salt, with its distinct essence also makes a difference. Originally this type of salt was used for curing meats due to it being larger and coarser than table salt which increases its ability to hold moisture.  It is now becoming a favorite used in kitchens across the nation.
To get the perfect grill on your steak, remove it from the refrigerator before grilling allowing it to reach room temperature. Grilling it when it is cold will increase the chances that it will remain cold in the middle.
When cooking, you want to aim for a rare to medium rare cook, so meat remains tender. Turn it every minute to get a nice and even.
Bacon should also be brought to room temperature before grilling. Then, add strips to a cold frying pan, cook until they reach their desired crispness and drain on a paper towel.
Follow the recipe as directed to put everything together. Then serve with mac n' cheese, potatoes and/or veggies for a high end dish that is surprisingly easy to prepare.
Ingredients:
12 large garlic cloves, peeled
1/4 cup olive oil
3 Tablespoons unsalted butter, cut into small chunks
Kosher salt
3 1/2 teaspoons chopped chives
1/2 teaspoon coarsely ground black pepper
1/2 teaspoon dried thyme leaves
4 (6- to 7-ounce) filet steaks, about 1 inch thick
4 very thin slices of lean bacon
6-inch wooden skewers or toothpicks, soaked in water 10 minutes and patted dry
Directions:
1. Preheat oven to 400 degrees F.  Place peeled garlic and olive oil in 1-cup, ovenproof ramekin, soufflé dish or custard cup. Cover dish tightly with aluminum foil and place in oven.
2.  Roast on center rack until garlic is golden and very tender and soft when pierced with knife, about 30 minutes (start checking cloves after 20 minutes and then every 5 minutes until done).
3. With slotted spoon, remove garlic from bowl and reserve oil. Place garlic, 1 1/2 teaspoons of the reserved oil, butter and 1/8 teaspoon salt in food processor or blender and process, pulsing machine on and off for 30 seconds or less until garlic is coarsely chopped and blended with butter and oil.
4. Transfer garlic butter to small bowl and stir in 2 teaspoons of the chives. (Garlic butter can be prepared 1 day ahead. Cover with plastic wrap and refrigerate. Bring to room temperature 30 minutes before ready to use.)
5. When ready to cook steaks, oil a grill rack and prepare grill. In small bowl, stir together 1 teaspoon kosher salt, coarsely ground black pepper and thyme. Rub both sides of each filet with some of this seasoning.
6. Wrap each steak around its sides with 1 slice of bacon. Skewer bacon in place with wooden skewer or with 2 to 3 toothpicks.
7. Grill steaks until lightly charred on the outside and until bacon is cooked, about 5 minutes per side for medium-rare. When done, remove steaks from fire and place on warm serving plate. Remove toothpicks.
8. Top each steak with 1 generous pat of roasted garlic butter and sprinkle with some of remaining chives. Butter will start to melt and season the steaks. Serve immediately.