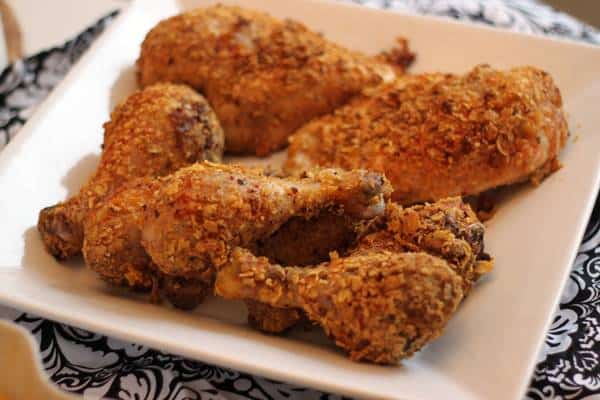 Healthy Crispy Oven-Fried Chicken Recipe
Let's Get Ready for Baby!
Sign up for our monthly pregnancy email series, and you'll get regular updates on your baby's development, helpful timelines to get ready for their arrival, must-have baby needs and so much more! PLUS, you'll get instant access to the MomsWhoThink "Ultimate Guide to Baby Naming in 2022."
CLICK HERE
to get started!
Ingredients:
1 teaspoon vegetable oil
½ cup skim milk or buttermilk
1 teaspoon poultry seasoning
1 cup cornflakes, crumbled
1 ½ Tablespoons onion powder
1 ½ Tablespoons garlic powder
2 teaspoons black pepper
2 teaspoons dried hot pepper, crushed
1 teaspoon ginger, ground
8 pieces chicken, skinless (4 breasts, 4 drumsticks)
A few shakes of paprika
Directions:
1. Preheat oven to 350 degrees F. Grease baking sheet with vegetable oil.
2. In a shallow bowl, add ½ teaspoon of poultry seasoning to milk.
3. Combine all other spices with cornflake crumbs and place in plastic bag.
4. Dip chicken into milk, shake to remove excess, then quickly shake in bag with seasoning and crumbs.
5. Arrange on prepared baking sheet and sprinkle lightly with paprika for color.
6. Cover lightly with aluminum foil and bake for 40 minutes. Remove foil and check drumstick temperature, remove pieces that have reached 165 degrees F. Continue baking the rest, uncovered, for an added 30–40 minutes or until meat can be easily pulled away from bone with fork. Drumsticks may require less baking time than breasts. (Do not turn chicken during baking.) Continually check temperature to avoid drying out chicken. Serve with Healthy Macaroni and Cheese or your favorite healthy side.
Yield: 6 servings
Serving size: 1/2 breast or 2 small drumsticks
Each serving provides:
Calories: 256
Total fat: 5 g
Saturated fat: 1 g
Cholesterol: 82 mg
Sodium: 286 mg
Total fiber: 1 g
Protein: 30 g
Carbohydrates: 22 g
Potassium: 339 mg