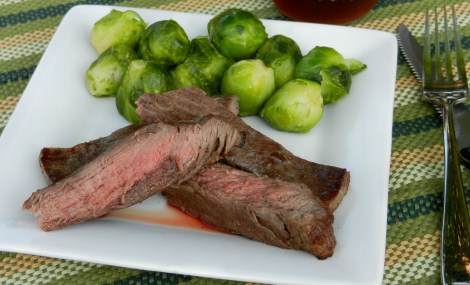 London Broil Recipe
Let's Get Ready for Baby!
Sign up for our monthly pregnancy email series, and you'll get regular updates on your baby's development, helpful timelines to get ready for their arrival, must-have baby needs and so much more! PLUS, you'll get instant access to the MomsWhoThink "Ultimate Guide to Baby Naming in 2022."
CLICK HERE
to get started!
London broil does not refer to any particular cut of meat but rather the way it is prepared. The preparation usually involves marinating the meat for several hours and then cooking at high heat in an oven broiler or outdoor grill. It is served on the rare side.
Despite the name London Broil, the dish is North American in origin. As far as we can tell, no one is quite sure why the dish has 'London' in its name, but many suspect it is meant to elevate a dish that could be using a relatively inexpensive cut of beef.
If you visit Canada and ask for a London Broil, you may end up with something completely different from what you expect. In certain parts of the country, the broil refers to a ground meat patty wrapped in flank or round steak. Others will present a pork sausage patty wrapped in flank or top round steak.
In Southern Ontario, the broil is served as a loaf where the tenderized flank steak exterior is wrapped around minced veal. Some regions will add bacon between the steak and veal.
When it comes to the marinade you use on your flank steak, the possibilities are endless. Some ideas include a shallot and Dijon, a tequila lime, garlic or soy. You can further dress it up by adding sauces once it is served like a cream or cheese sauce.
The marinade we chose is a soy sauce and sherry which we think creates the perfect harmony of salty and sweet. The addition of cinnamon adds the unmistakable fragrant and warm taste associated with the favorite winter spice.
As mentioned earlier, London broil is actually a way to prepare a piece of flank steak, not a particular cut of beef.  In this case we are talking about the piece of beef labeled "London Broil". 
The key to preparing London broil is to marinate before cooking. The cutting, which should allow for thin slices, is also very important or else the meat will be tough to eat.
We hope you enjoy the recipe we provided and will use it as a base for thinking up your own London Broil creations.
Ingredients:
1 (1 1/2 or 2 pound) flank steak
1 Tablespoon sherry or any dry red wine
1 Tablespoon soy sauce
2 Tablespoons granulated sugar
1/2 teaspoon salt
1/4 teaspoon cinnamon
Directions:
1. Score meat on all sides.
2.  Mix together remaining ingredients. Put on meat and let stand 1 1/2 to 2 hours, then place meat in broiler pan about 4 inches from heat. Broil about 10 minutes or a little longer on each side. Ten minutes is for medium rare.
3. To serve, cut diagonally across the grain into very thin slices.