Meatballs are delicious little morsels of mouthwatering meat- and they're not just for spaghetti anymore! Meatballs can be eaten in sandwiches, soups, sliders, with different types of pasta, and they can even be served with dipping sauce as a great appetizer.
If you love meatballs as much as we do, this recipe is one you will want to try. We feel this mix of ingredients provides the perfect taste for melt-in-your-mouth meaty goodness. And of course, the secret ingredient is the parsley.
Read on to find out what makes these meatballs so great as well as the various meatball dishes you can create.
Parsley Meatballs
So, what's up with parsley? Many home cooks will admit they don't know what to do with it.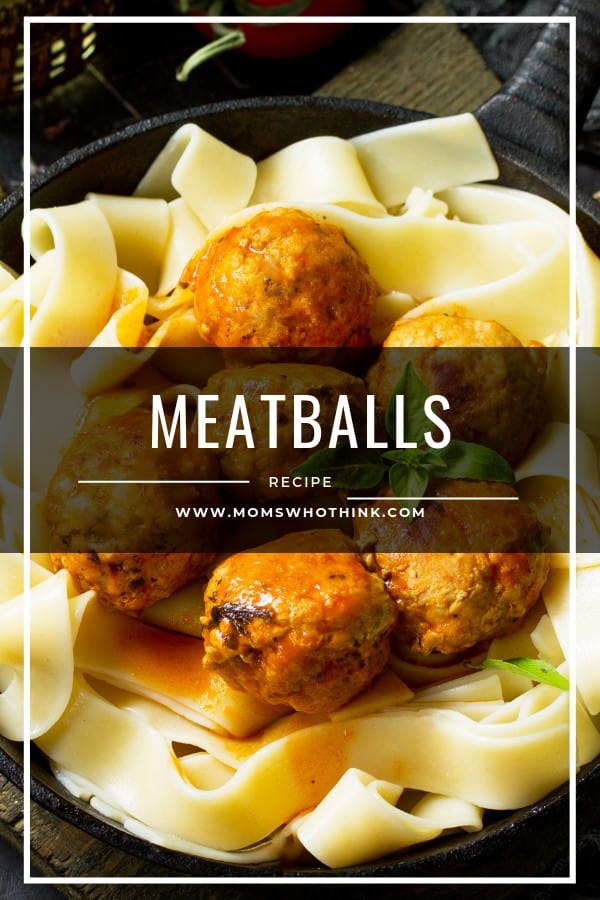 Well, the truth is, parsley brightens the flavor. It adds a great balance to savory dishes, which is why it works so well in the meatballs.
On its own, parsley has a bitter flavor. However, adding it to foods will not make the food taste bitter. Rather, it will give foods without any bitterness more balance, enhancing the taste overall.
And not only does parsley enhance flavor, but it is also good for you. It makes a great substitute for salt, which may be harmful in some diets.
In addition to that, it can help protect against cancer, diabetes, and bone weakness; one cup of chopped parsley provides 1,230% of a person's recommended vitamin K intake.
In this recipe, the meat is mixed with the parsley as well as other ingredients like bread crumbs, onions, mint, egg yolks, garlic, salt, and pepper. It is then shaped into balls and put in a frying pan with oil and butter to cook. Once done, the meatballs are topped with a sauce that consists of wine vinegar or lemon juice as well as the meat's own drippings.
Meatballs and Egg Noodles
Once the meatballs are prepared, there is no end to the number of dishes you can use them in, but one great combination includes adding them to egg noodles.
Egg noodles differ from other types of noodles because eggs are added to the flour and water to enrich the dough. This gives them a slightly sweet taste and a soft mushy consistency that is perfect when used in a soup or casserole.
They can also make the perfect complement to the parsley meatballs in this recipe.
Due to the addition of eggs, eggs noodles have a sweeter taste than other types of pastas. Therefore, they don't work as well with the marinara sauce that is often used on pasta. A better choice is a butter herb and garlic sauce or a creamy alfredo. If you want to get a bit more exotic, soy sauce, with or without sriracha, can take your meal to a whole other level.
So, there you have it, a complete meal. Fix some parsley meatballs with egg noodles and your choice of sauce for a dish your entire family is sure to love. And if you have leftover meatballs, you can always put them in a sandwich for lunch the next day!
Other Ideas For Meatballs
If the idea of putting meatballs in a sandwich or serving them with pasta isn't appealing to you right now, we get it. As we talked about above, one of the greatest things about meatballs is how versatile they are. Here are a few other suggestions for how to consume this wonderful dish.
You can serve the meatballs entirely on their own, if you want. We recommend pouring a hearty helping of marinara or tomato sauce over the top! Serve these meatballs with some dinner rolls or slices of bread. Your family can mop up the leftover sauce with their roll or bread!
Send these meatballs off to lunch with your kids! These meatballs, like many cooked meats, should stay fresh in the fridge for 3-4 days. That means you can make them ahead of time, and you'll be all set for your kids' lunches for almost the entire week. It's great when packing lunches is easy!
Finally, why not stick these meatballs on a skewer? This is a fun and unique way to eat meatballs that kids are sure to love. Kids love it when they get the chance to eat with their hands! Offer up some marinara for dipping, or provide a variety of sauces to spice things up.
If you enjoyed this recipe, make sure to check out our Tater Tot Casserole Recipe and our Ham and Potato Casserole Recipe.
Print
Meatballs Recipe
---
Author:

Total Time:

35 Minutes
Description
Meatballs are delicious little morsels of mouthwatering meat…and they're not just for spaghetti anymore! Meatballs can be eaten in sandwiches, soups, sliders, with different types of pasta and they can even be served with dipping sauce as a great appetizer.
---
¾ cup

dry bread crumbs

½ cup

milk

2

onions, finely chopped

½ cup

water

2

pounds ground lean beef

¾ cup

finely chopped parsley

2

mint leaves, chopped

2

egg yolks

3

small cloves of garlic, minced

1½ teaspoons

salt

¼ teaspoon

pepper

1½ Tablespoons

olive oil

1½ Tablespoons

butter

¼ cup

red wine vinegar or lemon juice

½ teaspoon

crumbled dried oregano
cooked egg noodles, tossed lightly with butter
---
Instructions
Soak bread crumbs in milk until soft, beat until mushy.
Cook onions, covered in water, until water has evaporated.
Mix meat thoroughly with bread crumbs, onions, parsley, mint, egg yolks, garlic, salt and pepper.
Shape into balls the size of a walnut.
Heat oil and butter in frying pan; slowly brown meat well on all sides. Place meatballs in a serving dish.
Pour wine vinegar or lemon juice into pan. Heat a few minutes, scraping up browned drippings to form a sauce. Pour sauce over meatballs.
Serve over hot cooked noodles.
Prep Time:

15 Minutes

Cook Time:

20 Minutes

Category:

Main Course

Method:

Pan-Frying

Cuisine:

Italian
Keywords: parsley meatballs, meatballs and egg noodles