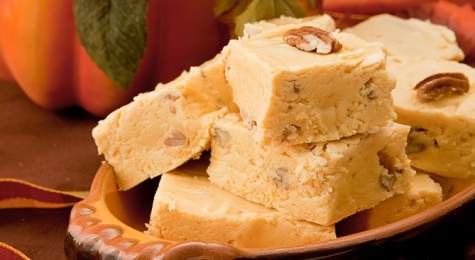 Pumpkin Fudge Recipe
Let's Get Ready for Baby!
Sign up for our monthly pregnancy email series, and you'll get regular updates on your baby's development, helpful timelines to get ready for their arrival, must-have baby needs and so much more! PLUS, you'll get instant access to the MomsWhoThink "Ultimate Guide to Baby Naming in 2022."
CLICK HERE
to get started!
Turn pumpkin into a creamy, sweet treat by making this pumpkin fudge recipe. Great to give away or keep for when you need a special indulgence for yourself.
Ingredients:
2 cups granulated sugar
1 cup packed light brown sugar
3/4 cup (1 1/2 sticks) butter
2/3 cup (5 oz. can) evaporated milk
1/2 cup pumpkin puree
2 teaspoons pumpkin pie spice
2 cups (12 ounce package) white chocolate chips
1 jar (7 oz.) marshmallow crème
1 cup chopped pecans
1 1/2 teaspoons vanilla extract
Directions:
1. Line a 13 x 9-inch baking pan with foil.
2. In a heavy medium saucepan, combine the sugar, brown sugar, evaporated milk, pumpkin, butter and pumpkin pie spice.
3. Bring to a full rolling boil over medium heat, stirring constantly.
4. Boil, stirring constantly, for 10 to 12 minutes or until candy thermometer reaches 234° to 240º F (soft-ball stage).
5. Stir in white chocolate chips, marshmallow crème, nuts and vanilla extract and stir vigoriously for 1 minute until chips are melted.
6. Immediately pour into prepared pan. Let stand on wire rack for 2 hours or until completely cooled. Refrigerate tightly covered. .
7. To cut, lift foil from pan. Remove foil and cut fudge into 1-inch pieces.