Key Points:
Aim to pick a theme that correlates with something your child is interested in. Perhaps there's a cartoon they really enjoy or a video game they adore.
If your child is older, there's nothing wrong with asking what sort of party they'd like. Sometimes it can be fun for kids to help pick out the theme!
Before settling on a theme, make sure there are enough party decorations themed around that theme. Otherwise, you may have to make them yourself.
Your kid's birthday is a magical time of year, perhaps the most magical time of year for them. Birthdays are a chance for children to feel special and enjoy attention from family and friends. Birthdays are also a chance for parents to really bring their A-game as birthday party hosts and organizers. This A-game includes coming up with the best themes for kids' birthday parties. A winning birthday party theme can show your kid that their big day means as much to you as it does to them.
Choosing a Birthday Theme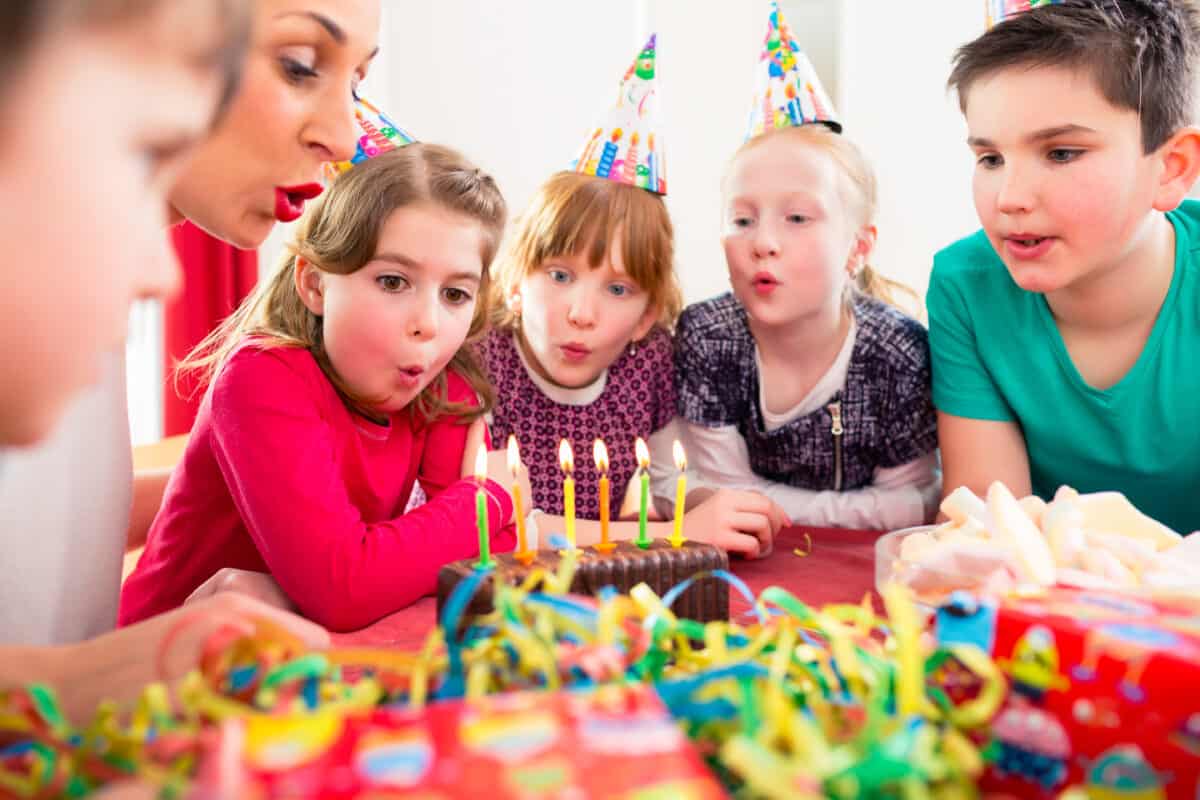 Choosing a theme for your child's birthday party can feel surprisingly daunting. Should you go with something they seem to be into at the moment or choose a theme that's a timeless classic?
Your child's age will definitely be a factor here. Younger kids, especially ones under the age of 5, can be really fickle. The cartoon or toy they loved yesterday or even this morning may not be what they're into by the time you organize their party. Older children, on the other hand, are more likely to throw themselves wholeheartedly into something they love. In that case, their passions can illuminate a clear path to the ideal birthday party theme.
In fact, you can often simply ask older kids what theme they want. Kids in the youngest age groups, on the other hand, are bound to simply accept — and love — something that has universal popularity. In any case, be prepared to organize your kid's birthday party around a theme that's popular. However old your kid is, they are likely into a theme that will be popular not just with them, but also with the friends that attend their party.
Let's look at some of the most popular themes! We'll start with the best birthday themes for kids in the youngest age group. From there, we'll look at the way the best kids' birthday themes change as kids themselves grow older and change. Finally, I'll give you a couple of birthday themes that can work for kids of just about any age.
1. Winnie the Pooh
Winnie the Pooh falls under the "timeless classic" category. This theme offers recognizable characters and a neutral color scheme for boys and girls. Chances are that your child has seen one, two, or even several Winnie the Pooh picture books already. Or they may have delighted in those brightly colored, soothing Disney Pooh cartoons!
This is an especially great theme for babies and toddlers. Even a child who's just one or two and might not be able to say "Pooh" or "Piglet" is likely to be excited by the big day. A Winnie the Pooh-themed birthday party is a perennial favorite for many very young children. This lovable bear and his friends have been around for many, many years, so you can rest assured that it will be a popular party theme for kids regardless of the year. Its age also means that there are bound to be hundreds of Pooh-themed party decorations and gifts out there for your child's party.
2. Paw Patrol
Accessibility and easily recognizable characters are the top reasons why Paw Patrol comes in at the number two spot on our list. This is an especially good theme for older toddlers and children who are approaching preschool or early grade school.
At this age, kids start loving and actively seeking out shows that have an educational component for their growing minds. Paw Patrol has always met this need. With a diverse cast, bold and distinct primary colors, and embedded learning opportunities, this is a theme that appeals to the curiosity and energy of kids aged three to five. And with Paw Patrol's recent even more learning-oriented reboot, you'll be able to find plenty of games, apps, and other materials for a birthday party that's stimulating and engaging for kids and parents alike!
3. Disney, Pixar, or Universal Studios
As kids grow older, their attention span grows too. They'll begin to crave feature-length films, but they'll likely still love the vibrant colors and playful storytelling they first encountered in shorter cartoons. For so many kids, especially kids ages five to seven (or perhaps even eight to ten), cartoons from Disney/Pixar hit the spot. But similar cartoons from Universal Studios can also be the basis for some of the best kids' birthday themes for this age group.
Maybe your child has watched Frozen a dozen times in the last month. Or perhaps they've latched on to the musical numbers and Polynesian mythology in Moana. Or maybe they pretend to be little Minions running around the house and causing all sorts of trouble. Your kid's movie preference just might be so obvious that the perfect party theme is apparent well before you even start planning for the birthday. This relieves loads of pressure and ensures a great time for all. If your kid doesn't have a clear favorite, then classics such as Cinderella, The Lion King, and Snow White can be go-tos. You can even show the movie your child's party is themed around as part of the party!
At this age, you can definitely start asking your kid exactly what theme they want. But to help you and them come up with ideas, you can review USA Today's comprehensive list of Pixar movies. You may also hit up the Wikipedia page for Universal's cartoon films.
4. Harry Potter
Harry Potter is a property that may not be age-appropriate for children under ten. The books and movies have gripping plots and compelling, nuanced characters, but the stories can be dark and scary at times for younger kids. For adolescents and older grade school kids, however, Harry Potter is a great gateway to higher-level reading and sophisticated live-action films.
As a result, the fun-yet-deep tales of Harry Potter and his friends, classmates, and teachers are one of the best themes for birthday parties for the 10-and-older set of kids, especially tweens and teens. Since this series is on the older side by this point, it may be wise to only throw this type of party if your child has a strong interest in the books or movies. Otherwise, a more generic wizards- and magic-themed party may be a better idea.
If Harry Potter is something your kid loves — and perhaps something you love as well — it could be a fantastic birthday party theme. Because Harry Potter has so much depth, you can choose the level of complexity. Keep things simple with a Harry Potter cake from your local bakery and Harry Potter birthday decorations from Amazon. Or go further! You could give attendees robes and wands, and even assign houses. For more ideas along those lines, check out our full article on Harry Potter party ideas.
5. Superhero
Name a superhero, any superhero. Batman, Spider-Man, Wonder Woman, Ant-Man, and the Wasp. From socks to shirts and lunch boxes to backpacks, it seems impossible to go anywhere without running into a superhero-themed something. So, a superhero-themed birthday party may be just the thing to thrill your kid and their friends, no matter how old your kid is.
Superhero movies, cartoons, and comics range from toddler-safe to sophisticated and young adult-oriented. There are countless superheroes, shows, and movies to choose from. You can also make it a family affair by choosing superheroes that parents, siblings of different ages, and perhaps even grandparents all love. The possibilities are almost endless when it comes to which superhero to choose from and what type of activities to plan around the event.

Not sure which possibilities to go with? We have a few specific superhero party suggestions to get you started.
6. Sports
Sometimes a clear "theme" for a birthday party simply won't do. Certain younger children may find theme parties to be overstimulating. Some older kids may feel like birthday themes are corny, something they've outgrown. We should consider you, the parent, as well. Organizing a heavily themed birthday party can be very time-consuming for busy adults who already have plenty of responsibilities as it is!
This is where the subtle but undeniably popular theme of sports just may save the day. If your kid loves sports, as many kids do, you can organize a game around watching a sport, playing it, or both.

Keep your sports-themed party low-key. Add some neutral solid-colored napkins and plates so as not to get too theme-heavy (or use a tasteful assortment of napkins in team logos or colors, if you're celebrating your favorite team). Keep some equipment around for a quick game of baseball, basketball, soccer, etc… You get the idea.
The sports theme, when done right, practically organizes itself. And like the superhero theme, it can appeal to many different age groups.
Choosing the Best Kids' Birthday Party Theme
A great theme for your child's party will make golden memories for everyone involved. When choosing your kids' birthday party theme, go for something that matches your kid's age and tastes. And make sure that you're having fun too. The very best kids' birthday party themes are fun for your kid, their friends, and you!
The image featured at the top of this post is ©Africa Studio/Shutterstock.com.