Macaroni and Cheese With Bacon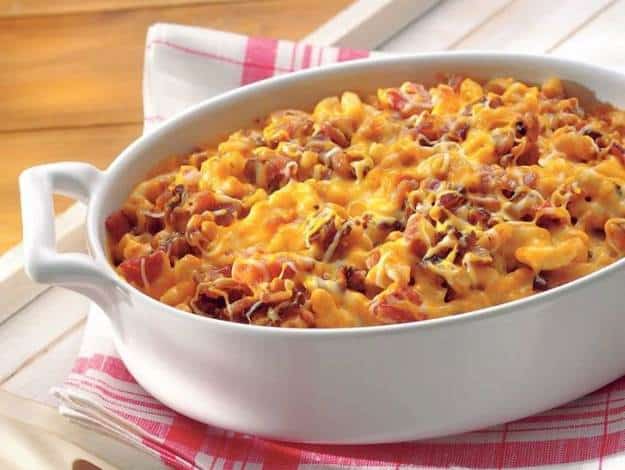 Ingredients:
6 thick slices applewood smoked bacon, diced
2 Tablespoons all-purpose flour
2-1/4 cups milk
1/2 teaspoon salt
1-3/4 cups shredded Colby-Jack Cheese, divided
8 ounces elbow macaroni, cooked and drained
14 ounces diced tomatoes, drained
Directions:
1. Preheat oven to 375°F.
2. Cook bacon in a large saucepan over medium heat 5 to 6 minutes or until crisp, stirring frequently.
3. Use a slotted spatula to transfer bacon to a paper towel; set aside.
4. Add flour to drippings in pan; cook and stir 30 seconds, being sure to scrape up and browned bits from the bottom of the pan.
5. Add milk and salt; bring to a boil. Simmer 1 minute or until sauce thickens, stirring frequently, watch closely to avoid scalding.
6. Remove from heat; stir in 1-1/4 cups cheese until melted.
7. Stir in cooked macaroni and tomatoes. Transfer to a greased 9-inch baking dish or shallow 1-1/2-quart casserole dish.
8. Bake in preheated oven for 20 minutes or until heated through.
9. Mix to avoid top drying out. Crumble and sprinkle reserved bacon and remaining cheese over macaroni; continue to bake 5-7 minutes longer or until cheese is melted.