Lindsey is a first-rate choice among baby names. Long associated with peerage and prestige, this name also has a permanent place in popular culture. Lindsey Bergman is a character in the American Girl franchise, and Lindsey Evelyn Strauss was an important character on One Tree Hill. Keep reading to learn more about this name.
Meaning of the name Lindsey:
Old English: Lincoln's island, linden tree island, lake colony
Origin of the name Lindsey:
Lindsey derives from the transferred use of a Scottish clan name and surname. Use of the name originated with an Anglo-Saxon region known as the Kingdom of Lindsey. The word Lindsey came from the Old English Lindesege (meaning "isle of lind"). One interpretation is that the name referred to the isle's heavy proportion of linden trees. However, it can also refer to Lindum Colonia, a prior Roman settlement that is now the city of Lincoln in Lincolnshire. The name Lindum was the Latin spelling of an Old Brittonic word that meant "pool" or lake," and it is closely related to the Welsh name Lynn.
Symbolism of the name Lindsey:
Lindsey originated with the Kingdom of Lindsey and the corresponding Scottish clan. The name Lindsey (or Lindsey) is representatives of one of the oldest earldoms in the United Kingdom. Symbols for Lindsey include the lion rampant and the Lindsey Tower.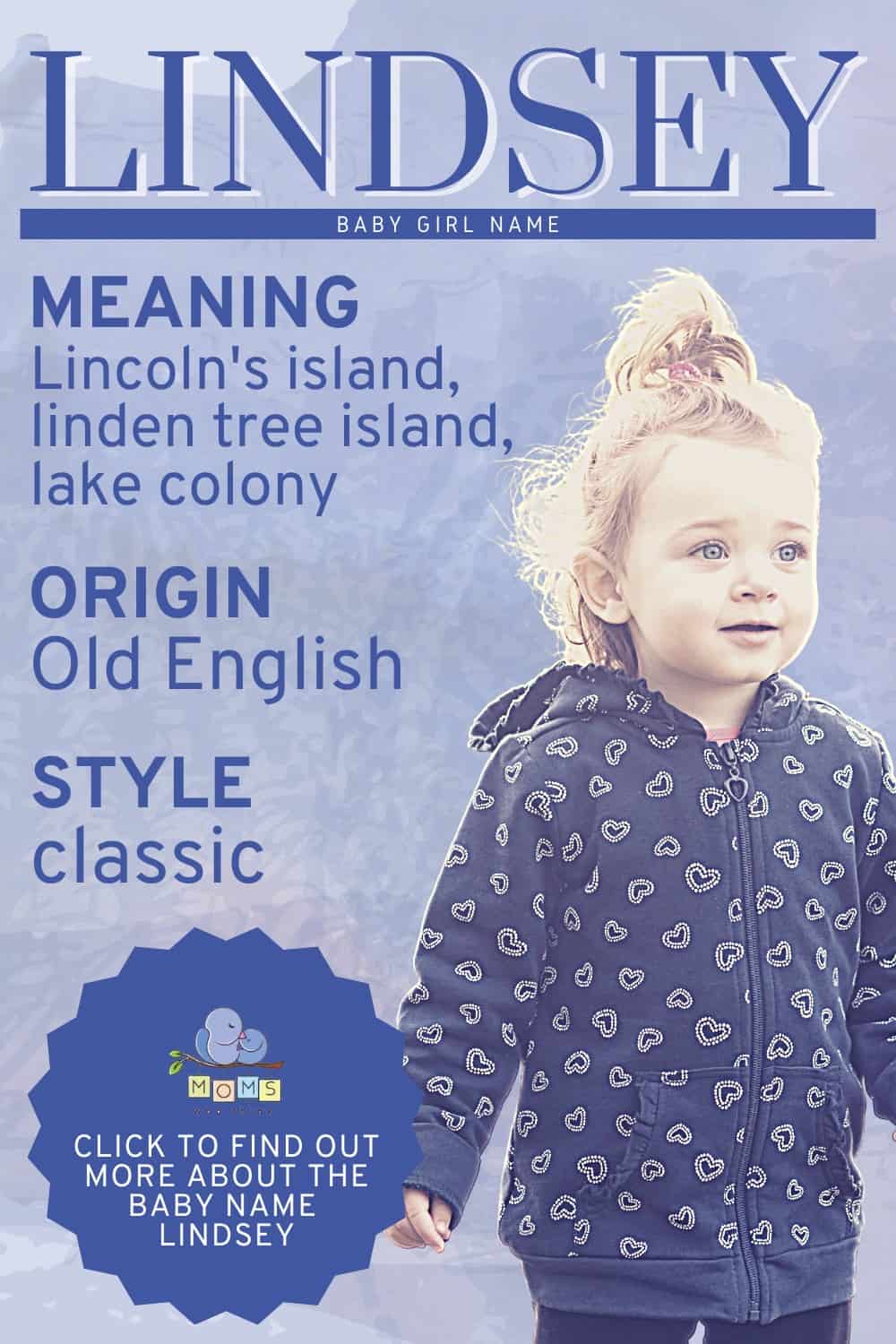 Style of the name Lindsey:
Classic
Gender of the name Lindsey:
Lindsey is a girl's and a boy's name.
Pronunciation of the name Lindsey:
LIN-zee
Number of syllables in the name Lindsey:
Two
Emotion evoked from the name Lindsey:
The name Lindsey evokes feelings of graciousness and geniality.
Alternative spellings for the name Lindsey:
Nicknames for the name Lindsey:
Lin
Lind
Linds
Lindz
Linni
Linnie
Linzi
Linny
Lindy
Popularity of the name Lindsey:
According to the Social Security Administration index, Lindsey was the 954th most popular name for girls in 2019.
Related names for the name Lindsey:
Great middle names for Lindsey and their meanings:
Arlene (free man)
Brooke (freshwater stream)
Giselle (pledge)
Irene (peace)
Jerome (holy name, sacred name)
Kaitlyn (pure)
Kevin (well-born, handsome, beautiful)
Regina (queen)
Reginald (king)
Willow (willow tree, slender, graceful)
Famous people with the name Lindsey:
Lindsey in popular culture:
Lindsey Bergman (character in the American Girl franchise)
Lindsey Butterfield Roscoe (character in the British soap opera Hollyoaks)
Lindsey McDonald (male character in the Angel television series)
Lindsey Naegle (character on The Simpsons)
Lindsey Novak (character on Stargate SG-1)
Lindsey Evelyn Strauss (character on One Tree Hill)