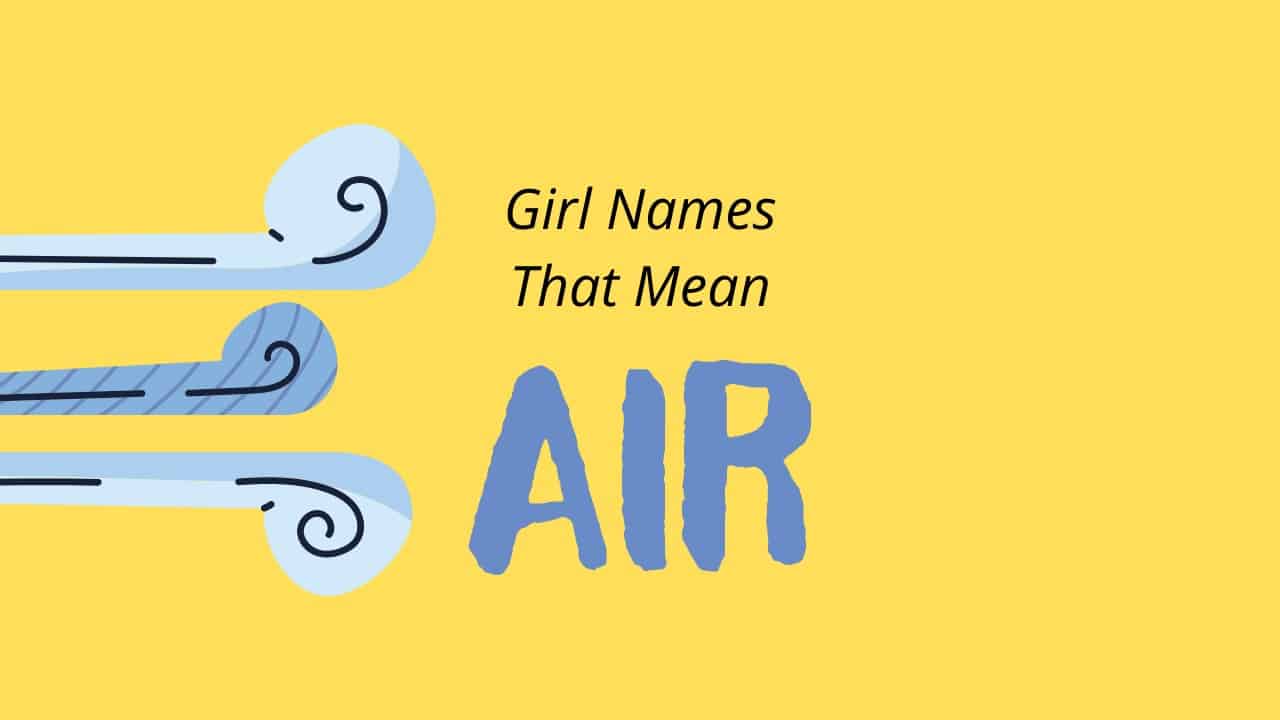 From Anila to Tulli, this list of girl names that mean air is filled with beautiful and feminine options. Each name means either "air" or a nearby variation thereof. Explore the list and fine the perfect name for your daughter.
RELATED: More Baby Names That Mean Air
Anila,

– This suggestion is of Hindi origin and means "child of the wind." This name is more commonly found, yet with a variety of spellings.

Araceli

This prevalent Spanish name is much loved in the Latino circles and means "alter of the sky."

Star/Starr

Not only does this name convey a feeling of illumination and iridescence, it is even more so means a celestial body and refers to outer space.

Aria

Most likely thanks to the successful series, "Game of Thrones" and "Pretty Little Liars," this name of Italian origin basically translates directly into the word Air.

Strata

Here is another from the cloud version stratus, which is a Latin derivative of "stratum," meaning "layer." This moniker cross-references to many other origins.

Audra

Being very similar to the old-school name of Audrey, many people probably do not realize that Audra means "storm." It is of Lithuanian origin.

Amaterasu

This name alludes to its Japanese origin just from its pronunciation. It means heaven and sky.

Azul/Azure

Blue in Spanish is azul; this name cross-references with the color of the sky and space.

Breeze,

— This pretty name is just as it indicates via the English language and refers to a gentle soft wind.

Ariel/Arielle

Ariel was a prevalent character in Shakespeare's play "The Tempest," and she was the airy spirit who was the servant of Prospero. Ariel was also the famous mermaid in "The Little Mermaid."

Willow

This name is practically an onomatopoeia with its willowy and lightweight sound and aura. Reference is made to the Weeping Willow tree all the way to a slender, willowy figure that implies an airiness.

Britta/Bretta

This name hails from early Great Britain and refers to an "exalted one," or a person who is aloft and upon a pedestal.

Ava/Eva

This pretty name can be traced to different roots: in Latin, for one, "Avis" means birds or birdlike in flight. It can also be traced to the Hebrew name Havva (from the word hayya), which means "life, lively."

Brielle

This pretty name is actually related to the name Gabrielle, or may be considered a shortened version of such. Brielle refers to something light and fluffy, and there are also references to the angel, Gabriel.

Brianna

This name is more so based upon altitude and height. Brianna is Irish and comes forth meaning high and/or noble.

Aura

This name connects directly to the word "aura" itself and refers to the atmosphere and quality of such that surrounds a person.

Keyne

Emerging from Celtic origin, this masculine name means "man of the eastern sky."

Alya

This name is Arabic in origin and indicates the sky and of heavenly origin. We all know you can't have the sky, or even think of it, without thinking of the airiness of it all.

Celeste

Of and related to the word celestial, this sophisticated name means "of a heavenly body."

Wendy/Windy

This name takes little to no explanation in its reference to air. It's origin can be traced to the English and/or Welsh/holy Germanic indicating to wander or to change. It gained in popularity after Peter Pan's Wendy Darling surfaced in the screenplay.

Seneca

Although the Latin origin of this name reveals a meaning of "old," it also refers to great knowledge and on a pedestal. Hence, this name is so connected to air and flight that one of Piper aircraft's best-selling twin-engine aircraft is known as the Seneca.

Heaven

This name related to air and heavenly bodies literally needs no explanation.

Nevaeh

Perhaps often seen as a bit "over the top" in the creativity arena, this reverse spelling of the name "Heaven" also refers to the heavens.

Tuuli

This double-vowel moniker slips nicely off the tongue and is of Finnish origin meaning "wind."

Auretta

Of Italian origin, this pretty alliterative name means "of a soft wind."

Carla

Although many schools of thought deem this name the feminine form of "Charles," it is prevalent in Latino and Germanic culture and means "free woman." In reference to air, Hurricane Carla ranks as the ninth most intense hurricane to affect the United States since 1851, making landfall in Texas in September of 1961.
Peruse thousands of baby names on MomsWhoThink.com! And follow us on Pinterest for more parenting inspiration!