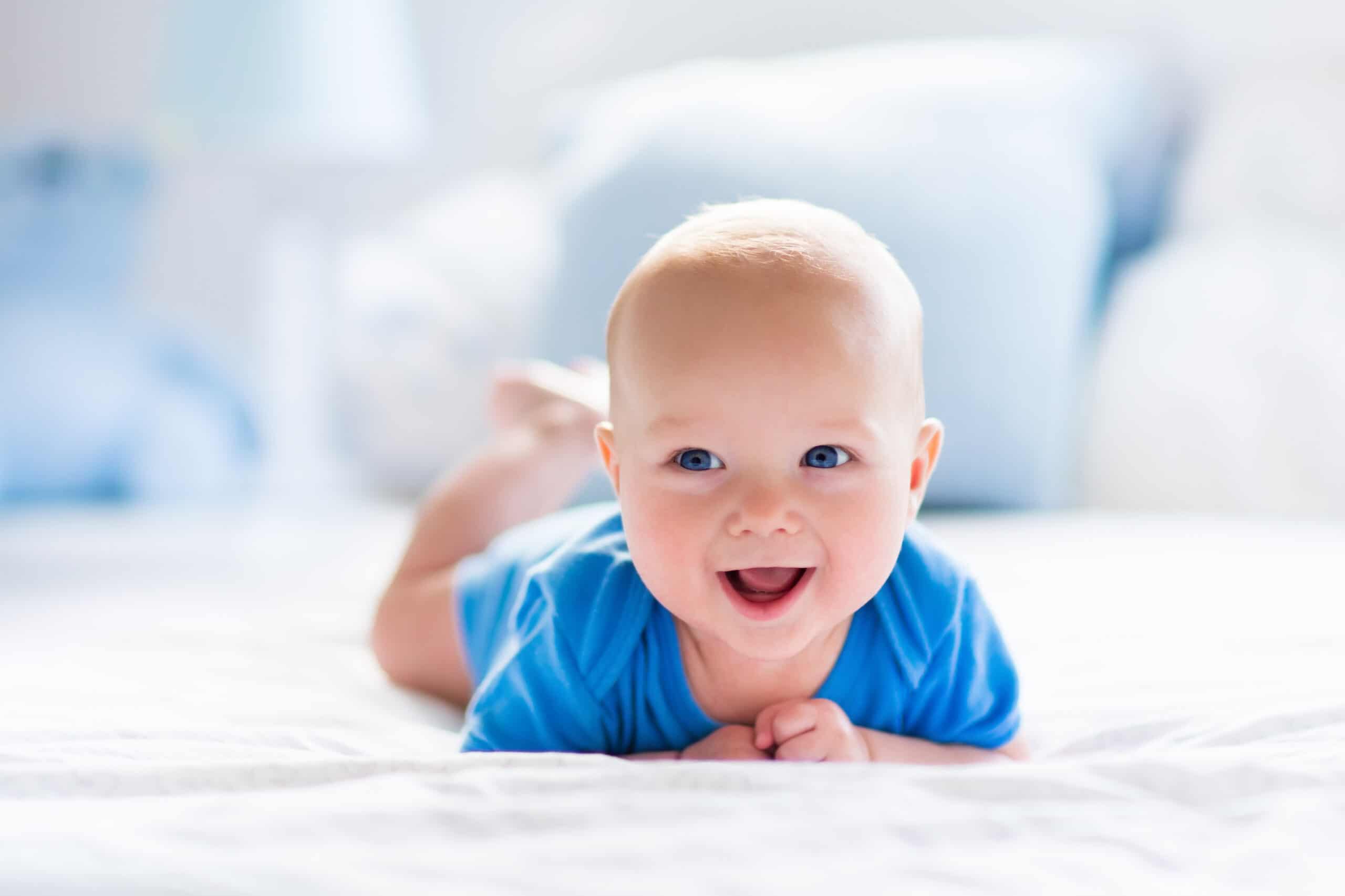 So you've figured out your baby's first name, but now you need a great middle name to go with it. Here are some great middle names that start with A that will create the perfect combo that rolls off the tongue.
Middle Names That Start With A
Auden

Auden, which means "old friend," has roots as an old English surname often attributed to the famed poet W.H. Auden in recent times. This unisex name is ideal for a middle name that is lyrical without being overly sweet or too delicate.

Arden – Arden, which is a Hebrew word for "The Garden of Eden," also has long been associated with Old-World English due to its presence in Shakespeare's famous play As You Like It as the name of a beautiful and solitary magical forest as well as being Shakespeare's mother's maiden name. This is a strong unisex name that also translates as "valley of the eagle" in some languages.
Arlo – Arlo, a name that means a "fortified hill," is of English origin and possibly Anglo-Saxon and is best known in a historical poem by Sir Edmund Spenser named The Faerie Queene.

Asa

Asa, a Hebrew and/or Japanese origin unisex name that means "healer or doctor" and sometimes "born in the morning, is a powerful middle name selection for both boys and girls that is short with lots of depth and meaning.

Austin

Austin, which means "magnificent or great" is derived from the ancient Roman name Augustus related to the Latin word Augustine popularized in the Medieval Ages. With undertones of magic and suited for emperors, Austin is popular today as a trendy place moniker, like Phoenix, and is a noble middle name for both sexes.

Addison

Also Addyson or Addy, Addison, which translates to "son of Adam" is an old English surname once only used for boys. Today, Addison and its trendier spellings and nicknames, like Addy, Addison or Addyson, is frequently given to girls as well.

Ashley

Ashley, an olde English surname from "aesc" meaning "ash," after the tree, and "leah" that refers to "meadow" or "clearing, this name also has magical and spiritual elements. Ancient Norse mythology depicts the first man the gods created is formed from the majestic Ash tree, and the Celts often gave this name to spiritually minded individuals who had powerful dreams and visions. Once only a male name, today many parents use this deeply mystic name for girls too. The name also falls into the newly popular nature names without it being too new age and blends well as a middle name.

Alex

Alex, which means "protector" or "defender," is of Greek origin and derives from the ancient names of Alexandra, Alejandro or Alejandra. This shortened diminutive is ideal for both male and female middle names as it is trendy but also rich in historic meaning.

Avery

Avery, a name that loosely translates to mean "elf counsel" or a "supernatural elf with powers," is of English origin and is often used as a unisex name today. Many parents use this moniker for a middle name that has a three -syllable sound that blends well with shorter or longer first names.

Angel

Angel, which means "angelic messenger," comes from an old English surname once firmly a name for boys. Today, this name is used for both sexes making it a popular middle name for babies all around the world.

Adrian

Adrian, a name which usually translates to "son of Adria," is of Latin origin and once was a masculine name only. Today, the name can also mean "rich," and has ancient Greece origin. This name is now often given to baby girls especially in Western civilizations today.

Alexis

Alexis, is a popular name used for males and females alike. The name originates in ancient Greece, and typically translates to "defender" or "helper of men" coming from the Greek words for "man" and "defender/helper."

Asher

Asher, which hails from ancient Hebrew is found in the Old Testament as the second son of Jacob by Leah's handmaid Zilpah signifying a new tribe. Asher commonly means "blessed" and "happy" and is a trending unisex middle name in Western civilized places today.

Arya

Arya, which means "faithful friend," is of ancient Persian origan mostly given to males in those cultures today. In Western countries Arya is often given to females due to its lyrical quality but is still a gender-neutral name that offers many cute, shortened terms of endearment.

Aspen

Aspen, which means "Aspen tree," is an olde English name that is popular as a location-place moniker in modern times. Traditionally, this unisex name is associated with goddess worship thought by men to signify Aspen trees that reproduce quickly. The name also refers to the gentle quivering sounds the branches of Aspen trees make in a windstorm. As such, Aspen carries the meaning of overcoming fears.

Ariel

Ari, Ariel or Ari, both mean "Lion of God," originating in ancient Hebrew times. The name also has strong roots in Spanish countries once used for males. Today, Ariel, or its shortened Ari, is more often given to baby girls but is still a solidly unisex name trending in many cultures of late.

Aubrey

Aubrey, which means "elf power," traces its roots to the ancient Norman French language using an old Germanic term referring to "elf" or a "magical small being" popular in those cultures. Aubrey works as a unisex name often pairing it with nature-based names trending in recent years.

Azariah

Azariah, which means "Yahweh has helped," comes from the Bible referring to a minor but important male character who lived in ancient Babylonian captured Jerusalem. He was one of three well-to-do Hebrew men who remained faithful to their Hebrew God. Today, parents use the name for males and females alike.

Ainsley

Ainsley, which means "wooded meadow," was an ancient Gaelic surname of olde English or Scottish origin usually traced to Christian English cultures. Recent surge in Ainsley as an up-and-coming sassy unisex middle name like Ashely and Asher in origin.

Andrea

Andrea, which means "brave" or "manly" has been around since ancient times in Greece. Parents today more often use Andrea in the feminine form of Andrew, but recent years puts this trendy name solidly in the unisex category.

Alani

Alani, which means "of the orange trees," has roots in ancient Hawaiian lore, but is being repurposed in modern times as a timely yet immortal unisex name for females and males. Also has roots in Germanic cultures for a feminine name meaning "precious."

Autumn

Autumn, which means the "fall season," is currently all the rage as a unisex middle name. The soft "A" beginning ends with a solid "M" sound making it a transitional name popular as a nature-themed moniker.

Arrow

Arrow, which means "projectile shot from a bow" and "stream," was once an English surname that traces back to Norman and Viking times. Ancient Celtic lore also applies from the Irish Arrow River. Popular as a unisex name with ancient meaning and mystical connotations.

Azule

Azule, translates to "blue" as a color. From the Spanish and Portuguese based words for blue, Azule is also seen shortened to Azul and is increasing in popularity for baby girls or a unisex middle name. Other color names include Scarlett, Ruby or Blanche.

Akira

Akira, which means "bright," "clear" or "sunlight," has roots in several languages including Japanese, Scottish, meaning "Anchor," and can be found in Indian Hindu regions meaning "graceful" or "strength" typically as a female name.
RELATED: Baby Middle Names From MomsWhoThink.com
Boy Middle Names That Start with A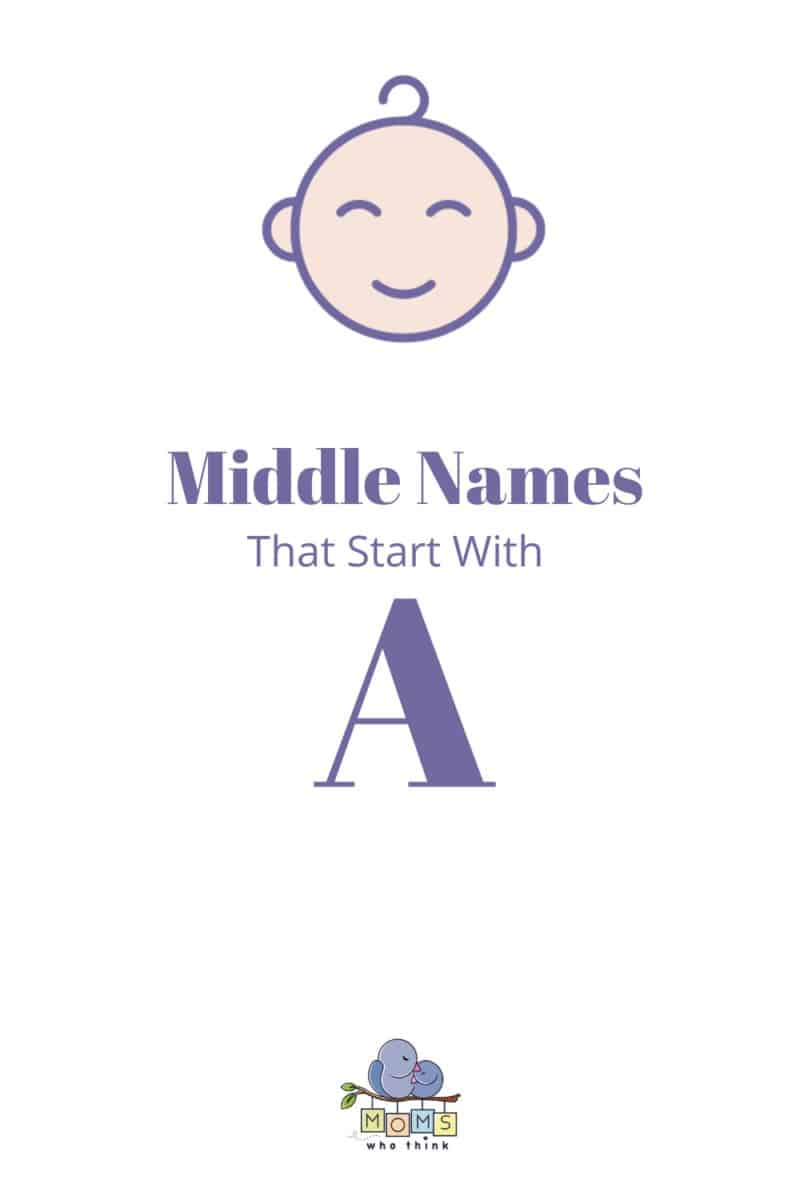 Ace

Ace, which means "one" or "unity," comes from the Latin word became popular as a nickname for fighter pilots in wartime. Today, Ace is used as a nickname or middle name for boys with a meaning of doing something well. Signifies "strength" and "high-ranking."

Axel

which means "My Father is Peace," derives from ancient Scandinavian cultures and commonly associated with the Danish name for Absolom in medieval times.

Atlas

Atlas, which means "bearer of the heavens," is a strong male name indicating renowned strength and prosperity that is not just luck but attributed to a powerful personality. Like Apollo, Atlas has roots in ancient Greek culture referring to the mythical Titan who holds the world on his strong shoulders.

August

August, which means the late summer month on the calendar year, also means "magnificent" or "great." This male name comes from Latin origins made popular today by England's royal family and American celebrities.

Archer

Archer, which means "bowman," referring to bow-and-arrow archery prowess in battle. This Latin originated name was once an olde English surname, and today Archer is a shortened version of Archie or Archibald also popular with royal families these days.

Anderson

Anderson, a name that refers literally to "Son of Andrew," is trending now as a boy's middle name possibly due to celebrities with the name like Anderson Cooper a news media personality.

Armando

Armando, this name translates loosely to "soldier" or "man of battle" from the original Latin and Germanic words for army and man. Armando has roots in Portuguese and Spanish countries and is a three-syllable word ideal for a middle name for boys.

Aron

Aron, which means "enlightened," "of a high mountain" or "exalted," is almost always used as a male name with this spelling. Its origins trace back to ancient Hebrew and possibly Egypt.

Alaric

Alaric, which means "Nobel or Elf Ruler," comes from ancient Germanic regions referring to the last great king of the fierce Goth tribes that overthrew the invading Romans.

Alastair

Alastair, which means "defender of men," is a male name of Scottish origins. Americans likely first heard the name as a famous British Masterpiece Theatre host named Alastair Cook.

Azriel

Azriel, which means "God is my help," and is often spelled Asriel or Azrael depending on the location. The name references the Angel of Death in Muslim and Jewish religious traditions.

Anson

Anson, which means "Son of Anne," and is a rare English origin name made popular with the 1970s era American television show "Happy Days" from the character Potsie's real life actor name Anson Williams.

Aydan

Aydan, which means "little fiery one" or "fiery," has root origins in Turkish, Gaelic and Celtic nations will have different meanings depending on location.

Aleksander

Aleksander, which means "defender of man," is another spelling of the Greek name Alexander for males and Alexandria for females.

Aslan

Aslan, which translates to "lion" in Arabic, is making a comeback often attributed to Aslan's fabled country in "Narnia" book and movie depictions. The name has roots in Turkish Muslim regions.

Ambros

Ambros, which means "immortal," has deep roots in later Latin cultures often referring to Saint Ambrose of the 4th Century.

Aric

Aric, which means "sacred ruler" or "Lion of God," has origins from many locales around the globe. The meanings will differ somewhat from place to place. Alternate spellings of Old Norse or Scandinavian cultures name Eric and others.

Alen

Alen, which means "fair and handsome one" or "precious," is a male name with many different spelling variations. Origins trace back to Old Germanic tribes and was an old English surname.

Arry

Arry, which means "army or military leader," comes from the Olde English and Scandinavian name Harold. Other meanings include "courageous" and "determined." Shortened middle names are everywhere these days and this version has a lilting sound and feel.

Arren

Arren, which means "high mountain" in ancient Hebrew or "warrior lion" from the Egyptian version, seems to be having a middle male name heyday of late especially in Western countries like the United States.

Aiken

Aiken, which means "of the oak tree" or "oaken," this Olde English and Gaelic name seems to be a popular boy middle name in recent years.

Amerika

Amerika, which means "from the Americas" or "North or South American clans," originates from Italian explorer's words for the new continent. Today, this variant spelling usually refers to the United States and is a place-oriented boys middle name gaining popularity now.

Asaiah

Asaiah, loosely translates to "The Lord hath made." The name originates in ancient Hebrew and is found in the Old Testament of the Hebrew/Christian Bible.

Antony

Antony, which means "highly praised" or "priceless one," has several meanings from the famed Roman family or Antonius or linked to the Roman politician Marc Antony.

Ajay

Ajay, which means "invincible" or "unconquerable," can be traced to the ancient Sanskrit language of Indian culture. Parents today put a modern spin on this name that can be used for double names beginning with A and J.
Girl Middle Names That Start with A
Anemone

Anemone, which means "windflower," is a pretty and lyrical middle name for a girl that originates in ancient Greek mythology as the mysterious sprite that transformed into a beautiful flower.

Anne

Anne, which means "Merciful" and "Gracious," is an old female middle name popularized all over the world. This name comes from the name Hannah also a common girl name. The spelling used to be French but is used everywhere in modern times.

Aaliyah – Aaliyah, which means "highborn," "exalted" or "from the heavens," is the female version of the Arabic boy's name of Aali. Many celebrity parents have made this name a trending moniker that does not have to be for Arabic girls only anymore.
Aurora

Aurora, which means "beautiful dawn," has deep origins in Latin. This female name is the Roman goddess of the sunrise with her melancholy tale of tears turning into the morning mist or dew. She renewed her presence from her east to west trek across the sky heralding the sun.

Allison

Allison, which means "son of Alice" or "noble," was spelled with just one L in English speaking countries using the moniker as a surname. Today, the double LLs give new life to an old name custom. Some parents use their ancestral maiden names for meaningful middle girl names using different spellings.

Adrienne,

means "man from Adria," has long been established as the French style feminine form of Adrian the male name. The modernized spelling gives new life to a great middle name for girls and some cultures give "the dark one" or "dark" for the meaning due to the place reference for the city of Hadria in ancient Persia and North Italy.

Abigail

Abigail, which means "my father is joyful," derived from Hebrew roots using the two words for father and rejoice. Abigail is often shortened to Abby or Abbie.

Alyssa

Alyssa, which means "noble" and "joyful" or "kind," has its origins in Hebrew and Old Germanic cultures. This name is popular for girls from all over and can refer to a French moon goddess, an ancient flower or a pretty girl.

Antoinette

Antoinette, which means "priceless one" or "of noble birth," comes from this French version of the male Roman Antonio family surname. In Greek, this name refers to a flower.

Azaria

Azaria, which means "helped by God," is usually referenced to old Hebrew king Asa in the Bible. This feminine spelling gives the name a mysterious air and makes a terrific middle name for gals.

Aditya

Aditya, which means "descended from the sun god or goddess Aditya," has origins in Hindu cultures. The name can also mean "bright" or "inner dream or revelation."

Astrid

Astrid, which means "divinely beautiful," hails from the Olde Norse language that combines words for God and beautiful. Today, this name also gives a not to ancient Scandinavian royal females and is a fresh take on a lovely feminine name.

Abrielle

Abrielle, which means "God is my strength" and "open or airy," makes a pretty middle name for girls that is a bit different in sound and spelling. This name is found in many languages and is a nice addition to a name and can be shortened to Belle or Brie.

Axton

Axton, which means "stone" or "stone castle," is an olde English or Gaelic surname that traces back centuries. Mostly used as a male name, many parents like this name for girls too.

Alannah

Alannah, which means "my darling child," is an older female name with origins in ancient Gaelic culture and rich in Celtic meanings and history. This spelling is newer to Western countries like the United States, and any girl would be lucky to have this as her middle name.

Avalyn

Avalyn, which means "beautiful breath of life," comes from the Olde English word Ava, which translates to "breath of life," and the word Lyn, which means "beautiful" and comes from Spanish origin being another derivative of the name Linda. Avalyn can be spelled various ways and makes a truly feminine and pretty middle name for a girl.

Angeline

Angeline, which means "angelic messenger," has its origins in many different languages and cultures. Originally a Greek name, Angeline also hails from French speaking nations and can be changed to a Spanish name by adding an A like Angelina Jolie the American actress. This name became popular in Christian countries and is often attributed to Saint Angela Merici of Italy who founded the Ursaline order of nuns in 1535.

Aileen

Aileen, which means "bright and shining light," has its origins in Irish and Scottish cultures. It is often seen beginning with the letter E in Scotland but is pronounced the same. Many parents are using ancestral names for a girl's middle name, and Aileen has a pure and lilting sound able to blend with just about any first name.

Asia

Asia, which means "sunrise," has its origins in Greek and may be connected to Assyrian culture too from the word "asu" that translates to "east." Asia is currently trending as a sweet girl baby name.

Adelina

Adelina, another diminutive version of the Old German female name Adelaide. Adelina, which means "small winged one" and "kind noble," can be traced back to the Latin name Alida.

April – April, which means "to open," may come from the Latin term Aprilis, meaning "to open." It is thought that the name of this springtime month is so called because many flowers and trees open-up their new blossoms during this month. Seasonal and nature names are trending for girl middle names of late.
Annalise

Annalise, which means "graced with God's bounty," is a coined name made of several older names. Annalise is a variation on the Latin name Annalisa and is usually a combination of the names Ann and Lisa or Elsa. Western countries often use this name version as a nickname for Elizabeth or Elise.

Amethyst

Amethyst, has an unusual backstory as it means "not intoxicated" in ancient Latin and its strongly associated Greek languages. Amethyst is a semi-precious stone that is violet in color. Many wealthy individuals wore this jewel when drinking alcoholic beverages to "stay sober and clear minded."

Amoreena

Amoreena, a name popularized by an Elton John song in early 1970s rock ballad. As such, the name is rather unique, so it is ideal for parents looking for a musical girl name that won't be the same as every other girl in their class. Amoreena means "unfaded" or "unwithering." The name may relate to Amy or Moreen.

Aisha

Aisha, which means "alive," "living," "prosperous" or "favorite," comes from the Arabic and African Swahili languages and was the name of Muhammad's favorite wife. The name remains a popular choice for Muslims and those of African ancestry.