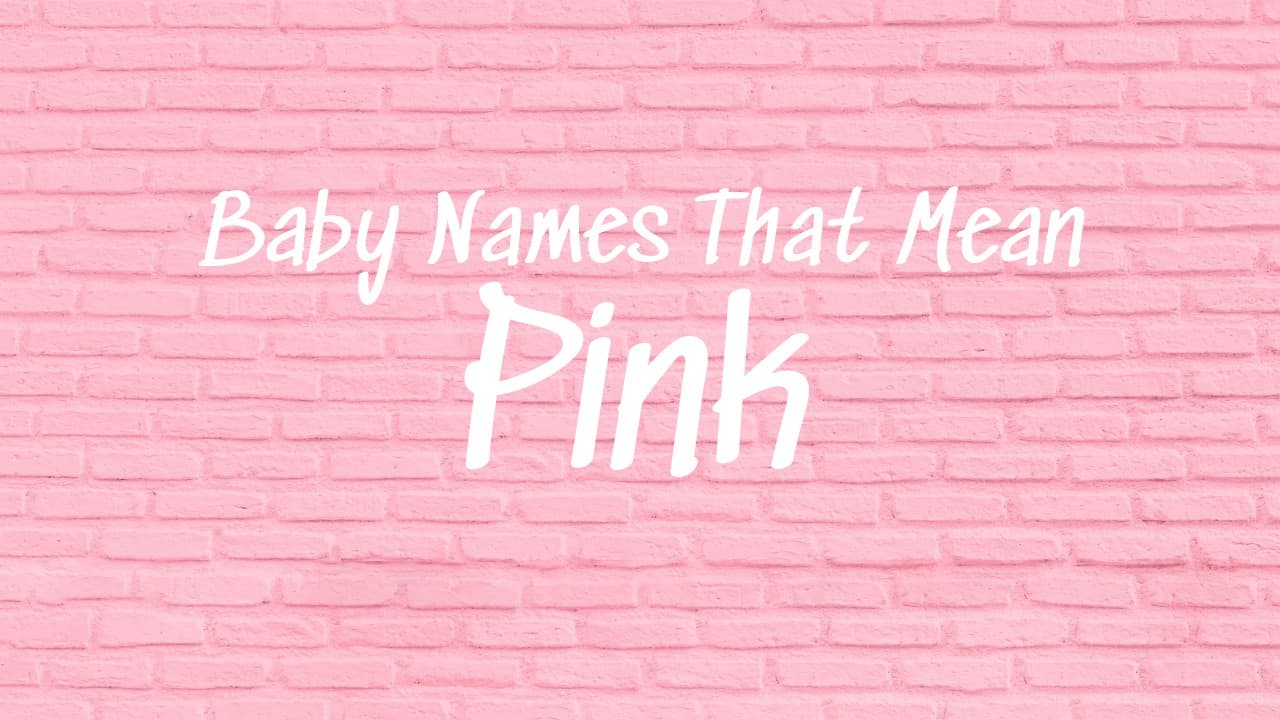 Pink is one of the most popular colors. It's bright, vibrant, and provides an uplifting hue. Invoke those same qualities in your child by giving them a name of that meaning. This list of baby names that mean pink is filled with options for both girls and boys. Take a look!
RELATED: Boy Names That Mean Pink AND Girl Names That Mean Pink
Manik

A name often given to a boy, Manik means "a light of pink." It has a Sanskrit origin.

Clover

The name of a flower, Clover is also a name for girls and boys. It has German origins. Clover means "she who clings lovely."

Pinkay

Most often used as a name for girls, Pinkay means "something pink in color" and "always happy." It is a name that is unique and fun to say.

Golnaz

This Persian name means "pink flower." It can be used to name a girl or boy, though primarily serves as a name for boys.

Rose

A feminine name resembling the flower of the same name, Rose has Old English origins and means "famous man."

Almog

Almog is a name that means "pink coral." It has a Scandinavian origin.

Hong

The name Hong has Vietnamese origin. It means "pink, rosy.

Saindhava

For a truly unique name meaning "Himalayan pink rock salt," Saindhava is a perfect choice. This name hails from Indian origin.

Dianthus —

good name for girls and boys, Dianthus means "flower." It comes in several beautiful shades of pink and a few shades of violet. The name has Greek origins.

Linnea

This girl's name is sweet and feminine. The name means "small pink mountain flower." It has Scandinavian origins.

Bellerose

A combination of the names Belle and Rose, Bellerose is a pretty, feminine name for a precious little girl. The name has Old English and French origins and means "beautiful rose."

Kamal

This name means "pink colored lotus." It symbolizes purity and most often is given to a girl. The name has Indian origins.

Varda

A name of Hebrew origin, Varda is uncommon and strong. It is commonly used as a name for girls and means "pink or rose."

Allium

A good choice as a gender-neutral name, Allium means "pink-colored flower." It has Latin origins and symbolizes good luck.

Clematis

This name works as a name for girls and boys. It is not commonly used, so the child has a unique name. Clematis originates from Greek origin and means "pink-shaded flower."

Mio

The name Mio means "beautiful cherry blossom." It has Japanese origins and is a unisex name.

Pembe

This Turkish name means "pink." It is not common, meaning a girl can enjoy having a unique name. It can also serve as a name for boys.

Kulap

This name means "rose." The name is popularly used in Thai and has Persian origins.

Calla

Most commonly used as a name for girls, Calla means "beautiful." Its often associated with the color pink as it has a pure, simple sound.

Amaranth

This name means "shade of pink, almost like purple." It is of Greek origin and the name can be given to a girl or boy.

Pearl

The name Pearl means "smooth, round bead." Some pearls are pink in color. The pearl is popular as jewelry and symbolizes a sweet, charming girl. It has an English origin.

Momorio

A common name used in Japan, Momorio means "peach color," the closest option to pink in the country.

Roz

The name Roz means "pink" in Romanian. It is not uncommon but not as popular as other names. It is primarily used as a boy's name.

Ancy

Often used as a name for girls, Ancy means "pink" in the Tatar language. It is fun to say, feminine and delicate, just like any precious girl.

Ruzova

A unique name for a girl that can be used to name a boy, Ruzova means "pink" in the Slovak language.
Peruse thousands of baby names on MomsWhoThink.com! And follow us on Pinterest for more parenting inspiration!