[addtoany]
Coca Cola and chicken may not seem like an ideal combination, especially when they are mixed together in a recipe. But when Coca Cola is used as a marinade that is allowed to soak into your chicken, it can give it a flavor that is unexpected and delicious.
Read on to find out more about this Coca Cola chicken recipe and why it may just become the next new favorite for your family.
Coca Cola Chicken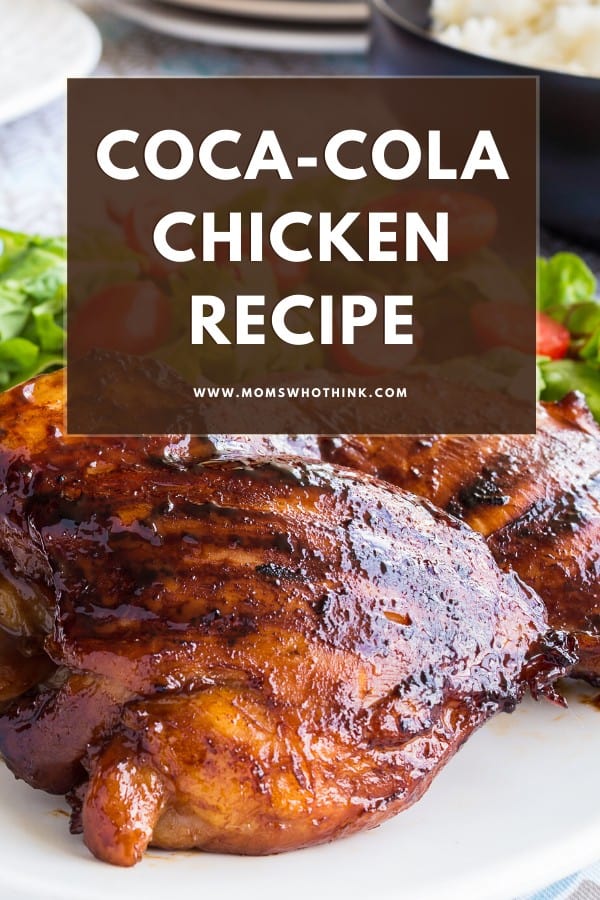 Cola chicken is a recipe that becomes popular in Asian cultures. The cola is usually mixed with another ingredient like soy sauce, ketchup or barbecue sauce. It can be prepared with diet cola, regular coda or another soda entirely.
We like to change things up by adding Doctor Pepper, but you can experiment with the dish as you see fit.
When the dish cooks, the soda reduces. This brings out the taste of the soda while creating a great glaze for the chicken. The glaze may have a sticky texture depending on how it was prepared.
Our recipe calls for chicken breasts, but you can also use wings, thighs or any other part of the chicken.
No matter what part of the chicken you use, the cola will work to give the meat a rich flavor and a taste not dissimilar to that of sweet and sour dishes.
The recipe we have here for cola chicken is super easy to make. We start with 4 skinless, boneless chicken breast halves, one 12 oz can of coca-cola, ½ cup ketchup, and ¼ cup honey barbecue sauce.
Basically, all you have to do is combine all the ingredients in a saucepan and bring it to a boil. Then continue cooking stirring occasionally, uncover, cook an additional 10 minutes and serve.
Coca Cola chicken makes a great protein-packed, low fat and healthy meal. It can be even lower in fat and sugar if diet Coke is used.
Serve it with your favorite, starch, veggies or go light by adding a salad for a meal your family is sure to love.
Coca Cola Chicken Marinade
Coca-cola chicken makes for a delicious meal and many say it is the Coca Cola marinade that is the secret weapon.
Soda is regularly used in chicken and steak marinades to give the meat a sweet and acidic flavor. More than that, the acidity tenderizes the meat.
If you let the meat sit in the marinade for extended periods of time, it makes the meat soft and flavorful. Though let it sit six to eight hours can do the trick, if you can let it sit as long as 24 hours, it will give your meat a texture that actually melts in your mouth.
The ingredients you add to your Coca Cola marinade can further contribute to the taste-making it even more delicious. In our recipe, we added ketchup and barbecue sauce. Soy sauce is also often used in Asian style dishes.
But when it comes to what you want to add to your marinade, the sky's the limit. Here are some suggestions.
Oil
Vinegar
Garlic
Salt and pepper
Honey
Green onions
Lemon juice
Garlic powder
Onion powder
Ginger root
Garlic cloves
Basil
You can add some of these ingredients or all of them. Either way, you are sure to get a flavor you are happy with.
In addition to playing around with the ingredients in the marinade, you can also add the marinade to different types of meats. A Coca Cola marinade will work well on almost any type of meat including chicken, steak, ribs, pork, turkey, venison, duck, veal and more.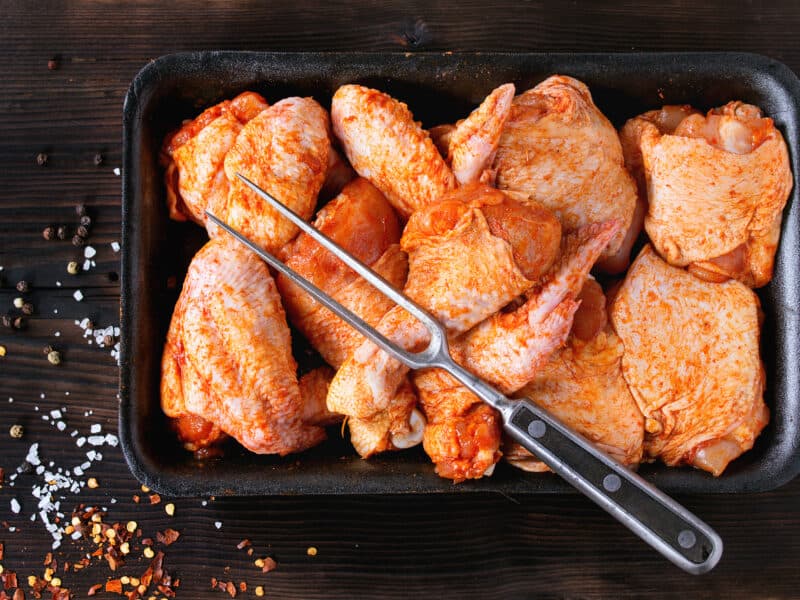 And once you have your meat tender and marinated, you can make variations on the recipe by adding the meat to tacos, fajitas, sandwiches and almost any other type of meat dish you can think of.
Coca Cola and chicken may seem like an unusual combination, but when the soda is allowed to bake into the meat, it can give it a taste and texture beyond what you have ever imagined.
Prepare this dish for your family to see how it works to make dinner even more fun. And better yet, let them guess what the secret ingredient is! I bet they will be pleasantly surprised to find out how this soft drink staple can elevate the taste of your chicken dish.
If you enjoyed this recipe, make sure to check out our Summertime Chicken and our Olive Oil Garlic Chicken.
Print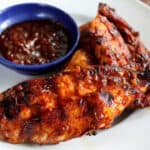 Coca-Cola Chicken Recipe
---
Author:

Total Time:

40 minutes
Description
Only four ingredients create a tender, tangy Coca-Cola chicken dinner in no time. If you're watching your sugar, you can easily substitute diet soda (diet dr. pepper works well) for the regular Coca-Cola in this recipe. We always serve this with rice or lightly buttered noodles to get every last bit of the sauce from the plate.
---
4

skinless, boneless chicken breast halves

1

12 oz. can Coca-Cola

1/2 cup

ketchup

1/4 cup

honey barbecue sauce
---
Instructions
Place all ingredients in a medium saucepan and bring to a boil.
Cover and turn heat to medium.
Cook for 30 minutes, stirring occasionally.
Uncover, and cook an additional 10 minutes until done.
Prep Time:

10 Minutes

Cook Time:

30 Minutes

Category:

Main Course

Method:

Simmering

Cuisine:

American
Keywords: coca cola chicken, coca cola chicken marinade