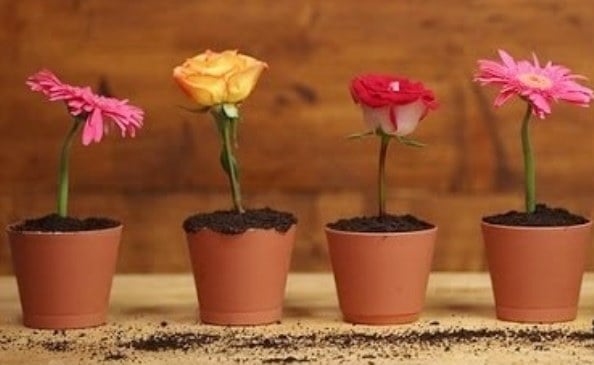 Dirt Cake Recipe
Let's Get Ready for Baby!
Sign up for our monthly pregnancy email series, and you'll get regular updates on your baby's development, helpful timelines to get ready for their arrival, must-have baby needs and so much more! PLUS, you'll get instant access to the MomsWhoThink "Ultimate Guide to Baby Naming in 2022."
CLICK HERE
to get started!
Kids love this dirt cake recipe. It looks like dirt, but it tastes scrumptious with its rich, chocolate cookie flavor.
Use your imagination and have fun with this. Cut gummi worms in half and have them "crawling" out of the dirt, serve with a garden trowel, or bury some of the worms for little ones to find by digging with their spoons. This is a cake that's as entertaining as it is delicious!
Dirt Cake
Ingredients:
1 large bag chocolate sandwich cookies
1 (8 oz.) package cream cheese
1/2 stick butter or margarine
2 cups milk
2 large boxes of vanilla instant pudding
1 (8 oz.) container non-dairy whipped topping
8 inch flower pot
Artificial flower (for decoration)
Directions:
1. Crush the cookies in a blender or food processor and set aside.
2. Cream together the butter and cream cheese.
3. In large bowl, mix the vanilla pudding and milk.
4. Add cream cheese mixture and the non-dairy whipped topping. Beat together until thoroughly mixed.
5. Line the flower pot with foil. In the flower pot, layer the cookie mixture, then the pudding mixture, then the cookie mixture, ending with the cookie mixture (to resemble dirt).
6. Add the flower to the top.