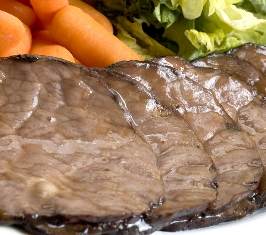 Oven Roast Recipe
This oven roast recipe turns ordinary rump roast into a delicious meal.
Rump roast is a cut of beef that comes from, well, the hindquarters of the animal.  It is exceptionally lean and often underrated but processes wonderful flavor.
Beef is also a wonderful source of protein. When eaten in moderation, it is heart healthy and has been shown to lower cholesterol. It also provides a boost in mood that is great for over all health.
With a few simple ingredients we all have in the pantry, this oven roast will fill your house with an enticing aroma that'll bring even the fussiest eater to the dinner table.
The recipe starts by adding seasonings onto the roast. The seasonings include Worcestershire sauce, soy sauce, garlic powder and seasoned salt and they do most of the work for you when it comes to elevating the dish.
Once the roast is properly seasoned, all you need to do is wrap and bake. Making the dish is that easy.
There are several sides that can be served with the roast including potatoes, vegetables, salads and more. Think of your families faves and add them to make this a dish they are sure to love.
This oven roast is a great "throw in the oven" meal that you can prepare in advance. Just rub the seasonings in and let it marinate in the fridge. When you are ready, pop it in the oven. However, be warned that cook time can be over three hours to get the meat to the desired tenderness, so be sure to give yourself plenty of time before dinner to let it heat up.
Beef is delicious, good for you and it can make a great, healthy meal. This oven roast has tasty seasonings that are sure to make your guests' mouths water. Serve it for dinner tonight and look forward to seeing their reactions when they taste this terrific meal.
Ingredients:
1 (3 to 4 pound) boneless rump roast
1 1/2 tablespoons Worcestershire sauce
1/2 tablespoon soy sauce
1 teaspoon garlic powder
1 teaspoon seasoned salt
1 teaspoon pepper
Water
1/4 cup flour
Directions:
1. Preheat oven to 325 degrees F.
2. Rub roast with Worcestershire sauce and soy sauce; rub next 3 ingredients into meat.
3. Wrap roast tightly in a double thickness of aluminum foil or in heavy-duty aluminum foil and place in roasting pan.
4. Bake for 3 to 3 1/2 hours or until meat is very tender.
5. Carefully unwrap roast, pouring drippings into baking dish. Place roast on a serving platter; keep warm.
6. Measure drippings; add water to make 3 cups. Pour into a saucepan, add flour, and whisk until
smooth. Cook over medium heat until thick and smooth, whisking constantly.
7. Serve with the roast and mashed or boiled new potatoes.