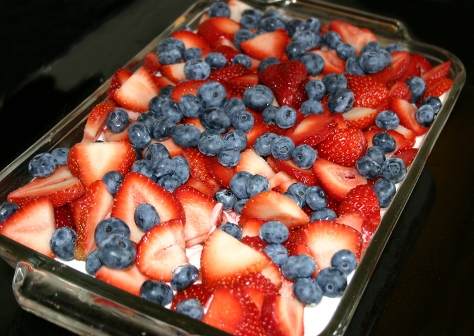 Red, White, and Blue Fruit Pizza
This easy, delicious dessert has a sugar cookie crust as a base (chocolate chip works well also). It's then covered with a whipped topping that cradles the fresh, sweet fruit toppings the color of the flag. Summer strawberries and plump, juicy blueberries get a slightly sinful glaze mixed in for absolute perfection.
Ingredients:
1 pint strawberries, hulled and halved
1 pint blueberries
1 Tablespoon plus 1 teaspoon sugar, divided
1 Tablespoon brandy
sugar cookie dough, homemade or store bought – rolled into a pizza round or rectangle
3 cups whipped topping, thawed
Directions:
1. Preheat oven to 450 degrees F.
2. Combine strawberries, blueberries, 1 teaspoon of the sugar and the brandy.
3. Sprinkle pizza crust with the remaining sugar.
4. Bake pizza crust 6-8 minutes on baking sheet; cool slightly.
5. Spread whipped topping evenly over crust, then cover with strawberries and blueberries.