Some of the oldest schools in Missouri are ancient and you're in the right place to learn all about it. This fact makes sense because the state of Missouri has a rich history both in terms of its statehood and in terms of its educational systems. The history of education in Missouri can be traced back as far as 1735, when French hunters led the settlement of Sainte Genevieve, right on the Missouri River. Missouri was considered a land passage by the time it achieved statehood in 1821. People poured into the state while on pilgrimages heading west. Many people simply stayed, and it was during this population boom that many schools began to rise up to fit the needs of a growing Missouri (via Brittanica). The earliest schools were established some 3 years before Missouri got its official statehood. We told you the oldest schools in Missouri are ancient! Let's learn some more about each one. 
In this post, we will discuss the history of the Missouri educational system, as well as where each of these schools is today. You'll learn what these learning centers have to offer in the modern day, as well as how they got to be here. By the end of this, you'll be well versed in the history of Missouri, both from its statehood beginnings and into the present day.
Academy of the Sacred Heart, 1818
619 North Second Street, St. Charles, Missouri
The Academy of the Sacred Heart started in 1818 in a little log cabin. Founded by Philippine Duchesne, a Sacred Heart nun, they traveled from France and settled in the village of Saint Charles. The Society of the Sacred Heart originated back in France in the early 1800s, and when the nuns arrived in Missouri, their plan was to open the first free school opened west of the Mississippi. By 1835, the first brick building for the school was erected in Saint Charles. The school wouldn't become co-ed until the 1970s when boys were allowed to attend the secondary school. Now, the elementary school remains co-ed while the middle school has separate boys' and girls' classes.
The modern-day Academy of the Sacred Heart is still open for grades Pre-K through middle school. They focus on the pillars of faith, educational values, social awareness, community building, and personal growth. Sacred Heart is accredited by the Independent Schools of St. Louis (ISSL), the National Catholic Educational Association (NCEA), the Association of Supervision and Curriculum Development (ASCD), and the Network of Sacred Heart Schools. The Academy offers up-to-date technology resources, language courses, and a campus with a range of indoor and outdoor resources for its student body.
Saint Louis University High, 1818
4970 Oakland Avenue St. Louis, MO 63110
Saint Louis University High is the oldest, previously public, school west of the Mississippi River. Also founded in 1818, it started off in a one-room house as a Latin school for boys. Started by Bishop DuBourg, the school would go through several name changes, going from St. Louis College to Saint Louis University. Finally, it ended with the name St. Louis University High School.
Names weren't the only change it went through; the school moved houses several times between 1818 and 1820. It moved to a third location in 1829 and began to accept boarding students and tuition fees. The land for the future Saint Louis University High was purchased in 1867 and, by 1924, Saint Louis merged with the nearby school Loyola Hall to form the student body of Saint Louis University High. Desegregated in 1946, the school would continue to expand and progress as an institution of higher learning.
Saint Louis University High continues to thrive in today's educational climate. Their students score in the top 7% of ACT testing and they have a wide range of academic resources to bolster their student's learning. The school offers lots of athletic opportunities and caters a thorough curriculum for grades 9-12. The average class size is around 20 students, with a total enrollment of just under 300 students.
Notable St. Louis University High Alumni
St. Louis University High enjoys an extensive list of notable alumni. Some of these alumni include:
John T. Schuessler, former CEO of Wendy's
William S. Bowdern, Catholic priest who performed the exorcism that inspired The Exorcist
Michael Buegg, producer
James Gunn, filmmaker and screenwriter
Chris Koster, 41st Missouri Attorney General
Hubert Schlafly, co-inventor of the teleprompter
Henry Jones, former safety for the Buffalo Bills
Ed Macauley, Basketball Hall of Famer
Thomas Anthony Dooley III, humanitarian and Congressional Gold Medal recipient
Bob Onder, state senator of Missouri
John E. Bardgett, former Missouri Supreme Court Justice
Sean Gunn, actor
Dave Giuntoli, actor
Saint John School, 1821
15800 Manchester Rd., Ellisville, MO 63011
The Saint John School boasts a personalized learning academy. Founded in 1821, the same year that Missouri achieved its statehood, it is one of the oldest schools in Missouri. Its modern-day course curriculum caters to junior kindergarten through 8th grade. Saint John School offers a fully accredited and student-tailored curriculum to fit the needs of your child. Many courses offer project-based learning.
Visitation Academy of Saint Louis, 1833
3020 N. Ballas Road, St. Louis, MO 63131
The Visitation Academy of Saint Louis opened in 1833. It was started when St. Louis-based Bishop Joseph Rosati offered for the Sisters of the Visitation to come to Missouri and open a school for girls. Today, Visitation Academy of Saint Louis holds the title of Missouri's oldest co-ed Montessori program. The school still caters to all girls with openings for grades 1st-12th. They offer language courses, STEM courses, engineering, robotics, culinary arts, AP, and college credit courses. There are athletics, extra-curricular offerings, study-aborad opportunities, and dedicated academic counselors also available to Visitation Academy of Saint Louis's student body.
Notable Visitation Academy of St. Louis Alumni
The Visitation Academy of St. Louis boasts a number of notable alumni. These include:
Madonna Buder, a nun who currently holds the record for the oldest woman to complete the Ironman Triathlon
Pauline Pfeiffer, second wife of Ernest Hemingway
Katie Walsh, White House Deputy Chief of Staff under the Trump administration
Lucille Mulhall, performer and designated "first cowgirl"
Belle Hunt Shortridge, author
Katherine Fogertey, CFO of Shake Shack
Ursuline Academy, 1848
341 South Sappington Road, Saint Louis, MO 63122
A number of schools were continuing to pop up during this period of Missouri's history. One of them was Ursuline Academy. Opened in 1848, right in St. Louis, it was founded by three nuns from the Ursuline Sisters. These nuns hailed from Bavaria and arrived in St. Louis with the hopes of opening an all-girls school. The first school was so widely attended that by 1850 there was a need for another building. Again in 1915, Ursuline Academy moved to the grounds of a mansion. A brick iteration of the school opened in 1926, on the same grounds that the school sits on now. The school was expanded throughout the 1980s, all the way up to 2005 when the school broke ground on a whole Convocation and athletic center.
Modern-day Ursuline Academy has a dedicated staff, 92% of which hold advanced teaching degrees. They have a 100% rate of graduating students continuing on to higher education after finishing grades 9-12 at Ursuline Academy. The Academy has lots of educational resources, on top of offering athletics, arts, and lots of extracurricular opportunities. As one of the oldest schools in Missouri, Saint Ursuline Academy continues to be a stellar educational institution.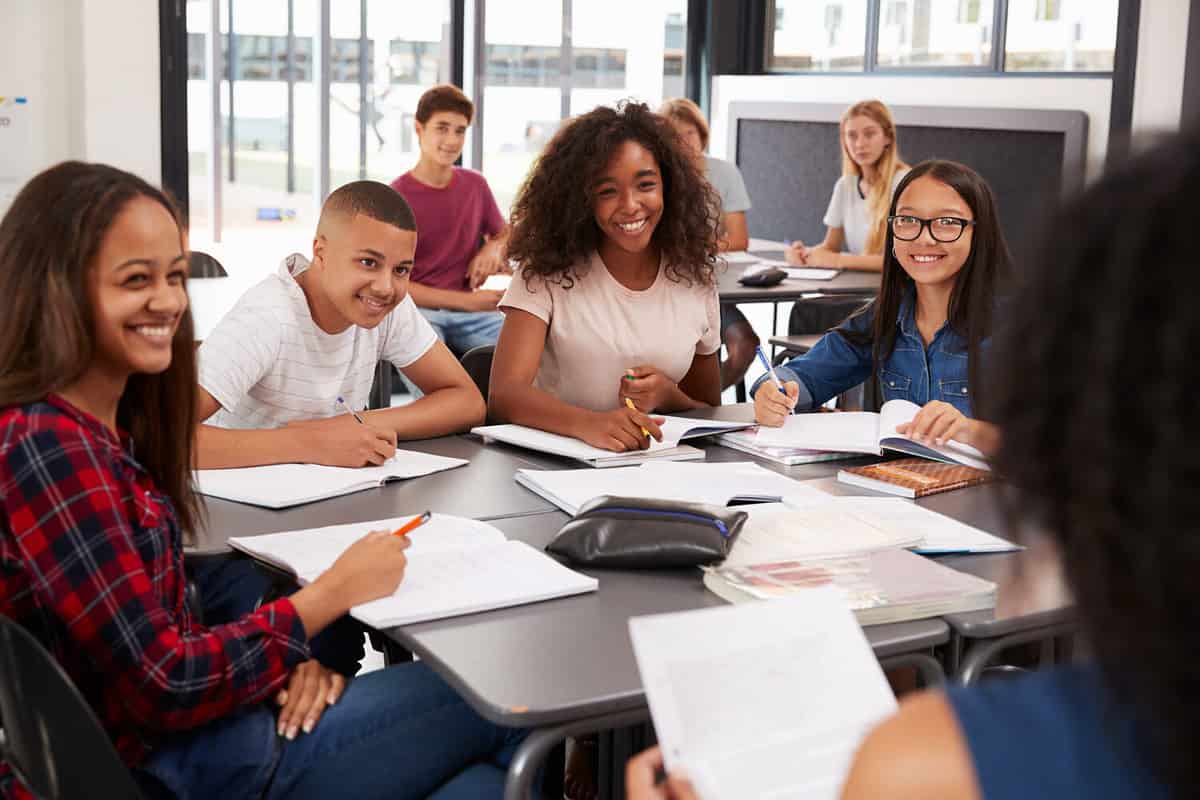 Central High School, 1861
2602 Edmond St, St. Joseph, MO 64501
Central High School boasts the title of the second-oldest public school in Joseph County and one of the oldest schools in Missouri. Opened in 1861, the very first building opened with a tuition rate of $1 a month. This school closed during the Civil War. It reopened in 1864 and has remained open to this day.
The school was moved and expanded in the late 1800s, and in 1915 the first class of the junior college was formed. The addition of more spaces increased as the demand for enrollment increased. In 1968, some 25 classrooms were added to the campus. Since then, a library, and other multi-use spaces have been added to fill the needs of some 1,600 enrolled students.
The modern-day Central High School offers personalized and thoughtful curriculum opportunities. The school offers courses in language, industrial technology, consumer sciences, and special education resources. Central High offers AP courses, as well as college credit courses. There are youth apprenticeship offerings and their athletics department is one of the largest high school athletic conferences in the beautiful state of Missouri.
Notable Central High Alumni
As one of Missouri's oldest schools, Central High has a number of notable alumni. Bob Barker is arguably Central High's most well-known alum; he served as the host for The Price is Right from 1972 to 2007. Jack Israel, another alum, was drafted in 1959 by the New York Knicks. He opted to join the Navy instead; after his Navy career, he became a teacher and later a superintendent.
William A. Beiderlinden was another accomplished alum of this high school; he served in the U.S. Army through several wars and eventually attained the high rank of major general. He served in several prestigious military positions before retiring from the Army.
The image featured at the top of this post is ©Structured Vision/Shutterstock.com.